Mango Days of Summer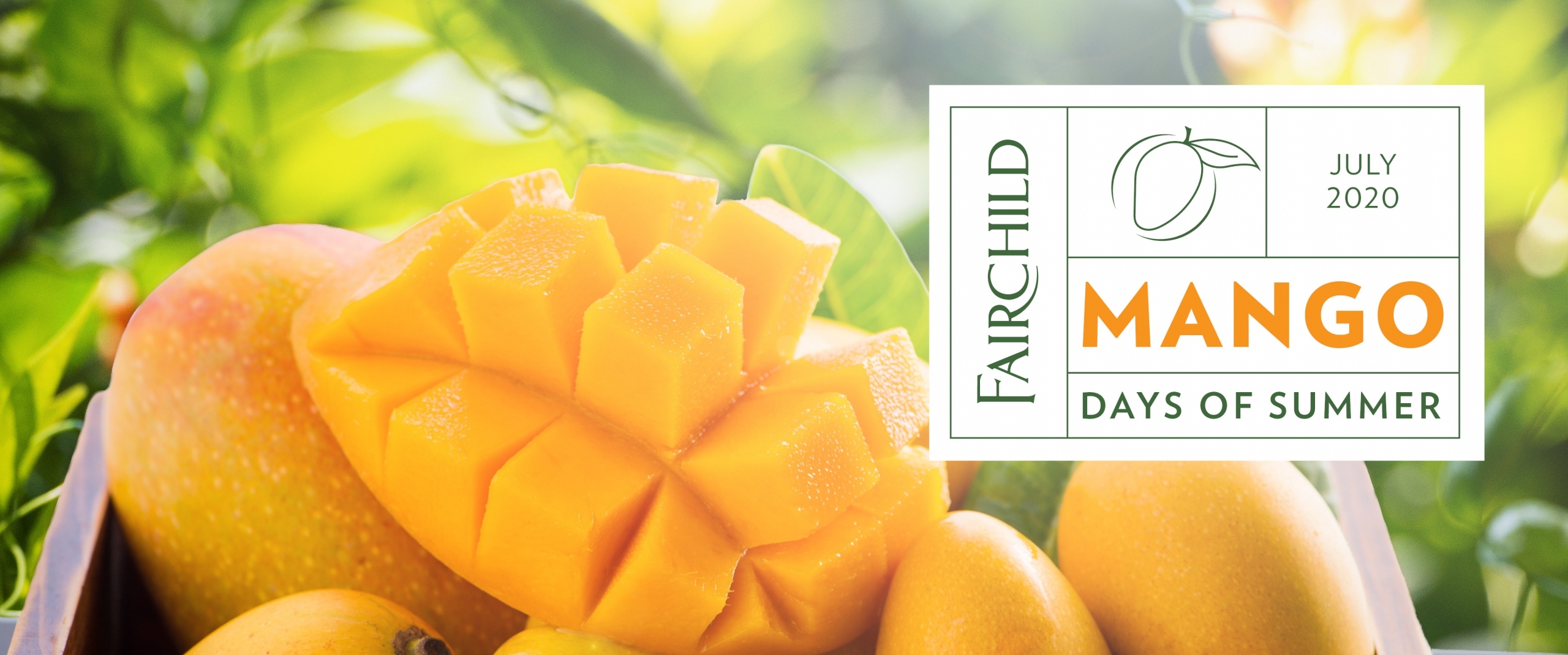 Welcome to July and Fairchild's Mango Days of Summer!
For more than 25 years, July has meant Mangos at Fairchild! And this year is no exception, because we're celebrating the King of Tropical Fruit all month long with Mango Saturdays, a virtual lecture series on caring for your mango trees, collaborations with local shops and more! 
Mango Saturdays at the Garden


Eat, Shop, and Explore all things Mango!


July 4, 11, 18, 25
Do you love….mango smoothies? Freshly baked mango bread? Fresh mango fruit? Cold brew coffee? Caribbean conch? Freshly made guacamole and ceviche? Greek food? Then you're going to love Mango Saturdays at Fairchild!
Enjoy delicious mango treats, foods from local vendors, and great items from local artisan shops
Bring your picnic, purchase food from your favorite local food vendor, or grab a delicious meal at The Glasshouse Cafe
Enjoy 83 acres of the fresh outdoors in one of the world's most beautiful gardens
Discover the only tropical rain forest experience in the continental U.S., that's also home to the National Orchid Garden
Experience our new Cloud Forest exhibit in the rain forest. It's the perfect way to enjoy a cool, misty stroll
And kids are admitted FREE 4th of July weekend
Buy Your Mango Tree Now!
This year, our botanists and horticulturists have prepared an exciting curation of mango trees for your home gardens! Click on each variety below to learn more about these delicious mango trees and to place your orders now. We'll even deliver them right to your door! Hurry, limited quantities!
Mangifera indica 'Orange Sherbet'
For mango lovers, 'Orange Sherbet' is a beautiful yellow, oblong mango with fiber-free, orange-hued flesh. Its flavor is incredibly sweet and rich, resembling the delicious citrusy, orange sherbet ice cream. The tree creates a lovely canopy that can be maintained for easy mango harvesting since it produces fruit well.

Mangifera indica 'Lemon Meringue'
A crowd favorite, 'Lemon Meringue' is a small, oblong yellow mango with pale yellow, fiber-free flesh and a very rich, sweet-citrus flavor. The tree produces a lovely canopy that a can be maintained for easy mango harvesting since it produces fruit well. 'Lemon Meringue' is considered an early season mango, producing fruit between May-July.

Mangifera indica 'Guava'
For the discerning mango collector, 'Guava' is a small and oval shape fruit. Its skin is greenish-yellow when ripe, and the flesh is fiber-free with strong notes reminiscent of its namesake, guava. The tree produces a lovely canopy that a can be maintained for easy mango harvesting. 'Guava' is a less vigorous producer making its harvest that more rewarding.
Mango Speak | A Virtual Lecture Series
Always a fan favorite, our lecture series is going virtual!  Be the first to buy a subscription and binge on mango tv!  Set to launch the second week of July…ready, set, learn! More information coming very soon!
Fresh from Fairchild | Beyond the Garden
This year, we've created some really exciting collabs with a few local partners. We've given some of our very best tasting fresh mangos from The Fairchild Farm to Lincoln's Beard Brewing, Sweet Melody Craft Ice Cream and Bunnie Cakes who have created some real mango magic just for you! You'll need to visit these local shops to purchase their mango brews, cakes and ice cream, and when you do, proceeds from the sales go directly toward our mission. Bring your receipt to the Garden, and you'll receive $5 off admission when you visit us on any of our Mango Saturdays this month.
Hurry! These collabs are only happening this month! 
Sweet Melody Ice Cream 
This artisan ice cream shop not only creates the most amazing flavor combinations, but they are also a certified dairy plant so they can process every ingredient from scratch!  The father and daughter team of Mike and Melody will be debuting their highly anticipated It Takes Two to Mango in time for 4th of July weekend!  A fresh mango ice cream with heavy swirls of mango marmalade…all made with Fairchild mangos!  Keep an eye on our their IG page for release date!  @sweetmelodyicecream
Lincoln's Beard Brewing Co. 
Who would like to have the Best Day Ever?!  We would!  Craft beer gurus at Lincoln's Beard Brewing continue to impress with their upcoming, limited edition mango sour, The Best Day Ever.  Using mangos from the Fairchild Farm, this thirst quenching, super tasty, and one of of a kind sour will hit the spot all month long!  Available at the brewery or in to-go crowlers. Keep an eye on our their IG page for release date!  @lincolnsbeardbrewing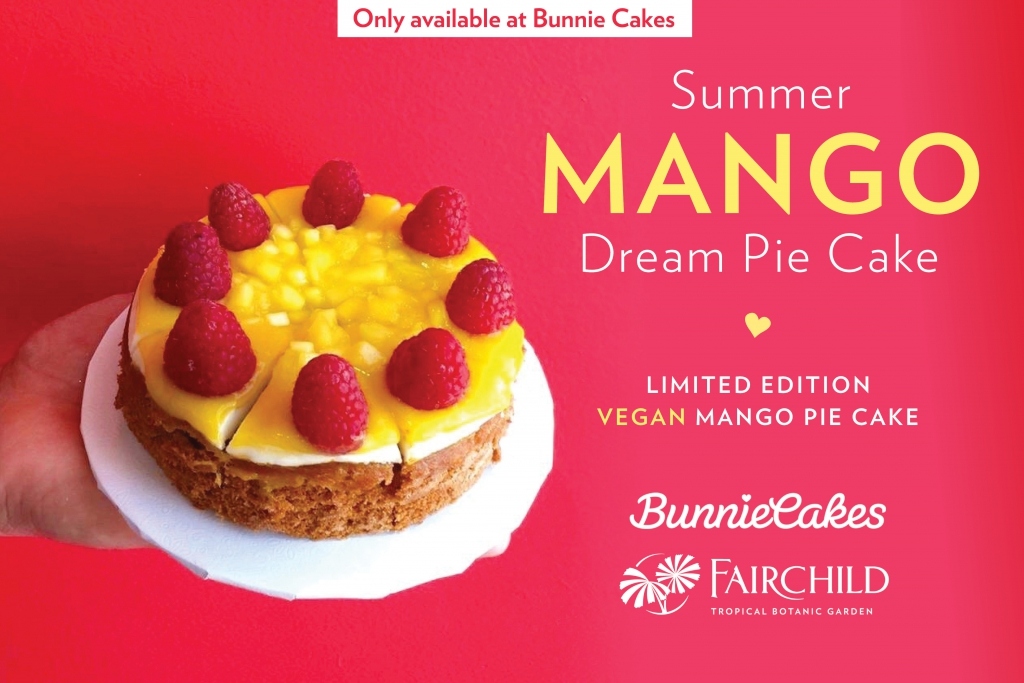 Bunnie Cakes
This is how we would describe our favorite summertime dream…a perfect vegan mango pie cake topped with a signature sweet icing and mango glaze made from fresh mangos from the Fairchild Farm, fresh raspberries and chopped mango chunks!  The acclaimed vegan bakery and neighborhood darling Bunnie Cakes produces their exclusive summertime treat, Summer Mango Dream, available only for the month of July! Vegan and Vegan Gluten Free variations.  Keep an eye on our their IG page for release date! @msbunniecakes