Volunteering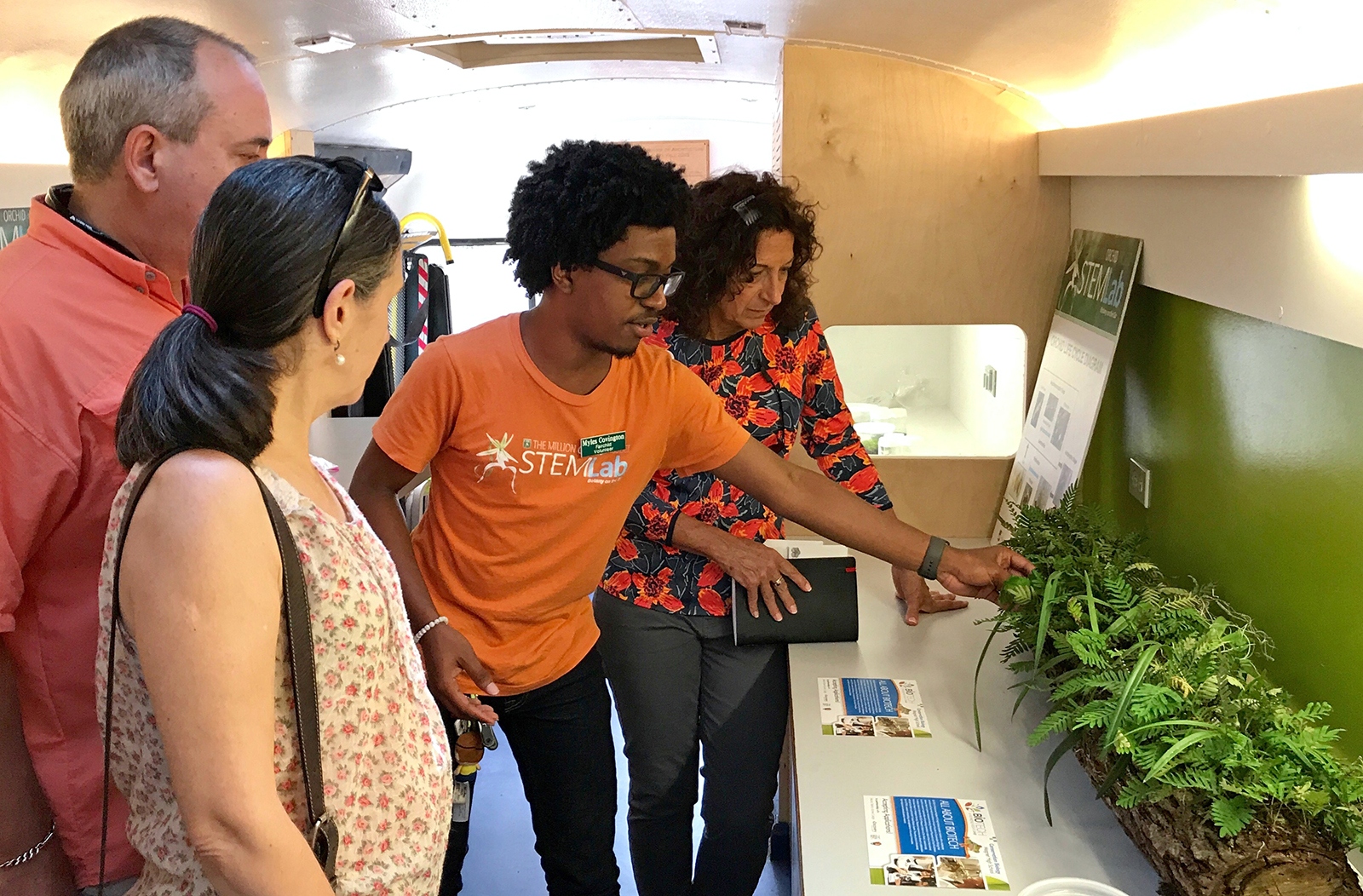 Volunteering at Fairchild
Volunteers let a few hours of their time blossom into a world of new experiences while working in Fairchild's beautiful environment. Fairchild volunteers have been an integral part of the Garden's history and contribute to every aspect of our operations.
Volunteers learn new skills, make a positive impact in the community and the world, and advance Fairchild's mission through their hands-on support of our programs. Fairchild volunteers have access to a wide range of classes and training opportunities. All active Fairchild volunteers who give a minimum of 30 hours of service a year automatically become part of the Friends of Fairchild, which hosts lectures, field trips, and social activities.
Please contact jpeterson@fairchildgarden.org for information on becoming a volunteer today!
Volunteer Requirements
Volunteer jobs require a commitment of 3-4 hours per week for a minimum of three months. These are typically done with one shift per week on the same day, although some areas are more flexible than others. The minimum age for Fairchild Volunteers is 14.
Short-term opportunities are available for those that would like to do a one-day volunteer activity or for students requiring community service hours.
Once you are a Fairchild Volunteer, you are required to participate in Core Class Training as well as additional training for specific volunteer areas.
---
Volunteer Information Sessions
Volunteer Information Events are held throughout the year to inform Fairchild members and the public about available opportunities and requirements. Following the application and interview process, volunteers are selected for programs based on their experience, skills and availability. In certain program areas, a second placement interview is required. The types and numbers of openings vary considerably throughout the year.
Upcoming Information Sessions:
Wednesday, January 5th, 2022 – 11:30AM
Sunday, January 9th, 2022 – 11AM
Please contact jpeterson@fairchildgarden.org to register.
---
Group Volunteer Days
Group Volunteer Days are a way for volunteers to try their hand with horticulture and contribute to beautifying the Garden! Projects can vary and can include weeding, trimming, pruning, major plant removal, plant relocation, and more. These sessions are open to community groups or individuals. We set a limit of 20 , if your group is larger, please contact jpeterson@fairchildgarden.org to discuss.
Usually hosted from 9AM-12PM, but can be flexible.
Upcoming Group Days:
January 12th
January  23rd    – FILLED

February 13th
February 23rd
March 6th
March 30th
April 16th
April 27th
May 15th
May 25th
Please contact jpeterson@fairchildgarden.org to register.
---
---
Where You Can Volunteer
Currently recruiting for
Wings of the Tropics

These hosts educate guests about butterflies while maintaining USDA guidelines for exhibit, butterfly, and guest safety!

Shifts vary during the week from 10-1 and 1-4.

Horticulture

Weekday mornings, positions vary but can include weeding, pruning, planting, invasive plant removal, and more. Must be 18+

Membership

Assisting with our Phone Campaign and special events!

Garden Ambassadors


Every day, shifts available 10am-1pm or 1-4pm. Ambassadors represent the Garden and ensure the safety of plants and people by assisting with way-finding, enforcing rules & regulations, and educating guests about collections or locations.

Visitor Services: Tram Tours/South Gate
Education: Leading children's group tours during the school year!
Growing Beyond Earth: Year 3 Maker Space challenge for growing plants in space! Looking for robotics experience, particularly in Arduino and with relay switches!
SHORT TERM: CHOCOLATE FESTIVAL
Our 15th Annual Chocolate Festival is January 15 & 16, 2022. We have opportunities each day for 3-4 hour shifts in various areas, such as sales, customer service, education. Please email below to get a complete list of openings and sign up!
Please contact jpeterson@fairchildgarden.org for more information!
Volunteer opportunities vary throughout the year, but can include any of the following areas:
Education
Horticulture
Conservation Science
Visitor Services
Membership
Special Events
Wings of the Tropics
Fairchild's Current Internship opportunities:
Internships
---
Volunteer Department Staff
Isabel Sanchez, Director of Volunteer Services and HR
Jemma Peterson, Database and Communications Coordinator
William Navas, Volunteer Coordinator
---
Contact Us
305-667-1651,ext. 3324 or volunteer@fairchildgarden.org