Horticulture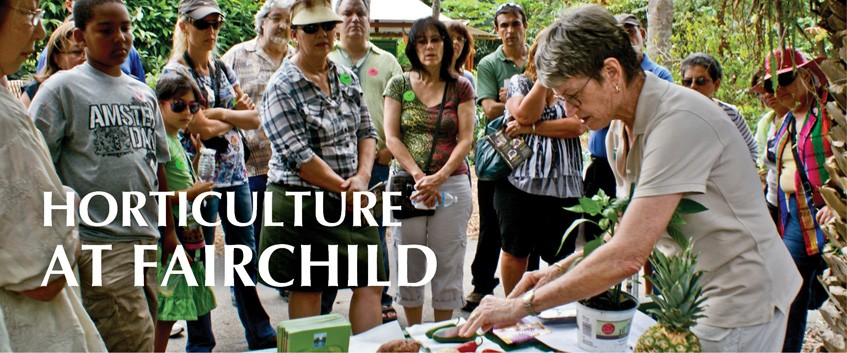 Horticulture is the art, science and business of plant cultivation, and has been practiced by people for upwards of 10,000 years. Early horticulture and farming provided an abundance of food, and allowed people to settle in one place and abandon the need for a nomadic lifestyle. Were it not for horticulture, it's likely we would not be here today.
Horticulture at Fairchild concentrates not only on growing and maintaining the thousands of plants and the collections and exhibits in the Garden, but also on developing and improving ways to preserve and propagate rare and endangered plants—both in South Florida and other regions of the world. The Million Orchid Project is just one example of how horticulture at Fairchild is re-introducing some of South Florida's and Miami's rare plants, in addition to our cultivation of rare palms from Haiti and threatened plants from Jamaica.
From analyzing DNA in our science labs to hands-on cross-pollination at The Fairchild Farm, our horticulturists are helping cultivate new varieties of disease- and insect-resistant tropical fruit, while also improving the taste and durability of so many of our beloved edibles, like the mango.
We use plants in so many ways—for food, medicine, fuel, and shelter among many others. When you think of it, horticulture really touches just about every aspect of our lives. We invite you to come to view it in action here at Fairchild.
Horticulture Help
Our team of Miami horticulturists and botanists are happy to answer your questions about our plants, landscape, history, and horticulture, and help you identify plants you've seen at Fairchild. Due to the amount of inquiries we receive, we regret that we cannot answer questions on general gardening or landscaping.
Please send your relevant questions to horticulture@fairchildgarden.org.
If you have a plant of your own you wish to identify, consider attending one of Fairchild's free Plant ID and Horticulture Workshops offered the first Friday of every month. Registration is required.