Native Plant Conservation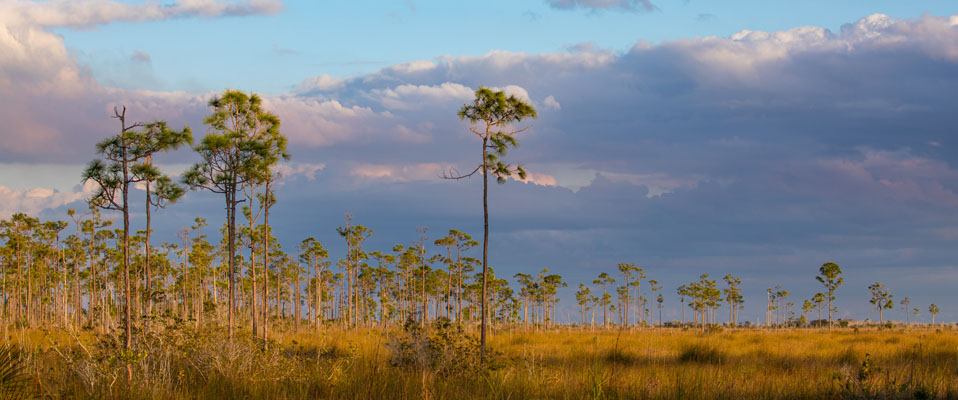 Native plant conservation at Fairchild is conducted by the Conservation Team: a group of experts who monitor, research, and grow plants native to South Florida and the Caribbean. Our program objective is to decrease the extinction risk of our local flora. We have accomplished so much since our program began in the 1980s. If you would you like to get involved, please consider joining our Connect to Protect Network! 
Read on to learn more about our program and the plants we are conserving.
Reintroductions
Fairchild plays an important role in the conservation of South Florida's endangered plants through rare plant reintroductions. Since 1991, we have facilitated 88 reintroductions of 26 species. We design reintroductions as experiments, so that while we are returning a native species to the wild, we are also learning about its ecology. Some of the species for which we have conducted multiple reintroductions include Amorpha herbacea var. crenulata, Jacquemontia reclinata, and Pilosocereus robinii (pictured).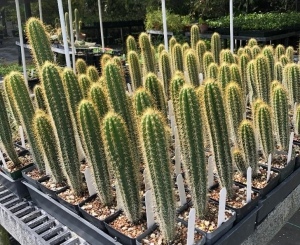 Seed research
Seeds are a major component of our rare plant collections, as stored seeds require few resources, but can be sown to provide plants for reintroduction or research. Since seed storage behavior of subtropical species is difficult to predict, we often conduct experimental trials to help determine optimal seed storage requirements for these species. If seeds are determined to be "orthodox" (good candidates for storage), they are kept in our on-site seed bank and/or sent to the USDA's National Laboratory for Genetic Resources Preservation. 
Click here for an inventory of Fairchild's conservation seed bank
Click here for seed propagation protocols for 20 pine rockland species
Management planning
Conservation biology is challenging in South Florida, where rapid urban development has nearly wiped out some of the world's most imperiled ecosystems like pine rockland, hardwood hammock, and coastal dunes. Fairchild's Conservation Team works closely with managers of Miami-Dade County preserves, Broward County parks, and others to research the relationships between native South Florida plants and their ecosystems, especially in regard to best management and effective restoration practices. Scroll down to our list of publications for recent management plans and more.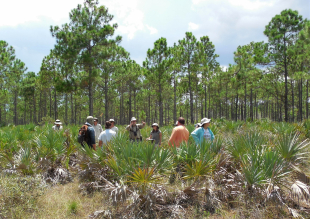 Field biology
Fairchild's Conservation Team has a deep appreciation for nature in subtropical South Florida, where our flora and fauna are heavily influenced by those of the West Indies. Most days, we are out and about in one of South Florida's amazing natural areas like the Environmentally Endangered Lands preserves in Miami-Dade County, parks in Broward County, Florida State Parks, Everglades National Park, Biscayne National Park, and more. Incredibly, new discoveries can still happen, right in our own back yards!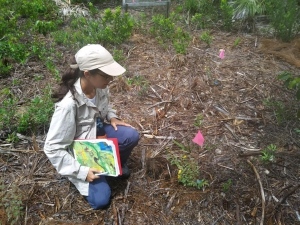 Conservation horticulture
Growing native plants is a critical component of our conservation work. In addition to growing plants for reintroductions, restorations, the Connect to Protect network, and Fairchild plant sales, we care for a portion of the US National Collection with support from the Center for Plant Conservation. At any given time, our extensive nursery collections are likely to include more than ten federally listed species from Florida, Puerto Rico, and the US Virgin Islands, as well as dozens of state-listed and even common native species.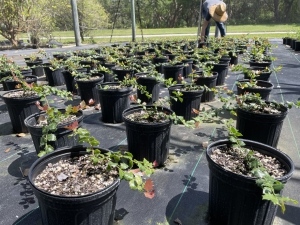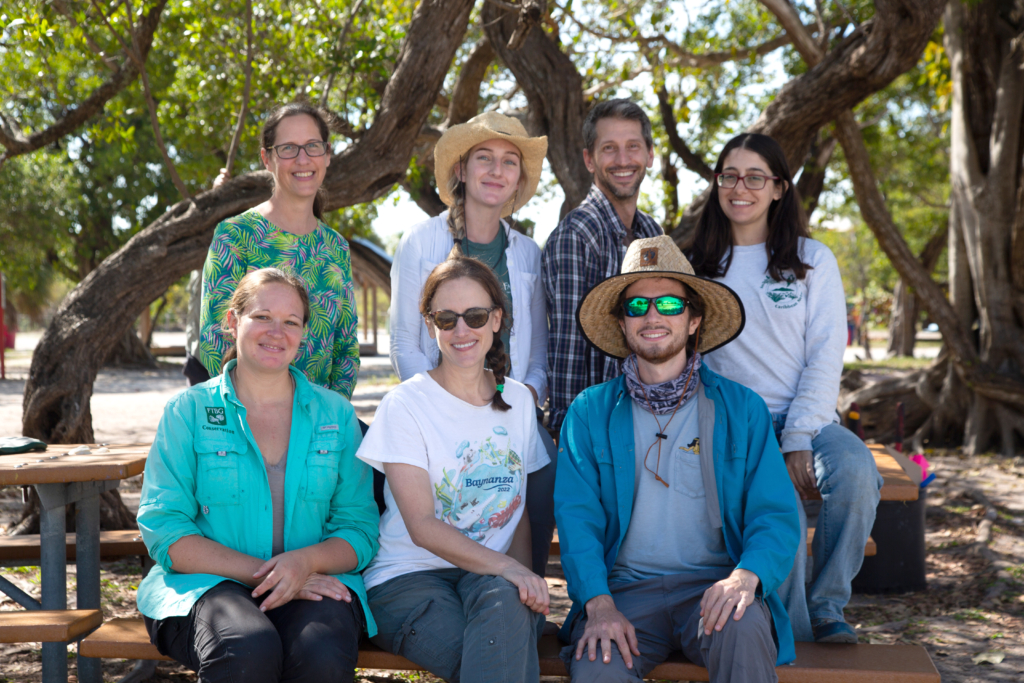 Jennifer Possley, MS | Conservation Program Manager
Lydia Cuni, MS | Field Biologist
Emily Guinan | Field Botanist
Noah Frade | Project Biologist
Brian Harding | Conservation Horticulturist
Sabine Wintergerst, PhD | Seed Lab Manager
Samantha Walsdorf  |  Field Biologist
Daniela Champney | Connect to Protect Network Manager
Nursery & field volunteers | Maria D., Mary, Ray, Jim, Pedro, Sharyn, Joanne, Carol, Isabel, Lisa, Richard, Scott, Miguel, June, Gisele, and Maria G.
Email us:
JPossley@fairchildgarden.org
ConnectToProtect@fairchildgarden.org
Funding 
Fairchild's Conservation Team is funded by grants from local, state and federal agencies, as well as by private donors. Donations are critical to our program. You can donate online with a credit card by clicking the button below. For questions or comments about donating to the program please contact Jennifer Possley at jpossley@fairchildgarden.org.  
Thank you to our recent financial supporters, including:
Florida Dept. of Agriculture and Consumer Services
Florida's Endangered Plant Advisory Council
Miami-Dade County Parks, Recreation & Open Spaces 
US Fish and Wildlife Service
University of Florida McGuire Center
Select recent reports, publications and field guides:
Photo credits:
Banner image by Haniel Pulido, www.falconshots.com
Seed images by Jack Hahn, in Fairchild's imaging Lab
Other photos by Jennifer Possley and Marlon Rumble