The Fairchild Challenge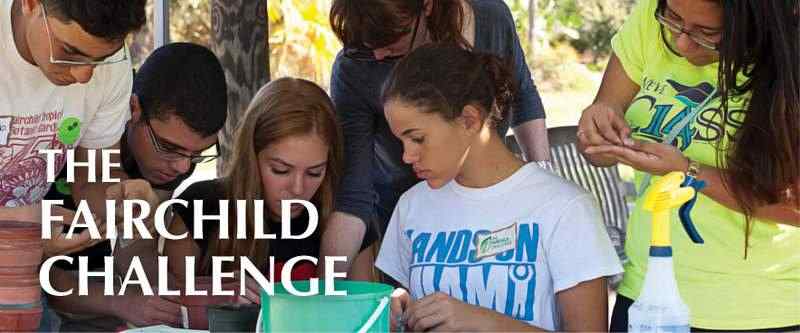 The Fairchild Challenge is our award-winning, interdisciplinary, environmental science competition designed to engage students of diverse interests, abilities, talents and backgrounds to explore the natural world. The program has been recognized as a benchmark for exceptional STEM education and for empowering PreK – 12th grade students to become the next generation of scientists, researchers, educated voters, policy makers, and environmentally-minded citizens. Schools can participate in any number of the annual Challenges to accrue points throughout the year. Winning entries will receive awards and prizes.
Fairchild Tropical Botanic Garden and the Fairchild Challenge Team are continuing to monitor the COVID-19 outbreak and are making informed decisions on how to proceed as things progress. We will be sending newsletters with the status of due dates, material return, and garden wide procedures as more information becomes available. If you are not registered to receive our newsletter please do so by clicking the link at the bottom of this page. The Fairchild Challenge Team is continuing to work remotely and can be contacted via email. Should you have any specific questions please email: challengepk-5@fairchildgarden.org, challenge6-8@fairchildgarden.org, or challenge9-12@fairchildgarden.org
Thank you to all our teachers who participated in the 2019-2020 Fairchild Challenge! Please check back in August for specific information regarding the 2020-2021 Elementary, Middle, and High School Challenges.
Elementary School Website
---
Middle School Website
---
High School Website
Fairchild's Collaboration with NASA through the Growing Beyond Earth Project – View Video here
Contact Us
Elementary Schools: challengepk-5@fairchildgarden.org
Middle Schools: challenge6-8@fairchildgarden.org
High Schools: challenge9-12@fairchildgarden.org
Want to receive our newsletter?
For Email Marketing you can trust.
With support from: