Beginning in 2015, Fairchild entered into a partnership with NASA's  Kennedy Space Center to help advance NASA plant research through classroom-based citizen science. Fairchild leveraged its network of more than 150 local middle and high schools, all participating in the Fairchild Challenge citizen science program, to address questions relevant to the work of the Exploration Research and Technology Programs organization at Kennedy Space Center. Click here for more information about NASA"s Veggie Program.
The Growing Beyond Earth Challenge (GBE) was designed to expand food options and increase plant diversity for spaceflight by evaluating multiple edible plants that meet NASA's criteria for size and edibility. Using equipment that mimics the environmental conditions aboard the International Space Station, students are testing factors that may influence plant growth, flavor, and nutrition.
Fairchild provided each school with the necessary equipment and materials that mimic NASA's Veggie experimental system currently in use aboard ISS. Each "mini botany lab" consists of a specially designed growth chamber, LED lighting, capillary watering system, pots, soil, fertilizers and seeds. Formal scientific research protocols were designed collaboratively by scientists at Fairchild and at NASA so students can test factors that may influence plant growth, flavor, and nutrition. Scientists at Kennedy Space Center are now using classroom data to select plants for evaluation in space.
The GBE Challenge has yielded interesting scientific results including several new candidate plants for growing aboard spacecraft. These include varieties of pak choi, cress, and kale that produced greater amounts of biomass than the varieties previously tested in NASA labs. Some of the best varieties from the 2015-2017 classroom studies are now in experimental trials at KSC. Student data also identified some unusual edible plants as possible candidates, including a tough and fast-growing succulent called ice plant (Mesembryanthemum crystallinum), and a Chrysanthemum relative called shungiku (Glebionis coronaria). From the data, we are able to identify plants that can grow under the widest range of classroom environmental conditions, suggesting that those plants may be the most stress tolerant. The GBE Challenge also provided an opportunity to test a new leaf vegetable harvesting strategy in classrooms. The strategy, called continuous harvest, was shown to be successful during the 2015-2016 school year and was subsequently implemented on ISS.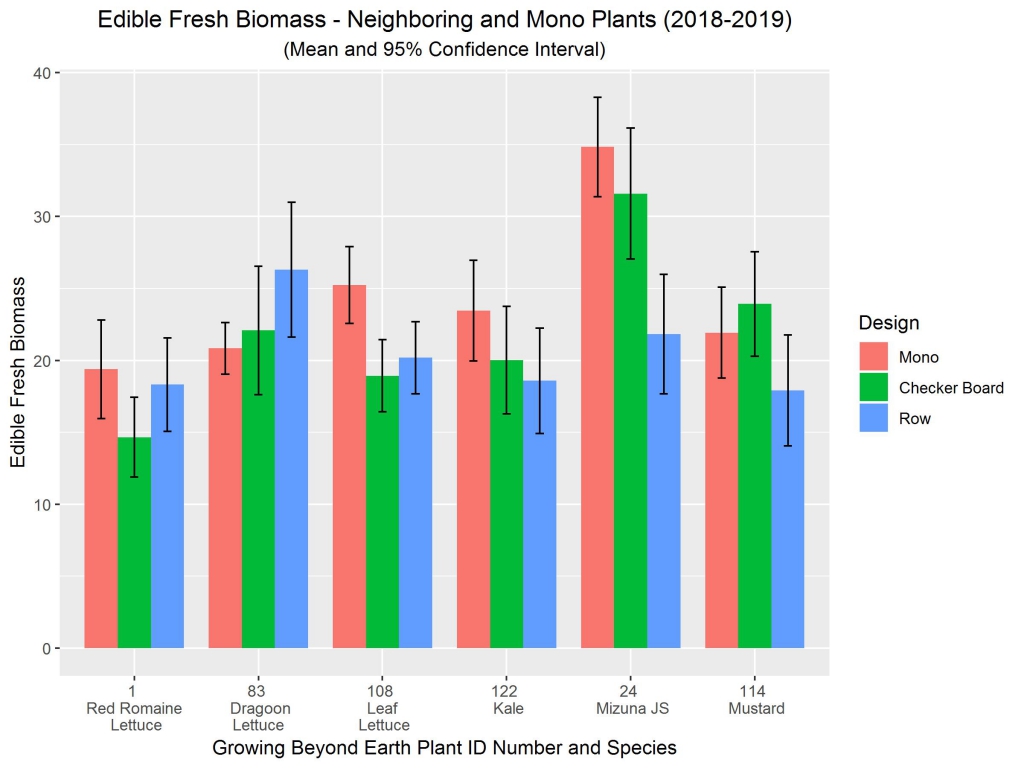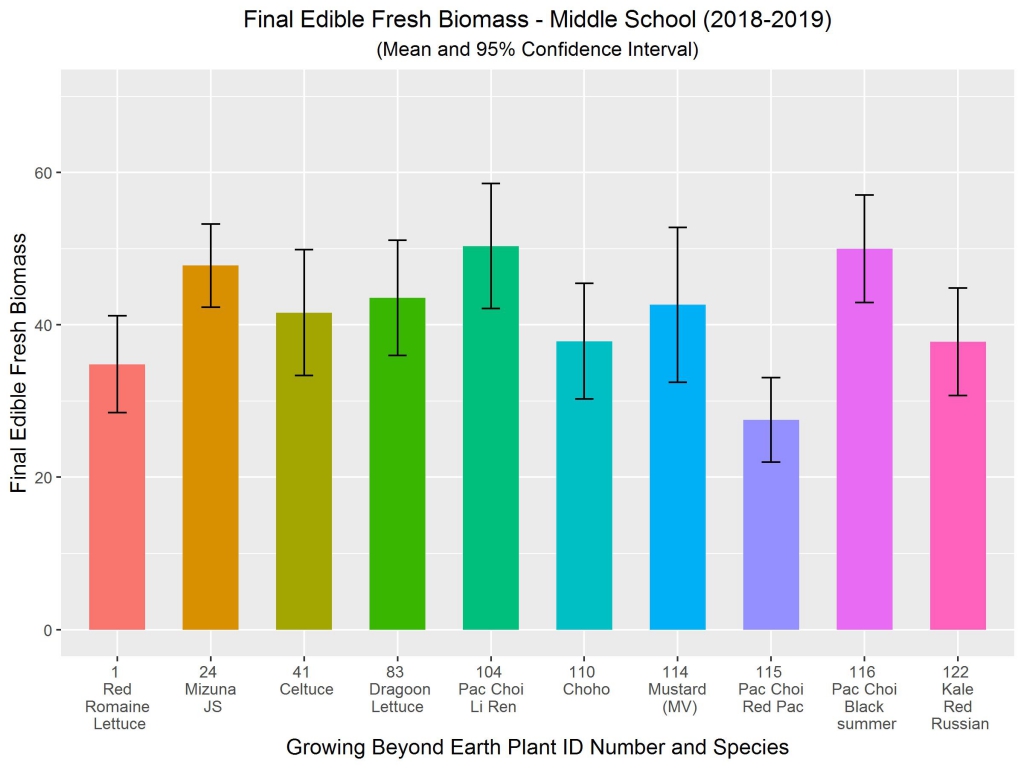 Amazing news from NASA: Seeds from two plant species have been sent to the International Space Station where astronauts will grow them into food. The plants were chosen from data provided to NASA by the Growing Beyond Earth student researchers!
Learn more here:
• Students Help Select Two of Four New Plants Heading to Space
| | |
| --- | --- |
| | This website is based upon work supported by NASA under award No NNX16AM32G. Any opinions, findings and conclusions or recommendations expressed in this material are those of the authors and do not necessarily reflect the views of the National Aeronautics and Space Administration. |
Watch an overview of Growing Beyond Earth:
Learn more about NASA Team Veggie:
Amy Padolf, Director of Education at Fairchild, outlines the collaboration with NASA scientists on researching edible plants in space through a partnership with Fairchild Tropical Botanic Garden STEM education program, Growing Beyond Earth, at TedX:
Watch a live feed from the ISS to Fairchild and a Q & A between ISS astronauts and local students:
See press related to the ISS live feed:
CBS4
NBC6
WSVN 7
WLRN Radio