A World of Fluttering Color
Open Daily, 10:00 a.m. to 4:00 p.m. weather permitting. For safety reasons, strollers are not permitted inside the exhibit. There is nearby stroller parking available.
Welcome to the Wings of the Tropics exhibit in The Clinton Family Conservatory. Here you can enjoy hundreds of spectacular butterflies year-round. Exotic butterflies like the heliconids, morphos and owl butterflies from Central America and South America will be performing their aerial displays of wonder all around you as you stroll through the meandering paths. These butterflies represent about forty different species at a time, creating a living rainbow for you to enjoy. The different species continually rotate and create wonderful educational opportunities for you and your family while at the same time marveling you with their pure delight. This exhibit truly is a one-of-a-kind experience, enhanced further by a stunning display of tropical plants and orchids.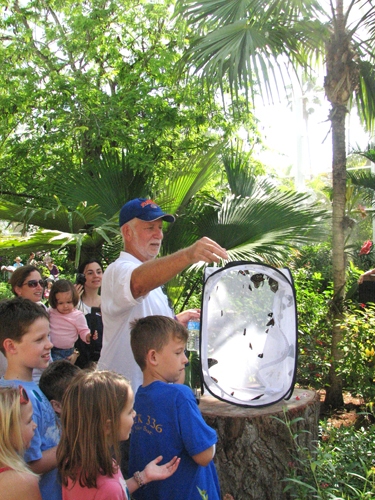 The Wings of the Tropics Exhibit is located inside The Clinton Family Conservatory part of the Garden's state-of-the-art DiMare Science Village, covering more than 25,000 square feet and featuring five buildings including Hsiao Laboratories (Imaging Lab, Baddour DNA Lab, Micropropagation Lab, Vollmer Metamorphosis Lab), The Glasshouse Café, the Tropical Plant Conservatory and Rare Plant House, the Whitman Fruit Pavilion and The Edible Garden.
What to Expect During Your Visit
When you arrive at the Wings of the Tropics, you will be greeted by our very friendly volunteers who will explain to you the safety and containment requirements of the exhibit. The Wings of the Tropics exhibit is a USDA approved facility which requires that we follow specific containment procedures. We ask that you please follow these procedures to ensure the best possible experience for both you and our fluttering friends.
Vollmer Metamorphosis Lab
Upon your arrival, be sure to head toward the Vollmer Metamorphosis Lab where you can watch the process of nurturing and managing incoming butterfly chrysalis. Here, you will enjoy the thrilling experience of being able to watch, in real time, clearly labeled chrysalises through a glass wall as they emerge. It is from here that the hundreds of butterflies, 40 species or more at a time, literally take flight into the Wings of the Tropics exhibit.
Enclosures near the Vollmer Metamorphosis Lab also display other tropical insects such as Australian prickly stick insects, Malaysian jungle nymphs, Hercules beetles, Derby flower beetles, and elephant beetles. The species on display at a given time are subject to change.
Daily Releases
There are butterfly releases twice daily, where kids of all ages will have a chance to experience these winged wonders up close.
Butterfly Release Times (all times are approximate)
Mid-morning
Mid-afternoon
Butterfly Bonanza Discovery Cart (Weekends)
Engage with our expertly-trained volunteers during your visit to the Wings of the Tropics exhibit at the All About Butterflies Discovery Cart. Here, you will learn about the butterfly lifecycle and interact with our volunteers who will explain the various anatomical and biological features of the Lepidoptera family. This program runs year-round from 10:00 a.m. to 4:00 p.m. every weekend.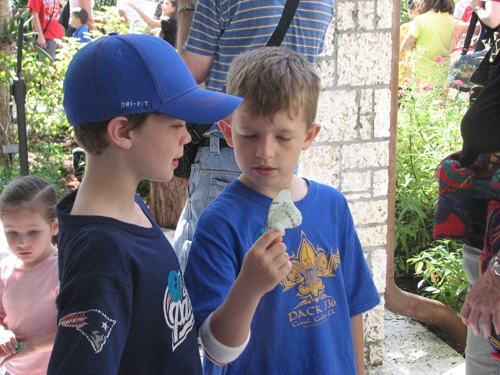 Tropical Plant Conservatory and Rare Plant House and Whitman Tropical Fruit Pavilion
When you depart the Wings of the Tropics exhibit, you will exit into the Tropical Plant Conservatory and Rare Plant House. You can then proceed to the Whitman Tropical Fruit Pavilion to round out a 20,000 sf tropical conservatory experience.