Where to take injured, orphaned wildlife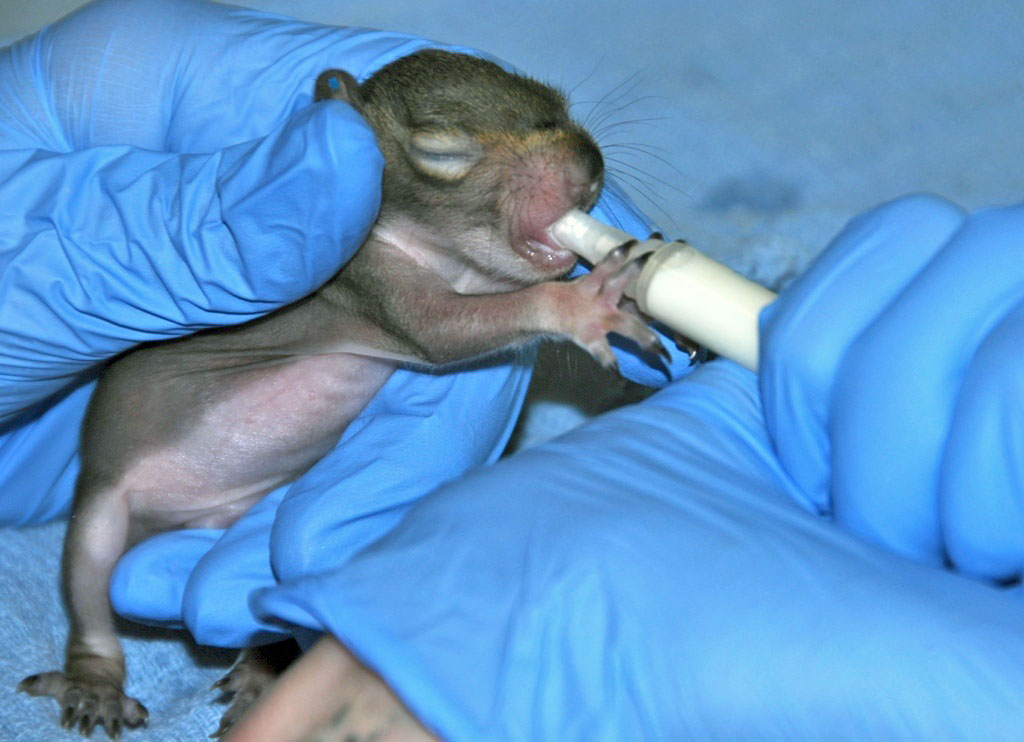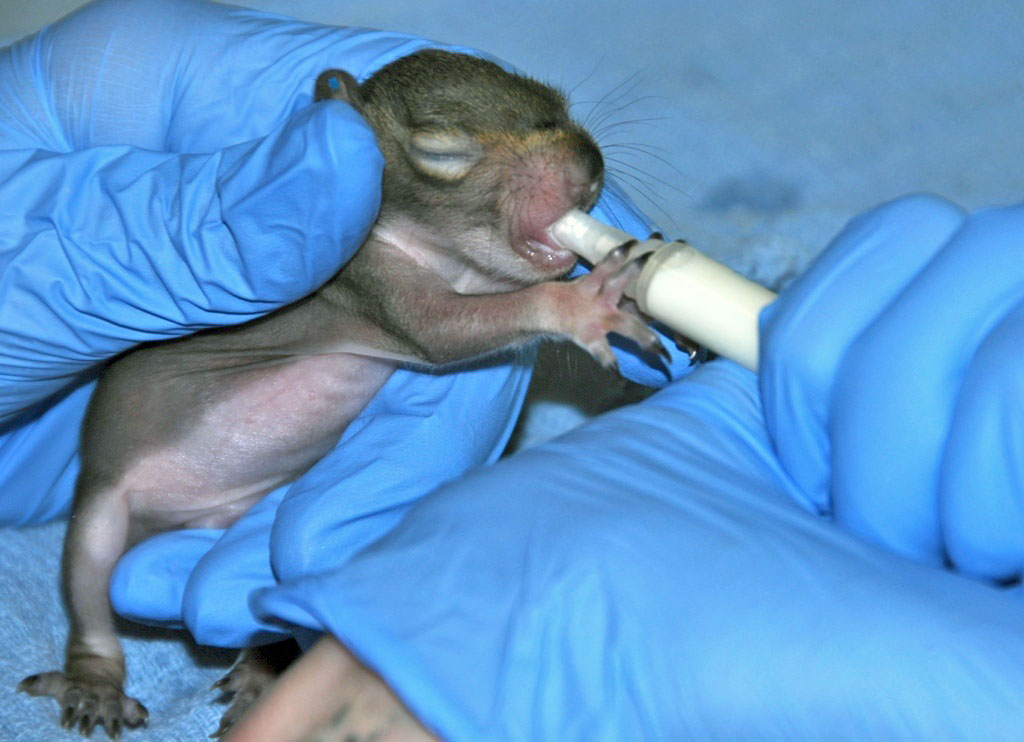 It's baby squirrel season, and at the South Florida Wildlife Center in Fort Lauderdale, babies from one to three weeks old are being hand fed every three hours. Eyes shut, toes splayed and tiny tummies filling, the babies in the nursery are among the 13,000 animals taken to the Center every year. Each baby squirrel has a dot of toxin-free nail polish on his/her head so volunteers can keep track of who has eaten, who has burped or who has diarrhea. After being fed and stroked so they'll poop (mother squirrels do the same thing), the babies are put back in soft cloth pockets that rest on heating pads.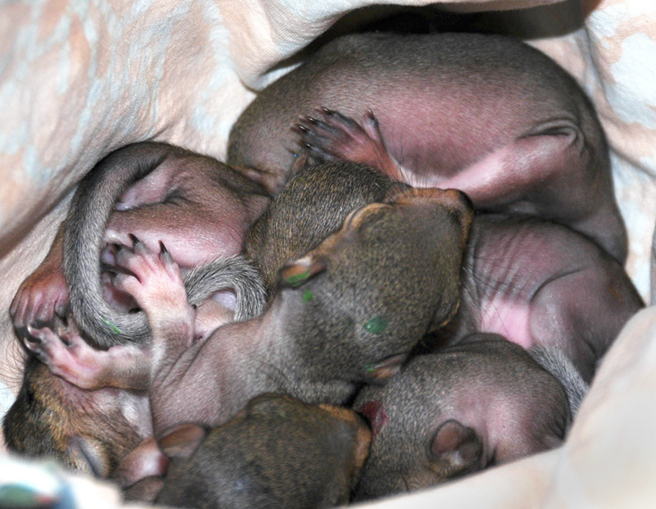 Littermates.
The Center, which became affiliated with the Humane Society of the Unitd States in 2009, used to be the Wild Bird Center that Bea Humphries started in her garage four decades ago. The executive director is Sherry Schlueter, who learned to care for birds at Bea's side, then became a deputy in the Broward Sheriff's Office, where she initiated the animal abuse beat. She is expert on the link between animal cruelty and human personal interaction, and she created the Special Victims and Family Crimes section of BSO. She helped write the felony animal abuse statute that became state law in 1989. When she retired, she joined the South Florida Wildlife Center, and her director's office is in one of several trailers on the 4.1 acres. Everywhere you look in this trailer you'll find signs that "Petey sleeps in the trashcan…" and "Don't lock the bathroom door or Petey can't get to his litter box." Petey, now 16 or 17, is the gray and white office cat who was a legacy, says Schlueter.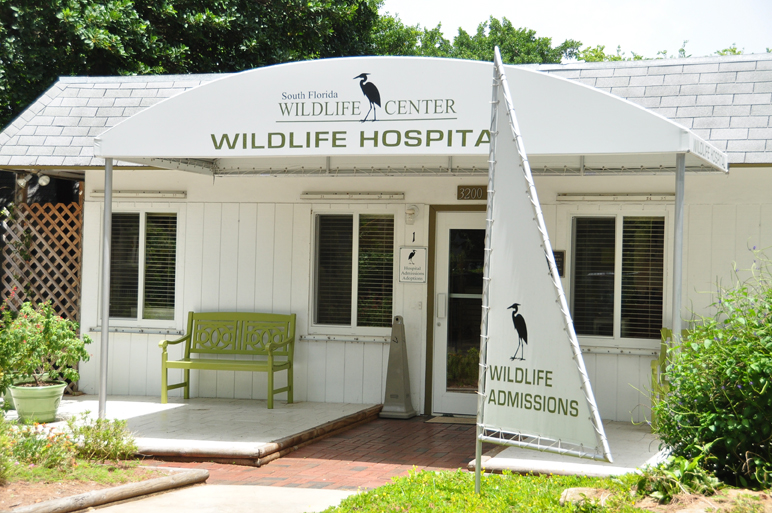 The hospital for wildlife.
The Center recently changed its landscaping to all native plants and butterfly plants, and a Zebra Heliconian flutters at the porterweed near the hospital entrance. In the hospital, there are three full-time vets on staff, along with veterinary technicians and interns in wildlife medicine who rotate through for training. The Center has 3 ambulances and accepts animals from Miami-Dade, Broward and Palm Beach counties. The laundry is endless as all the injured wildlife rests on white towels or sheets so technicians and volunteers can watch for blood or any other distressing signs.
The Center also has an adoption program. You may have seen Gonzo, the scarlet macaw, on television showing off his overgrown beak and featherless chest. Gonzo's beak gradually was filed down, and he was adopted last week. There is a trailer of hamsters, gerbils, and other small animals waiting for someone to give them forever homes.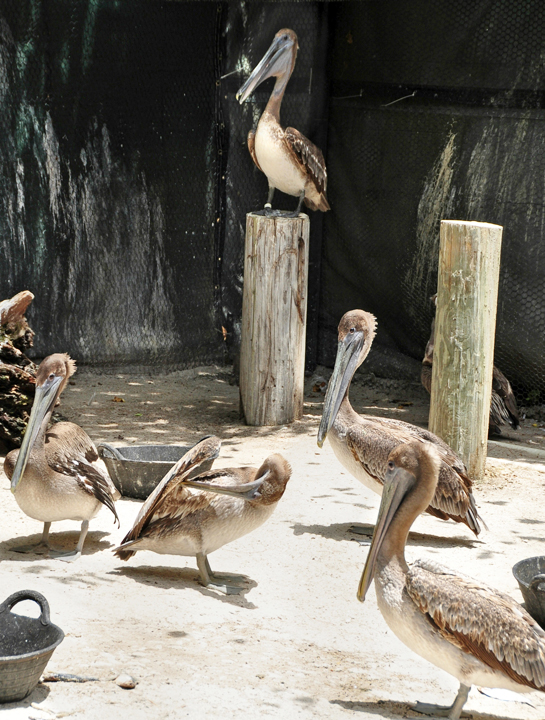 Recovering brown pelicans.
This week, in addition to the squirrels, the center has several pelicans recovering from surgery for removal of fishhooks and fishing line, a great horned owl, several Cooper's hawks, red-shouldered hawks, a turkey vulture, and three ospreys. Pigeons, songbirds, three night hawks, a Vasa parrot (surrendered, not injured), and Muscovy ducks as well as a limping female quail also were being watched and cared for. Box turtles and fresh water turtles have come in, as well as a bobcat. One of the largest hooks you've ever seen – probably meant to catch shark – was removed from an anhinga and hangs with other surgically recovered fishing flies and hooks in the hospital admissions office. Baby raccoons are in a section by themselves, where they learn to hunt for food. Marsh birds, which are skittish with people, are in a large pen that has screening on the sides to shield them from too much disturbance.
Publix and Whole Foods give the Center produce that may be a little beyond saleable, but fish for the pelicans and bird food must be bought. Injured animals are healed, tagged and sent back to the wild. Adult Muscovy ducks serve as foster mothers to older babies so they can learn ducky behavior before being released.
A couple of pigs and goats have found their way here. While the center won't refuse to help animals, they are hoping that farm animals can be sent to other facilities, leaving more room for wildlife.
The staff of 60 includes several wildlife rehabilitators. Hawks, for instance, must learn to fly a 45 -degree bend in the big flight cage so they can escape predators when released. So once or twice a day, a wildlife specialist nudges them from their perches to fly the turn.
The South Florida Wildlife Center is the largest wildlife treatment facility in the country if you look at intake numbers, but it needs to expand because of the constant stream of animals that bump up against traffic, development, dogs, fishermen, and the rest of the human population constantly squeezing out habitats.
If you find injured or orphaned wildlife, call 954-524-4302 or 866-SOS-WILD.