The Tropical Garden, Spring 2015
By Marilyn Griffiths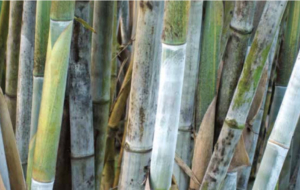 Dendrocalamus minor var. amoenus
The bamboos are the largest and most diverse member of the grass family—a family that researchers estimate is between 70 million and 80 million years old. Ninety-one genera and more than a thousand species make up the tribe Bambuseae of the family Poaceae. Species of bamboo range from the slender-culmed (a culm is a stalk, the stem of a bamboo plant that emerges from the underground rhizome and bears branches), tightly clumping Thyrsostachys siamensis—monastery bamboo; to the giant stands of Dendrocalamus asper—one of the timber bamboos.
Dr. David Fairchild was one of the early pioneers in the effort to bring bamboos to the United States. In the early 1900s he was instrumental in creating the U.S. Department of Agriculture's Barbour Lathrop Bamboo Garden, near Savannah, Georgia. During his trips to Asia, he had seen bamboo's many uses in construction and woven products. Seeing the commercial potential for this tropical, easily grown plant, Fairchild persuaded the USDA to invest in its growth and study. 
Today bamboo is used for flooring, textiles and even beer! Its natural beauty provides ample opportunity for creating decorative and useful objects. As we have come to see that our natural resources are not infinite, bamboo is filling the need for a sustainable source of timber. Clusters of plants can be thinned, removing the larger culms and leaving the plant to produce new ones.
In the spring of 1992, noted Miami landscape architect Raymond Jungles created a design for a bamboo garden that was planted in the Fairchild Lowlands area. Despite a setback by the storm surge from Hurricane Andrew, this garden has thrived. More species have been planted, and Dr. Fairchild's dream of a green tunnel of arching bamboos has almost come true.
Our current collection holds six genera of bamboo: Bambusa, Dendrocalamus, Gigantochloa, Guadua, Neohouzeaua and Thyrsostachys. All are Asian except the Guadua, which is native to South America.
In Plot 71b, south of the Amphitheater, Bambusa tuldoides has survived the vagaries of the weather. The Garden acquired it from the Savannah garden in 1943 and planted it the same year. Lingnan University in Canton (now known as Guangzhou), China, gave it to the USDA in 1935—as can be seen in this page (left) from the original plant inventory data from the USDA Plant Introduction Office, which Dr. Fairchild created.
The bamboo garden fills Plot 159 in the southeastern area of the Garden. Here and across the tram road in Plots 157 and 156a, 40 beautiful specimens of bamboo can be found. Stroll among the large clusters, beneath towering and arching culms, and listen for the distinctive clicking sounds as the bamboo sways in the breeze.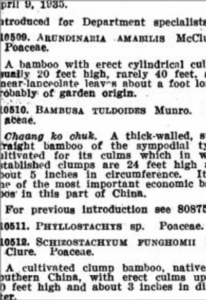 Plant inventory data from the USDA Plant Introduction Office