Shifting into high season
The place is more interesting these days.
As the summer residents dwindle – goodbye to a badly battered Red
A juvenile red-masked parakeet.
Admiral butterfly and a dragonfly in woeful shape – new ones are appearing. The juvenile Red-Masked Parakeets are getting their red markings and the Blue-Gray Gnatcatchers are making zpee sounds all around the garden. A Black and White Warbler was in an oak tree in the butterfly garden last week, as was a Ruby-Throated Hummingbird. The Zebra Heliconid population has become more noticeable, while the Monarchs are busy defending their territory against Julias.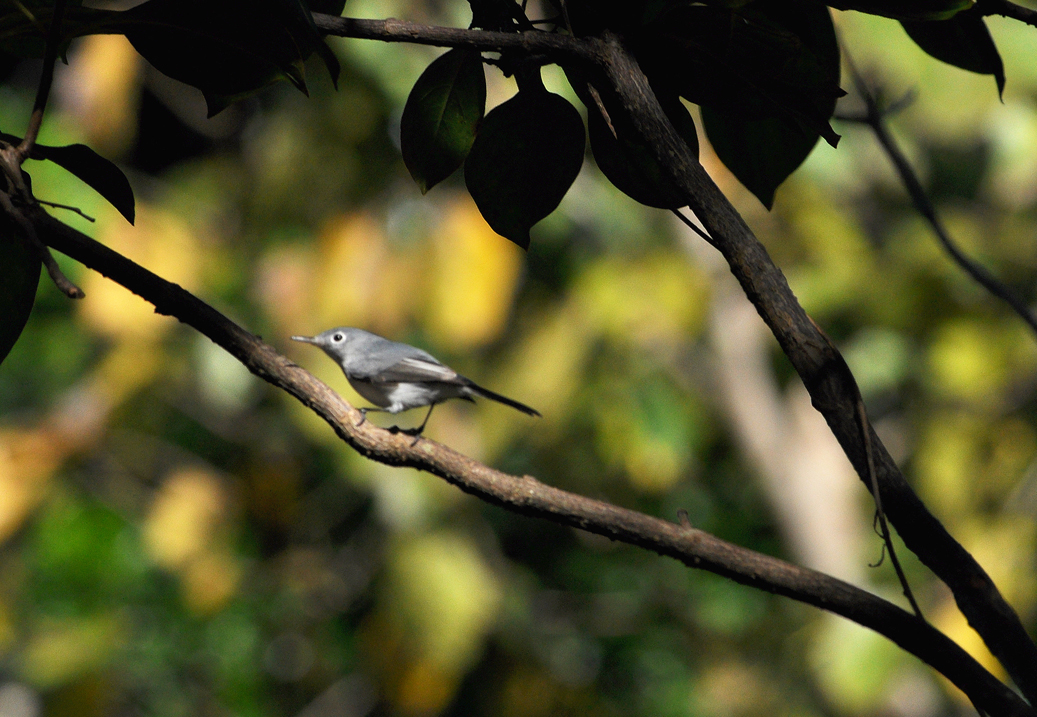 Tiny Bluegray Gnatcatcher weighs 0.2
ounce and winters here.
I've been trying to pay attention to where I see these birds and butterflies for inclusion on a list of possible new garden plants. The Blue-Gray gnatcatcher was in a flowering small tree or large shrub called "Corcha de Gallo," Pogonopus speciosus. Because of the bird, I found a new tree that brings red flowers to the fall landscape.
It's in the coffee family and, like mussaendas that also claim coffee family ties, it has single enlarged red sepals in red that tend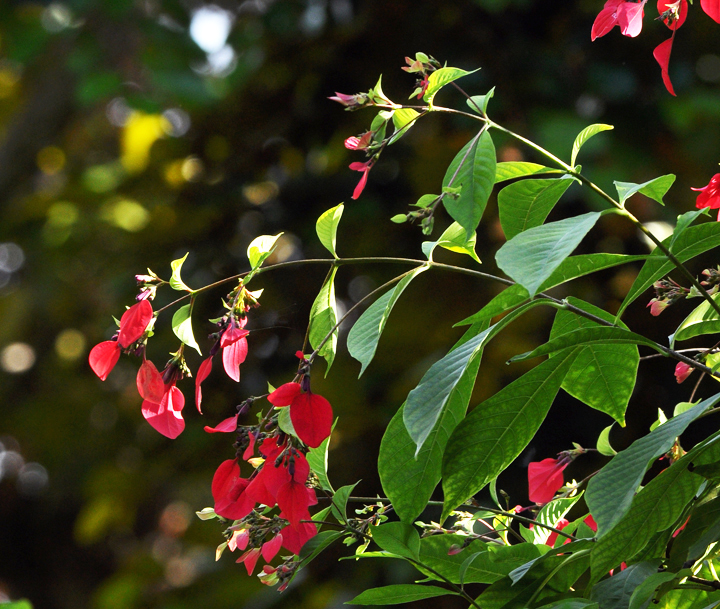 Pogonopus speciosus is in
the coffee family.
tubular rose-colored flowers. From Central and South America – it is found in Costa Rica, Panama and Venezuela – this likes some shade and makes a good understory plant. Its elliptical leaves have a nice drip-tip. Miami-Dade County IFAS/Cooperative Extension recommends it for color.
It may need water in times of drought, but mulch will help with moisture retention. Mary Collins reminds me that it may suffer slight damage in 40-degree weather and more in 30 degrees. (Recall that the mussaendas all lost leaves and suffered some twig damage last winter.) You'll find Corcha de Gallo in the arboretum along the north side of the allee.
Other new finds at the garden are the Les Lalannes sculptures, which seem to be completely at home in a garden. The works of the French designers/sculptors (Francois-Xavier and Claude Lalanne worked independently for more than 40 years, but rarely did the husband and wife collaborate) are being placed in their new locations. In 2009, some of the sheep and other pieces were displayed on Park Avenue in New York. The serenity of our garden makes a far more suitable setting.
Framing the overlook to allow a new
vision is Poisson Paysage.
The Poisson Paysage, placed at the Overlook, makes an optically exciting way to view the lake and lowlands. The Singe avise (tres grand) is a monkey that is displayed near the vine pergola. Oiseau de Nuit, the owl, is as elegant as the sheep are droll. Mary Collins and the hort team used 5 bales of sphagnum for the dinosaur topiary that will be placed in the Amazonica water lily pool. They planted it with native passion vine, Passiflora suberosa, that will grow around the body of Dimetrodon II, as it's called, and one day butterflies may be hovering around the beast as well. Winter season is here.