Saving our songbirds with trees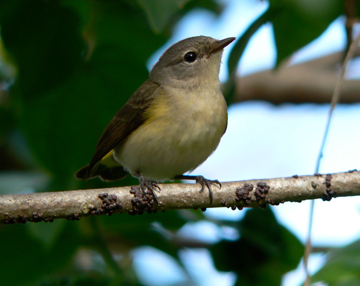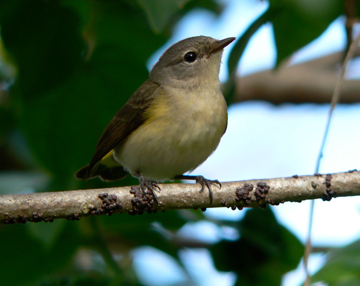 Can warblers find food here?
Guided by the stars, the winds, and the Earth's magnetic fields, migratory songbirds – the warblers, thrushes, vireos, tanagers and buntings that spend the summer in North America and the winter in the Caribbean and South America – are beginning to pass through South Florida now. Traveling from 30 to 100 miles a day, the birds need twice the amount of food during migration as they otherwise require. But will they find enough food here to help them continue their journey?
The answer is a disheartening "perhaps not." There are not enough fuel stops along the avian highways.
That means that many of the songbirds leave and arrive undernourished and must struggle to make the journey between wintering and nesting grounds. Because of the stress, they lay fewer eggs and fledge fewer young birds. In some cases, the birds stay longer at each temporary landing to search harder for food, competing with each other for limited resources. They then must race to the next stopover because they have lost time, again depleting their nutrient supply. Others gamely try to make the next stopover, sometimes failing.
"This unfortunate pattern is no longer conjecture," says John Ogden, Director of Bird Conservation for Audubon of Florida.
As a result, songbirds are disappearing from our skies and our yards.
But that could change with help from you and Fairchild joining forces in the Urban Oases Project for Songbirds.
Ogden says one of the reasons these incredible species are suffering severe losses is because they can't find enough habitat and food when they leave for the winter and arrive back. This lack of fuel is particularly crucial here, where birds fly up to 15 hours over open water and must fatten up before leaving and replenish their food stores coming back. In coastal areas, where their needs are highest, development has drastically depleted green space; stopover oases for the birds are tiny, scattered and unfamiliar.
Tuesday, Ogden and senior horticulturist Mary Collins led a team of birders and Fairchild staffers through the Garden and Matheson Hammock looking for areas where volunteers can identify songbirds and the plants giving them sustenance. With help from Fairchild and residents throughout the South Florida area, a new movement can begin to provide back yard food sources for these amazing avian migrants.
With $20,000 in seed money from Disney, Ogden and Michelle Frankel, conservation biologist with Audubon of Florida, are working with Fairchild, Tropical Audubon, and Miami-Dade Parks and Recreation to set up a public-private partnership that will help identify and encourage the planting of trees and shrubs vital to the millions of migratory birds that pass through south Florida each spring and fall.
Garden trustee Sue Steinberg, along with Mary Collins and Marilyn Griffiths from plant records joined Roger Hammer and Jim King from the County's parks department, Brian Rapoza and Laura Reynolds with Tropical Audubon, to decide on sites where volunteers can work and develop a protocol for the project.
Checking bird hotspots, from left: Sue Steinberg, Jim King, Michelle Frankel,
Brian Rapoza, John Ogden, Marilyn Griffiths, Mary Collins, Roger Hammer
and Laura Reynolds.
Beginning the last week of August, experienced birders can monitor this fall's migration, reporting on what plants are important to the departing migrants in five areas of the Garden: the arboretum, the pineland habitat, the Keys coastal Habitat, the Bahamas section of the lowlands and the rain forest.
There are some known food sources already here: wild tamarinds, live oaks, white ironwood, Jamaica caper, soldier wood, beautyberry, and Bahamas strongback. Others such as the tree Neomillspaughia emarginata from the Yucatan, Belize and Guatemala, which is in full flower in the arboretum and attracting lots of insects, may or may not be important to birds. Insect eating birds will change their diet to fruit during migration for more calories, said Ogden. It is a tree to watch.
Once additional trees and shrubs are verified and identified, the Urban Oases project and cooperating botanical gardens, local nurseries, and garden clubs can begin to propagate and distribute them. An education campaign will be launched urging residents to plant these avian lifesavers in their yards. This is a pilot program that can be expanded to the Caribbean and along the Atlantic Flyway through other Audubon programs and ultimately, perhaps serve as a national model.
If you are an experienced birder and would like to volunteer to identify songbirds and their food plants, please contact Brian Rapoza with Tropical Audubon Society: brianrapoza@aol.com
To learn more about Urban Oases for Songbirds, contact John Ogden: jogden@audubon.org
To follow the James A. Kushlan Bird Trail at Fairchild, pick up a map at the Visitors Center entrance to the garden. It will guide you to birding zones within the garden.