Paradise Found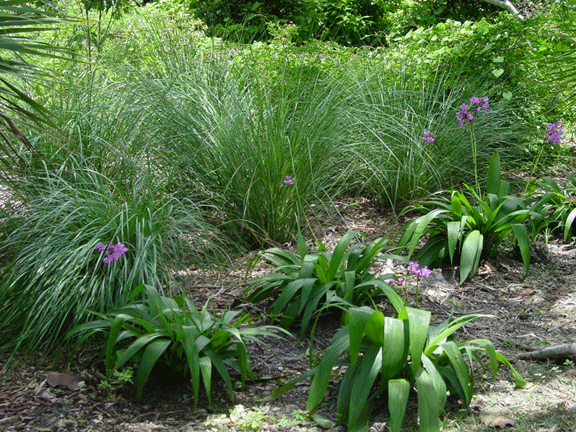 As Published in the Miami Herald
What if you walked out of your back door and into paradise? What if you were surrounded by stately palms, delicious colors, extraordinary textures and striking shapes? Imagine your backyard as more than just a space — picture Eden without the apples. Creating your own slice of tropical heaven is an attainable goal in South Florida. Our unique location makes it possible to grow countless varieties of beautiful yet durable flora. It's a matter of following the principles of good horticulture combined with artistic design.
If your goal is to truly have a slice of tropical paradise, your yard will need to be both functional and beautiful. So before you decide to landscape, decide what you want out of your yard. Do you want a place to relax in the shade, hummingbirds and butterflies, delicious fruit, color, delicious aromas, exotic blooms, privacy or all of the above? By deciding what you want before you make your landscape plan, you will have a better idea of which plants can fulfill your desires.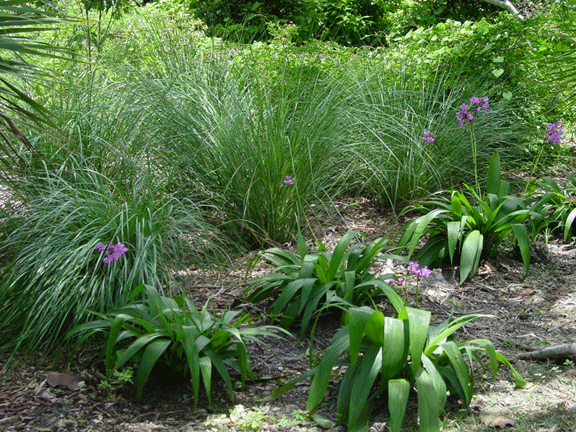 Most aroids are durable and quickly add a tropical feel to any garden.
Lot size
The next part of planning is to think about the size of your lot. Postage-stamp-sized lots can still be successfully landscaped by removing most of the grass and replacing it with mulch, giving you a space to fill. Larger yards offer more freedom. Here, grass should be left in central areas and the perimeter of the yard and areas next to the house should be landscaped. By leaving the grass, you will create vistas that accentuate your design. If you have both front and back yards, the landscape design for each will be different in most cases. The front yard is what everyone in your neighborhood sees and what you will look at each time you come home. This design should be extremely visually appealing and have the design elements of color, texture and layers. The backyard design is just for you. Elements such as a picnic table, a hammock, an artistic bench or a water feature can be incorporated. Privacy can be created by mixing shrubs of different heights and textures along the property line.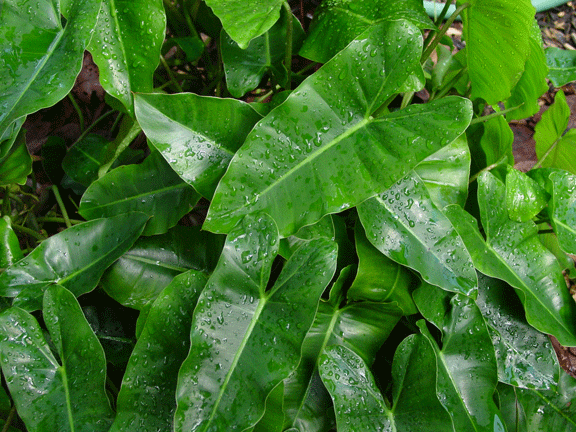 The blooms of the royal poinciana signal the beginning of the rainy period in South Florida.
Color
As you are working on your design, remember that color in the landscape is a very good thing, but too much is sometimes overpowering. All color, whether it comes from flowers or foliage, should be balanced. The color green is the canvas in which the palette of reds, yellows and purples is painted. Never use large amounts of brightly colored plants without ample amounts of green to balance them out. Yellows go with purples and reds go with whites.Orange does well set against a backdrop of green. Try to use your colors in those combinations in different areas of your yard.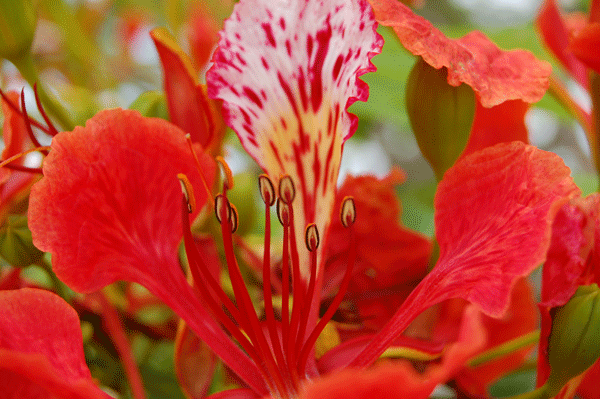 Remember that color can be found not only in flowers, but also in the leaves of many tropical plants.
Texture and layers
Good texture in your garden means having multiple leaf types and looks to your plants. Palms mixed with grasses, big tropical leaves set against grooved tree trunks or arrow-shaped leaves reaching towards the sky can give a yard the design element of texture. Layers are also important. Think of a forest. There is a canopy, then a shade–loving understory that contains many of the forest's more interesting plants. This is a look you want to mimic in your backyard. The front of the house should be layered, but it is important not to use large palms such as the royal palm directly in front of a one-story house. The effect of the palm jutting out of the front of your home is not appealing to the eye. Layers in the home landscape also help during hurricanes, when larger, more durable trees such as oaks protect the more sensitive plants below.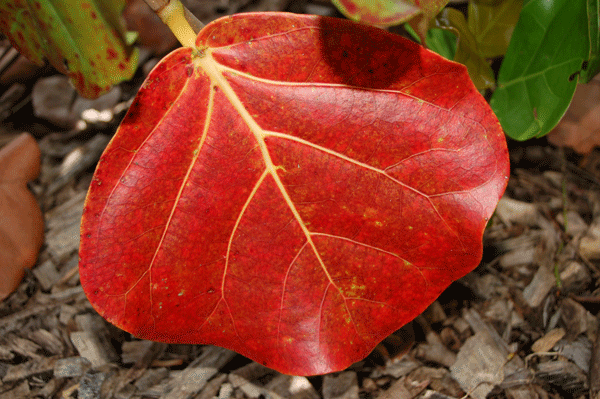 Texture is an important and sometimes overlooked element in the garden.
The right plant in the right location
Underlying all your plant choices should be the need to put the right plant in the right location, which is paramount to making your landscape work. By choosing plants that do well in our harsh summers and poor soils, you will ensure that your landscape continues to thrive long after it is planted. To do so, first consider light levels, soil drainage and soil type in each location. Light levels are simpler to determine: Most of your yard will be full sun, but remember that right next to your house on the northern side you will have shade most of the day. Soil type and drainage has more variation. In most cases, your soil will have poor nutritional value and excellent drainage because it is primarily oolitic limestone (which is often incorrectly called coral rock). The limestone is high in pH, which may cause nutritional problems for plants such as hibiscus, ixoras and gardenias. For plants that will grow successfully in this type of soil, native plants are an excellent choice. They can be blended with non-natives that do well in our soils, such as many flowering trees and bromeliads.
When you put the right plant in the right location, you should need ultra-low amounts of irrigation and minimal fertilizer. This gives you a low-input yard that will pay you back in color, birds, butterflies, beauty, energy-saving shade and a tremendous increase in the value of your home.