Fairchild Tropical Botanic Gardens specializes in the cultivation and care of tropical plants, with over 3,400 species in our collection.
We have organized our plants into collections throughout the garden, so whether you're in the mood for a leisurely stroll or your interest is piqued by a specific exhibit, you're sure to have a memorable day in the tropical oasis of our garden.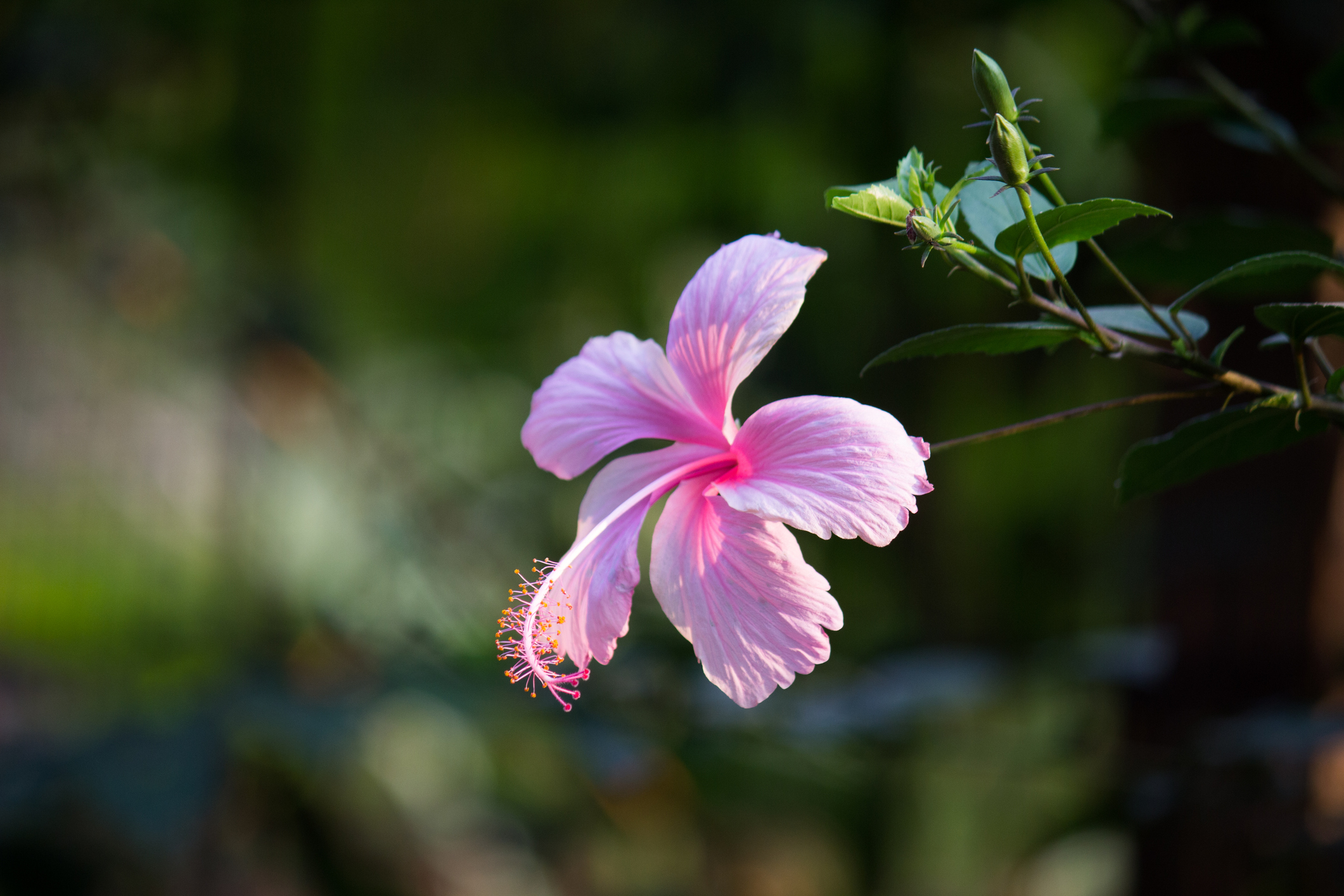 Best Places to View Tropical Plants in Our Gardens
Some of the most popular tropical plant exhibits on the property are listed below, featuring varieties of plants such as Miami's ubiquitous palm trees and the show-stopping orchid.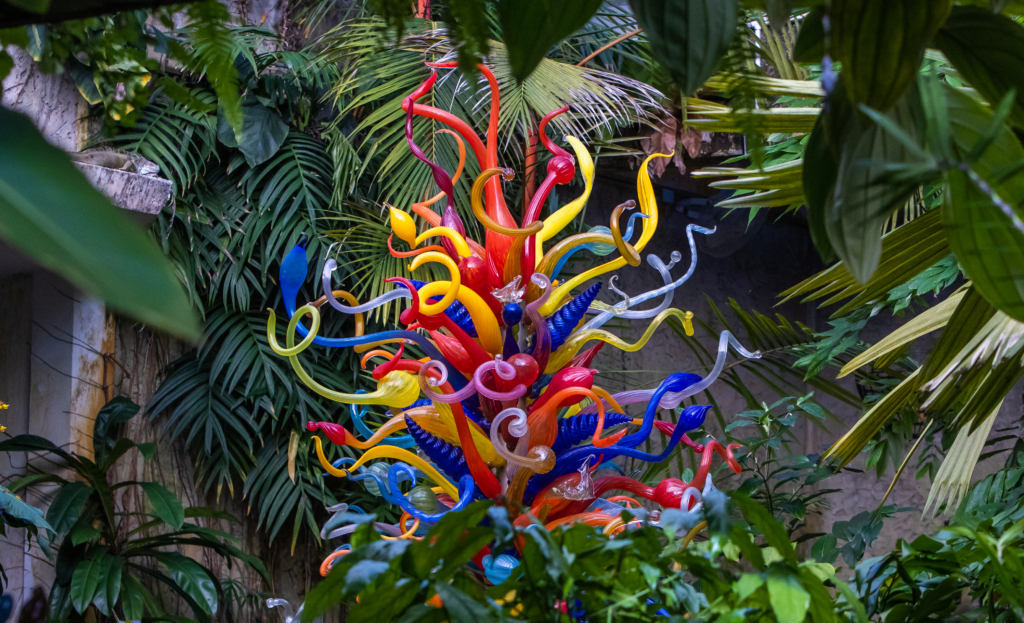 Tropical Plant Conservatory and Rare Plant House
Flowers, striking plants, and a thoughtful selection of trees surround the bespoke floor of Miami oolite.
The variety of flowers present in this nursery is almost dizzying: rare philodendrons, anthuriums, pentagonias, and orchids of vibrant purple, shocking pink, and crisp white. Perhaps the jewel of this collection is the "the queen of flowering trees," Amherstia nobilis. This "Pride of Burma" tree commands its landscape, with its large, showy flowers and is a true ornament of the tropics. Rare red sealing wax palm trees make for distinctive landscaping plants with their bright red fronds and trunks.
Few spots in the gardens are more photographed than our Corchid tree within the Tropical Plant Conservatory. Though it may appear to be an epiphyte-covered tree, the design is actually artificial! Covered with cork and inhabited by flowering orchids, tillandsia, ferns, moss, and other airplants, this needs to be on your list of places to visit within our garden.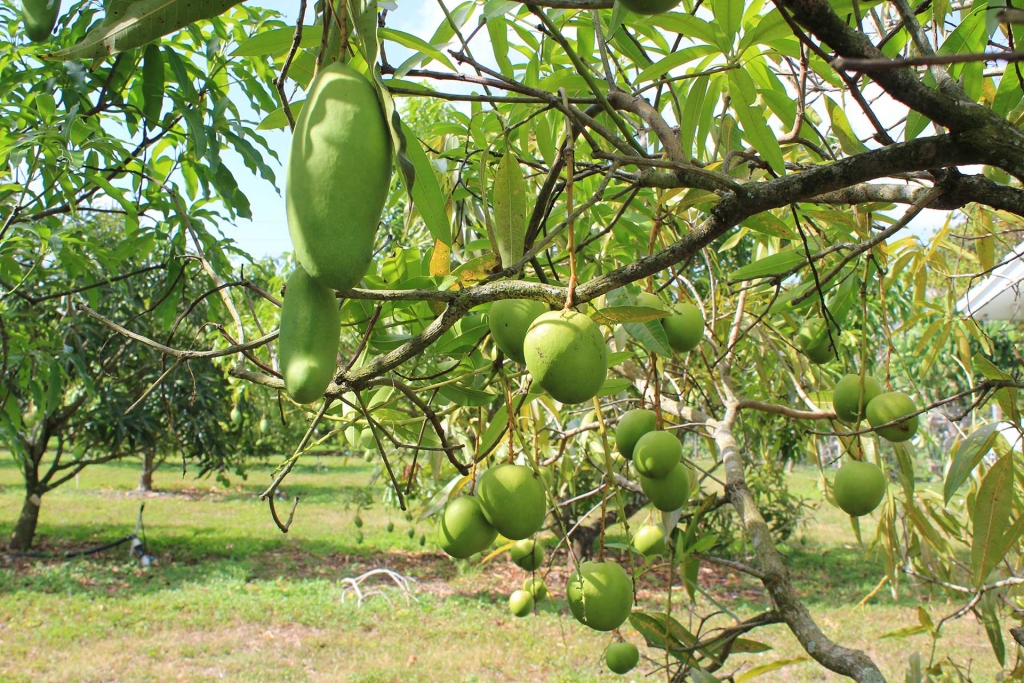 The Fairchild Farm & Tropical Fruit Collection
Our tropical landscape wouldn't be complete without an abundant variety of fruit trees and shrubs. A generous donation by Frank Williams in 2003 allows us to continue his legacy: helping fruit growers here in Miami and around the world.
The foliage here includes approximately 15 acres used as a model avocado production grove. Used as a demonstration model for best agricultural practices, its management practices are consistent with commercial avocado production in South Florida.
One of the world's best collections of tropical fruit is right here in Miami, Florida! The Genetic Facility plays a role in conserving key tropical fruit species, applied horticulture, and the distribution of these tropical plants to all communities, from locally to nationally. The plants from this nursery can be used immediately in one's home garden, estate, or large-scale commercial property.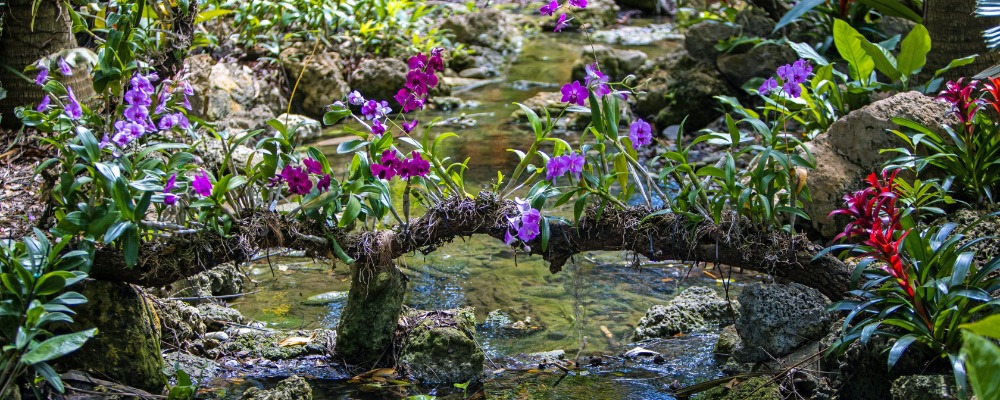 Richard H. Simons Rainforest
A rare opportunity to experience the cooling effects of rainforests right here in our own Miami landscape!
In the Richard H. Simons Rainforest, guests witness stunning waterfalls, streams, and plenty of orchids, aroids, palms, ferns, bromeliads, and tons of other rainforest foliage. The selection of delicate flora showcases the need to conserve the dwindling rainforest ecosystems of the world.
Our rainforest garden showcases a globally imperiled habitat, which is thought to house at least half of all species on earth. Some estimates claim that 50% of all plant species in the world are found in the rainforest canopy.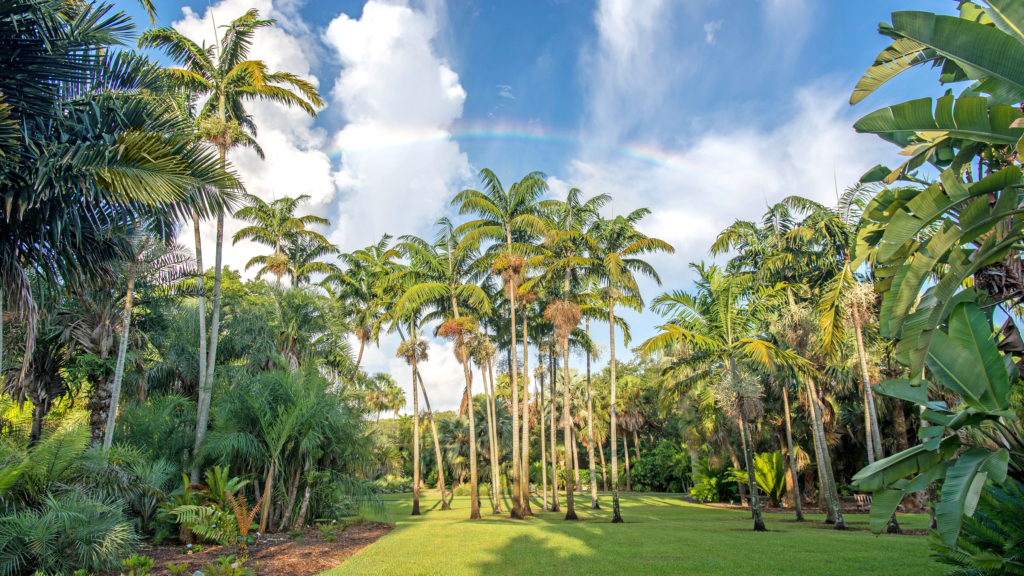 Montgomery Palmetum & Palm Collection
Miami wouldn't be Miami without its ubiquitous palm trees. Even with its reputation for an abundance palm trees, the Montgomery Palmetum's botanical display and research collection of palms in Miami, Florida stands out. Home to 1,000 palms over its 13 acres, the Palmetum is generally recognized as one of the most important documented palm collections in the United States, and indeed, the world!
The Montgomery Palmetum was one of the earliest of our gardens to be planted, with the landscaping done by the original landscape architect of Fairchild Botanic Garden, W.L. Phillips. The 30 designated plots drawn by Phillips made clear which plants should go in each place. This arrangement is helpful not only to students of botany, but also to staff, visitors, and more!


Keys Coastal Habitat
Since 1995, the Keys Coastal Habitat exhibit has functioned as a home to both tropical plants as well as native and migrant bird species.
Located in the southeast corner of the garden, the habitat, with its existing marsh and mangroves, was planted with Florida native species, principally those from the Florida Keys. The careful landscaping design brings with it plenty of company, such as pollinators, pests, and predators. Look closely for a delightful surprise – many kinds of butterflies have also come to call the Keys Coastal Habitat home!
Some of the species you'll see on a visit to the Keys Coastal Habitat include red, black, and white mangroves, pond apple, soldierwood, and Spanish stopper. Be sure to look out for the eye-catching pearl-like fruit of the Indigo berry but be forewarned not to taste the berries; they will turn your tongue a vivid purple-blue!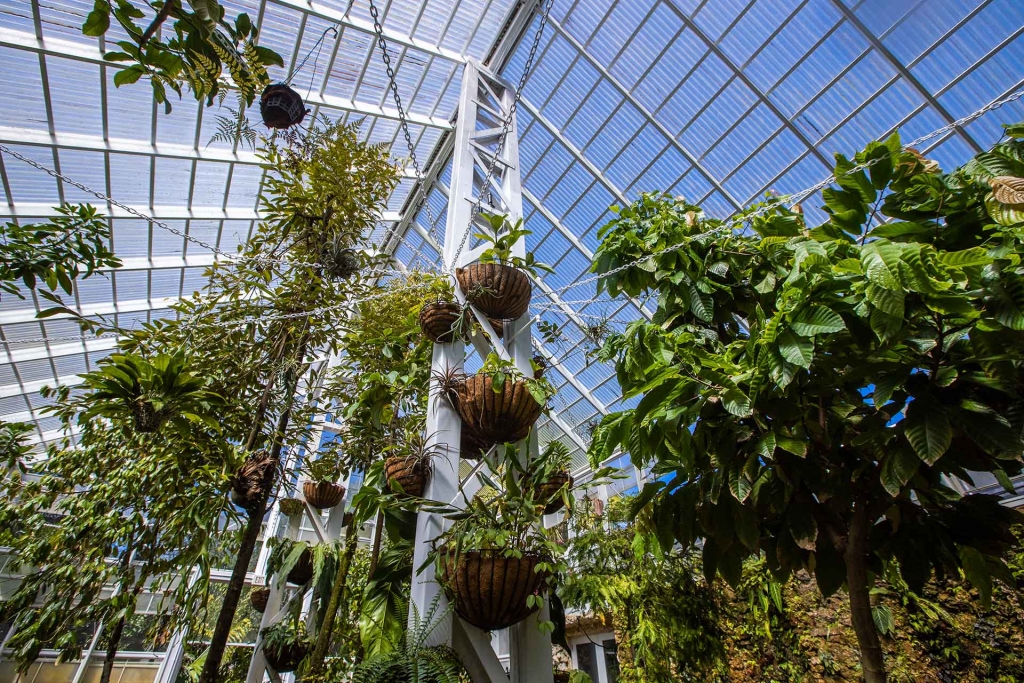 Whitman Tropical Fruit Pavilion
The first of its design in the United States, The Whitman Tropical Fruit Pavilion houses some of the tropical world's most exotic fruit in a conservatory-like structure made possible by a generous gift from William "Bill" Whitman and his family. It provides visitors with a trip to the tropics where they will be able to view, feel and even taste some of the most exotic tropical fruit species found anywhere!
The species present in the Whitman Fruit Pavilion fruit earlier than, and with superior quality to, their wild counterparts. These species are indigenous to the acidic soils of the jungles, and in order to protect these trees from the more alkaline soil of Florida, engineers were required to excavate the area below the pavilion. The acidic soil is maintained by using mulch and water from an acidic cistern. The pavilion must provide a place with a warm humid environment above and acidic soil below, protecting the rare specimens from root to canopy.
Visiting Us
Our garden centers around creating positive, memorable experiences for our guests. We pride ourselves on prompt, enthusiastic customer service and strive to make your visit here a spectacular one.
For admission prices, procedures, or questions, please take a look at our website's admission info, give us a call, or email us. We are happily awaiting your contact!