Many Choices Now for Your Back Yard Mango Tree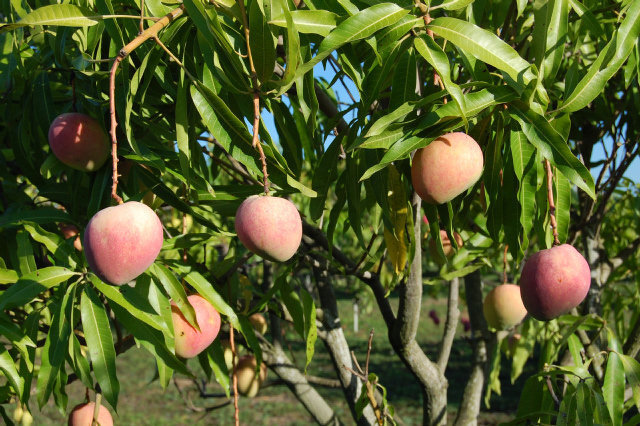 BY NORIS LEDESMA
FAIRCHILD TROPICAL BOTANIC GARDEN
As published in the Miami Herald
South Florida is one of the few mainland areas of the United States in which the delicious and fragrant mango can be properly grown. For years they have been of great value in South Florida. Grown with pride in the garden, they are eaten as fruit when ripe and as a vegetable when green. Nothing compares to the delicacy of a fresh Cogshall or Rosigold mango harvested directly from the tree.
Today we are privileged to have mango varieties with superior flavor, disease resistance, adaptability and flavor. These mangos, truly a new generation, are best grown using advanced horticultural techniques like selective pruning, size control and ultra-low water and fertilizer input. And by choosing the right varieties you can extend the mango season from May to September.
What is the best variety for South Florida? Decades ago, there was but one answer to that question — the Haden, a fiberless, colorful fruit from a tree that is, unfortunately, very large, with fruit that is highly susceptible to the fungus anthracnose.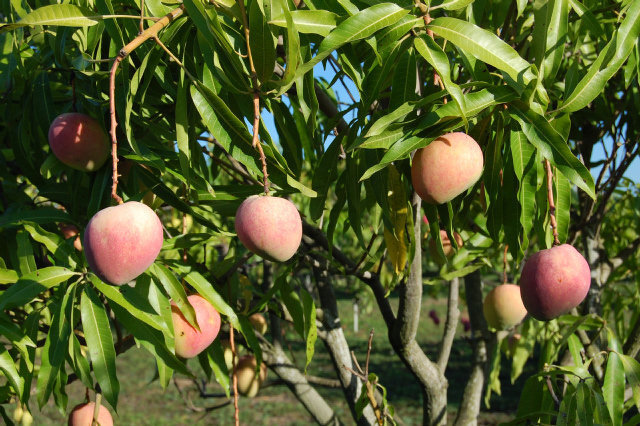 Mature mangos mean summertime is here.
Today, your choices are different, and you should plant as many varieties as you have space for. There are many superior ones to choose from, many of which are available in local nurseries. They will also be available at Fairchild's 20th annual International Mango Festival taking place July 14-15.
The following trees represent a new wave of superior fruit that are well adapted to South Florida and make a great addition to any backyard.
San Felipe is an eye-stopping beauty from western Cuba and has many characteristics of the Haden. It is about 11/2 pounds, with a bright yellow background color, an apple-red blush overlaid by a blanket of white dots. The tree is vigorous and a consistent producer. The flesh color is a deep yellow to orange and the flavor is rich, sweet and spicy, one of the truly classic mango flavors of the world. San Felipe is perfect for the home gardener in search of the taste of old Cuba, and for bragging rights among neighbors.
Cogshall was selected on Pine Island, Florida, for its small tree, good production, eating quality and beauty. The fruit weigh from 10 to 18 ounces and are yellowish-orange, overlaid with a brilliant crimson blush. The fiberless flesh has an excellent, spicy and aromatic flavor. The fruit and trees have good tolerance to fungal diseases. The Cogshall tree remains small and compact and with minimal pruning can be maintained at a height and spread of six feet or less. Such a tree will easily produce 30 to 40 pounds of fruit while retaining health and vigor.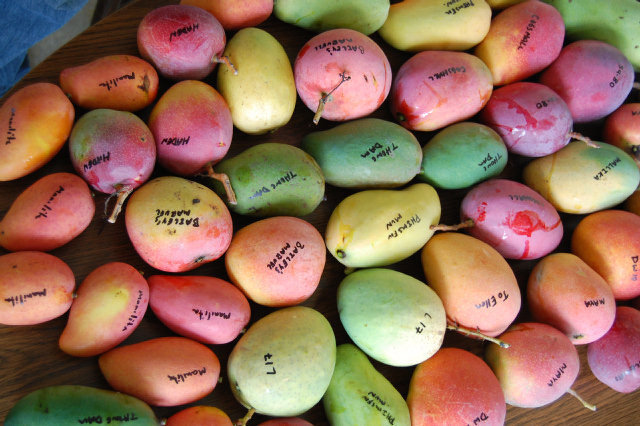 Mango varieties vary greatly in shape, size, color and flavor.
Rosigold is a local selection of Southeast Asian heritage. It has a very early season with the fruit ripening from middle to late March. It weighs 11 ounces and is a bright yellow, with crimson and red highlights on the sun-exposed shoulders. The skin is thick, tender and adhesive to the soft, melting, juicy, deep-orange flesh. The flavor is rich, aromatic and sweet, with a hint of the Asian tropics. The tree is small, manageable and highly productive. It often has a multi-harvest fruiting season.
Neelum is a South Indian dessert mango. The fruit weighs nine ounces and ripens from middle to late August, considerably late in the season. It is smooth-skinned and bright yellow upon ripening and has no blush. The flesh is deep yellow or orange and has no fiber. It has a rich, aromatic flavor that is overpowering to the unaccustomed palate. Neelum is best eaten out-of-hand, or used as slices or cubes in mixed fruit salads, as the firm flesh holds its shape. Neelum is a dwarf.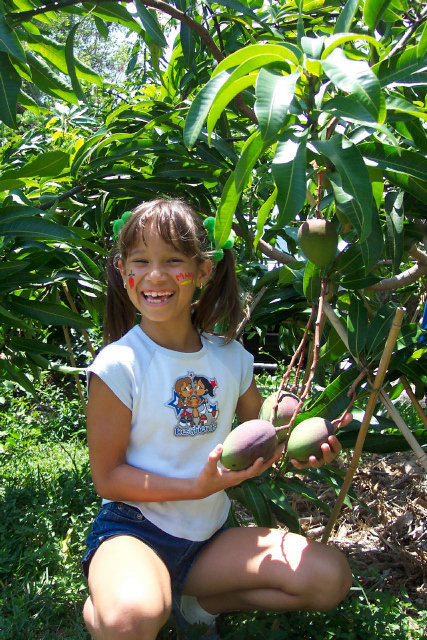 No matter what your age, the mango has the power to put a smile on your face.
Angie was selected by Fairchild Tropical Botanic Garden for home garden and estate agriculture in South Florida because of its compact growth, disease tolerance and overall fruit quality. The fruit weighs almost a pound, is oblong and saffron yellow with Indian orange blush on the sun-exposed shoulders. The flesh is tangerine orange and without fiber with a deep sweetness and sophisticated profile rich in apricot. The disease tolerance is excellent, and given its early season it often can be harvested before the rainy season. The tree is semi-dwarf and highly manageable with annual pruning.
Jean Ellen is the second Fairchild selection perfect for the home garden because of its early season, heavy production and its multiple bearing habit. The fruit is 10 to 11 ounces, oblong with a lemon yellow color. The skin is smooth and with an opaque yellow flesh. The flavor is sweet of tropical spice. The tree grows easily and is semi-dwarf and precocious. The tree and fruit are moderately tolerant of disease. Typically, there are multiple blooms during the year. The season is from April to June in South Florida.
Fairchild was selected by Dr. David Fairchild and his family in the early 1900s in the Panama Canal Zone. The small, oblong fruit averages 10 ounces and has lemon yellow skin at maturity in June and July. The juicy, fiber-free flesh is deep orange and aromatic, with a rich, spicy flavor. The tree and fruit are highly tolerant of disease and fruit well under humid conditions, making it a natural for South Florida. The tree is among the most ornamental of mangos, with its compact shape and deep green color. It can be maintained at a height and spread of eight feet or less, perfect for those with a modest-sized home garden.
Noris Ledesma is Curator of Tropical Fruit at Fairchild Tropical Botanic Garden.