Great bird and butterfly plants for a small yard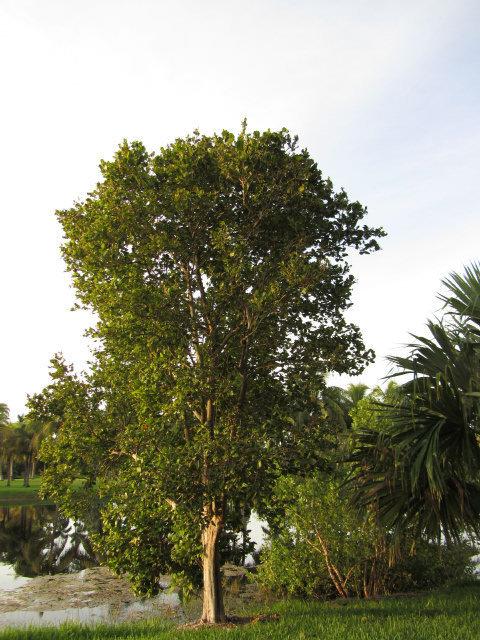 As published in the Miami Herald
Many people have a tiny yard but still want to enjoy a few plants. The ones I am suggesting need little care once established. Many have fragrant flowers and all provide food in the form of small fruit for birds. All of them may be grown easily in a shady to full sun location.
A good landscape consists of several layers. Tall plants in the background with smaller shrubs in front help give a more natural, appealing design.
Pigeon plum, Coccoloba diversifolia, is a medium-sized tree with an upright, columnar growth form. Male and female flowers grow on separate plants. The small white flowers on female plants are followed by dark purple fruit, much enjoyed by birds. Pigeon plum would make an excellent specimen for the background.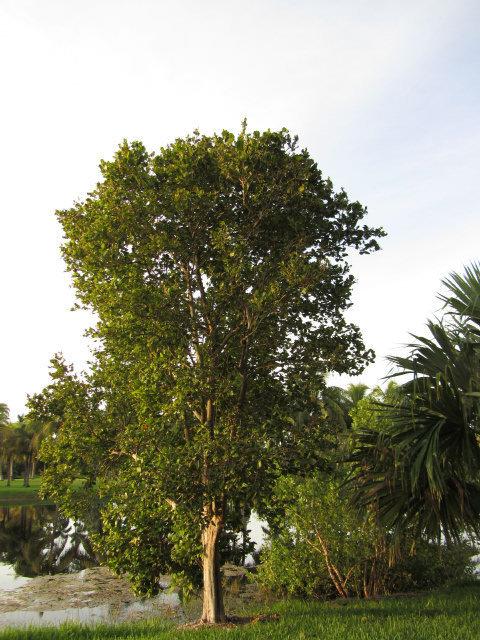 Pigeon plum is an excellent, medium-sized tree that can be used to attract birds to your garden.
The next layer of plantings should consist of shrubs to small trees, commonly called stoppers. Simpson's stopper, Myrcianthes fragrans, has white, fragrant flowers throughout the year with heaviest bloom in the summer, followed by showy, red fruits. The flowers attract butterflies and the edible, perfumed fruits are relished by birds.
Spanish stopper, Eugenia foetida, has a neat, upright growth habit, making it a perfect choice for a small area. During the summer, the stems of Spanish stopper are engulfed by fragrant, white flowers. After flowering, small red fruit turn black and are eaten by birds. Redberry stopper, Eugenia confusa, is what I call the perfect small tree for a tiny space. Although slow growing, redberry stopper will produce a nice, dense crown with small, shiny leaves, tiny white flowers and red fruit. Like other stoppers, the redberry will attract birds.
All stoppers are easily maintained to the size desired. The lowest branches may be removed to give a more tree-like appearance. Stoppers have small leaves, are evergreen and usually have a columnar shape, all characteristics which fit into a small space. These plants will be denser if grown in full sun. When planted in a shady location, the stoppers will develop a more open growth habit with slightly larger leaves.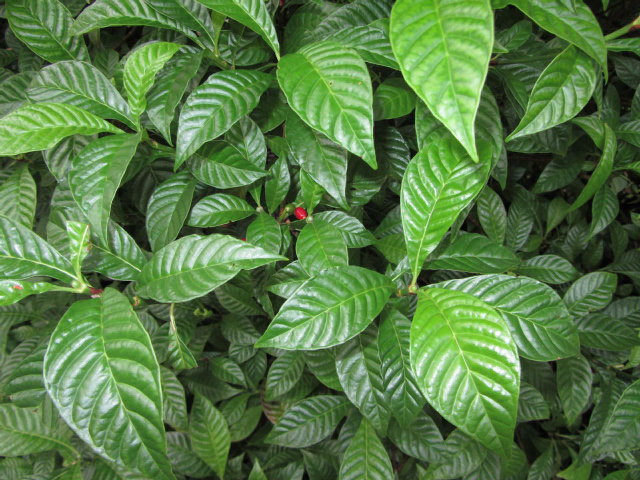 The bright green leaves, white flowers and red fruit of the wild coffee plant attracts birds and butterflies.
Senna mexicana var . chapmanii, known as Bahama senna, is native to South Florida, the Bahamas and Cuba. It is a small shrub, six feet tall and about six feet wide with yellow flowers nearly all year. Bahama senna is a larval host plant for several butterflies, including the orange-barred sulphur, sleepy orange sulphur and cloudless sulphur. It grows best in full sun to light shade. Bahama senna is a wonderful choice for all butterfly gardens.
Wild coffee, Psychotria nervosa, will add a third layer of smaller shrubs to the landscape. The glossy, bright green textured leaves, white flowers and vivid red fruits attract butterflies to sip the nectar of the flowers and birds to dine on the fruit. Wild coffee may be grown in shade to full sun.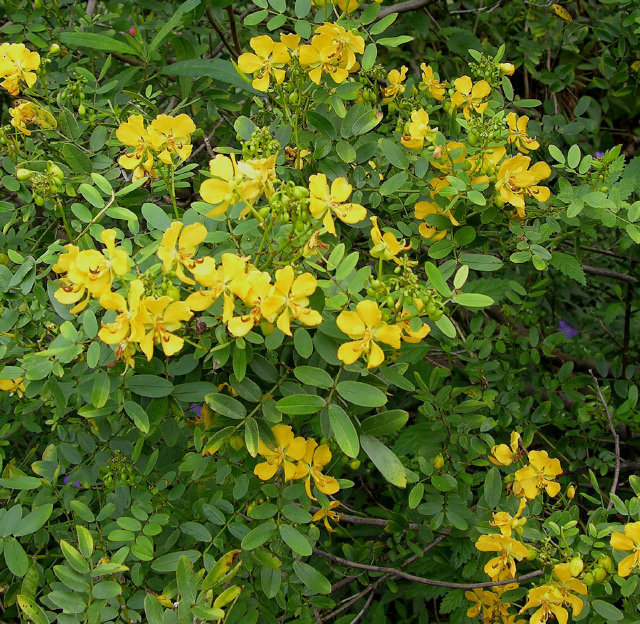 The Bahama senna shrub is a great butterfly host plant that produces yellow flowers nearly all year long.
A bird bath may be added to complete the bird-friendly landscape. If you are interested in attracting the beautiful Painted Buntings, a bird feeder filled with millet seed will encourage these to visit your garden.
Mary Collins is senior horticulturist at Fairchild Tropical Botanic Garden