Biologists find orchids on the move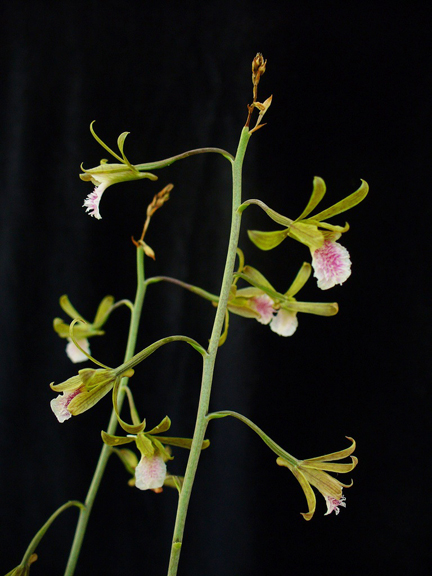 Six years ago, an exotic little orchid, Eulophia graminea, popped up in some mulch in South Miami, half way around the globe from its home. Harvey Bernstein, a former Fairchild horticulturist, spotted it in his yard. The next year, it came up again, and FIU ecologist Suzanne Koptur, who lived close by, called it "an exciting botanical mystery."
At the 2012 meeting of plant biologists of South Florida, Dexter Sowell, with the Florida Forest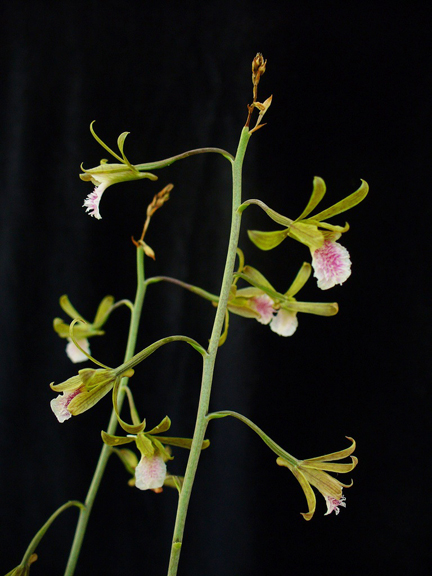 Biologist Scott Zona took
this picture of the exotic
Eulophia graminea.
Service, said the orchid has spread throughout southwest Florida, from the Big Cypress National Preserve to the Naples Botanic Garden. The bulbs, which are larger than softballs, have turned up in Picayune Strand State Forest, along Janes Scenic Drive in the Fakahatchee Strand State Preserve State Park, and even in mulch in a large mall near Naples.
Originally from India, Nepal, Southeast Asia, southern China to Ryuku Islands of Japan, the cosmopolitan plant probably came into the U.S. when someone purchased it via the Internet, suggested Koptur and USDA scientist Bob Pemberton, who researched the orchid. Seeds, which are dust-like, spread by wind. Koptur noted at the time that the orchid seemed to prefer cypress mulch, not her wood chips from local trees. Sowell said he finds the bulbs attaching themselves to cypress trees, and even ringing the trunks, producing 12 to 20 flower stalks per clump.
The native eulophia commonly called wild coco, Eulophia alta, also grows in the same southwest natural areas, but is so much larger that the biologists on hand said they doubted it would cross with the native plant. Since the natural range of the orchid includes the eastern Himalaya, it's likely to keep heading north, Sowell said.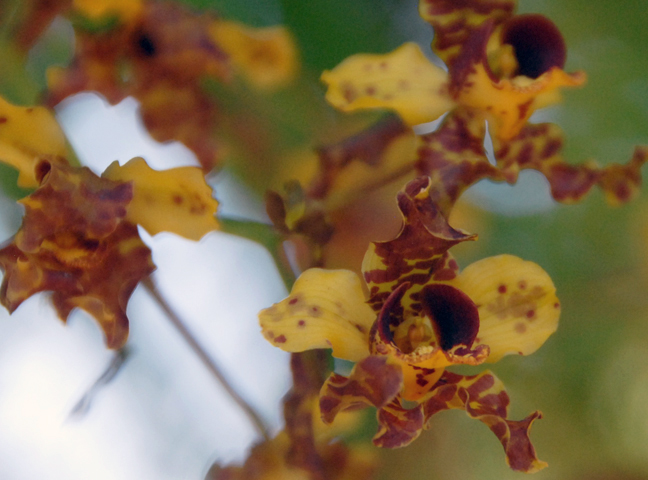 Flowers of the cowhorn
orchid, Cyrtopodium punctatum.
The other orchid news from the meeting: many specimens of the cowhorn orchid, Cyrtopodium punctatum, are being replenished in the Fakahatchee Strand, which is a swamp forest 20 miles long and five miles wide along State Road 29. It is home to 44 species of native orchids. Mike Owen, the park's biologist, worked with Dennis Giardina and Matt Richards on a project to hand pollinate some of the 12 cyrtopodiums found there. The massive orchids were so heavily collected from 1900 to 1974 that the orchid is on the state's endangered species list.
Owen, who has recorded the pod and pollinia parents for each cross over a five-year effort, described how the team found the first seed pod in 2009 and then spread seed by hand on the trunks of cypress trees. They also suspended a pod to allow natural wind dispersal.
They made mycorrhizae fungus traps and attached them to trees near the orchids. The fungus is needed for seeds to germinate.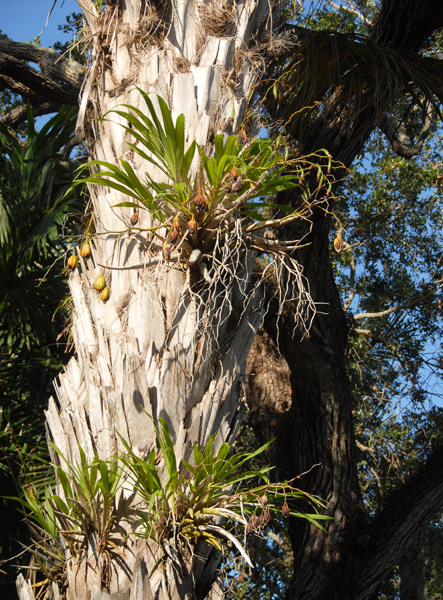 Cyrtopodium punctatum
growing on a palm.
In 2009, five mother plants were pollinated, and in 2010, there were 14 seed pods produced. Six were collected and sent to the Atlanta Botanical Garden for germination, while eight were allowed to remain in place.
One of the pollen parents was stolen last year, but 88 progeny are carrying those genes. The plants were shipped back from Atlanta and attached to trees in the Fakahatchee. This year, 98 young plants have been "out-planted" in the swamp.
There are several Cyrtopodium punctatum specimens in the garden. One across from the edible garden is currently in flower.