Fresh Fruit Sale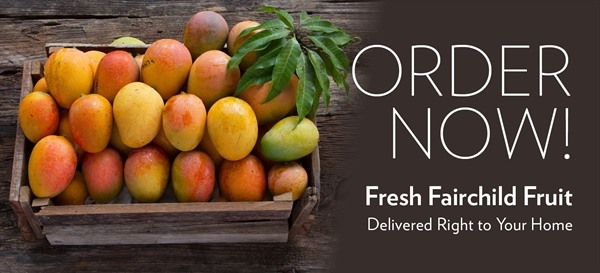 Fresh Fruit from The Fairchild Farm
Now you can order fresh fruit directly from the Fairchild Farm! We are bringing you the most delicious farm to table experience: delivered right to your front door!
Home to the world's largest mango collection, the Fairchild Farm is a 20-acre working farm in Homestead, Florida, growing some of the finest tropical fruit in the world; from mangos to avocados, jackfruit, mamey sapote, sapodilla, canistel, abrico, caimito, Spanish lime, to tamarind and more, each fruit represents decades of exploration. collection management, research, cultivation and propagation by our Tropical Fruit Program.
Only previously available on select days during the year, we are bringing our famous fruit to you year-round!
Fairchild has partnered with Miami Fruit, a local tropical fruit hub, to deliver the fruit from the Fairchild Farm right to your home. Each fruit box comes beautifully packaged with fruit picked the day before, ensuring you receive the freshest and most ready-to-eat-over-a-kitchen-sink fruit imaginable.
In season now is the King of Tropical Fruit: Mangos. Order yours today!
Fairchild Members enjoy 10% off your Fairchild Fruit Mango Box! 
Members Save 10% on Your Mangos Now
Not a Fairchild Member or need to Renew your membership to enjoy these delicious savings?