Member's Day Plant Sale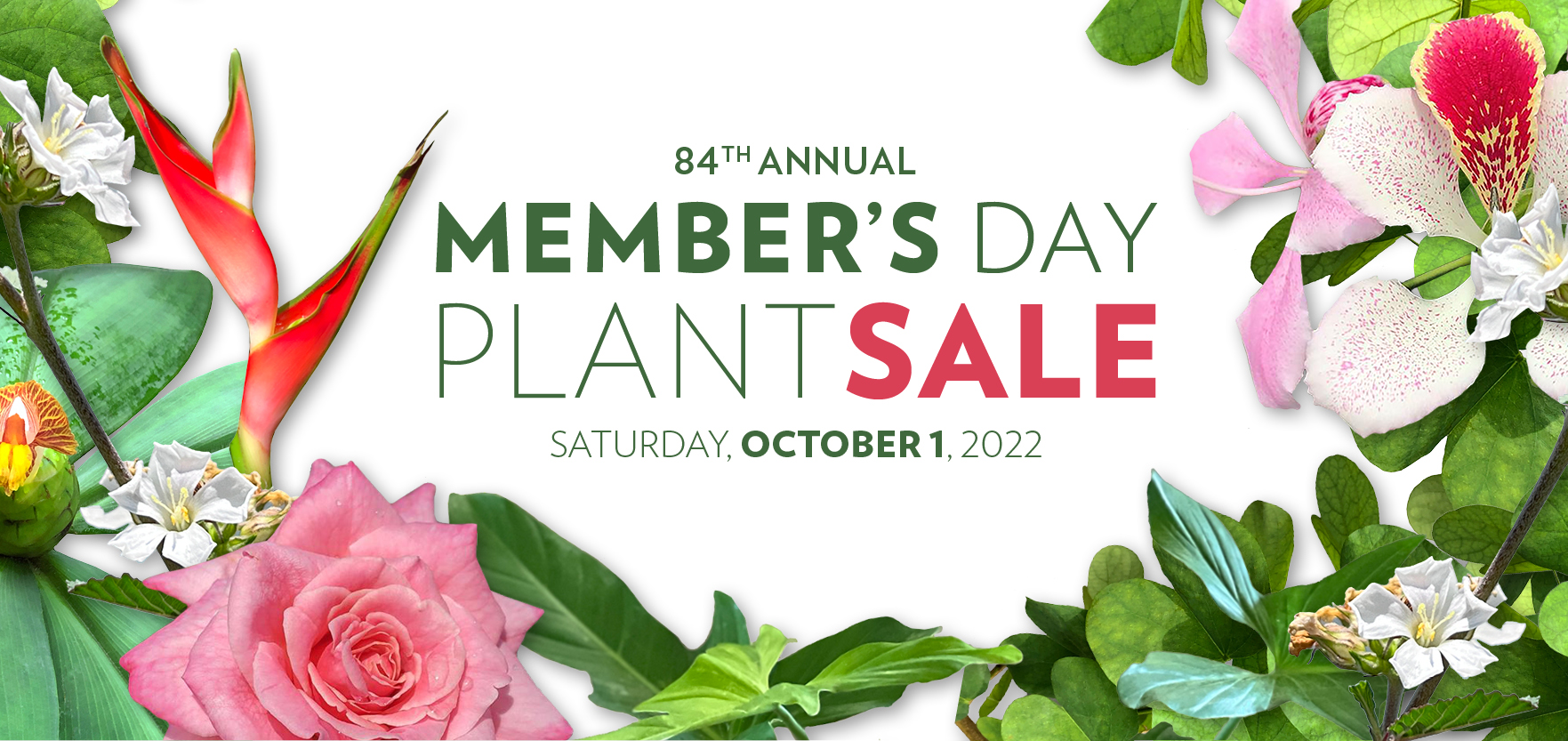 Saturday, October 1, 2022
Welcome to the 84th Annual Member's Day Plant Sale
Talk with our plant experts and enjoy tours of the Tropical Plant Conservatory and Rare Plant House as we celebrate 84 years of plant distribution in South Florida.
Tours will be held at 11am & 1pm. Members should meet at the Tropical Plant Conservatory 15 minutes prior to the tour start time.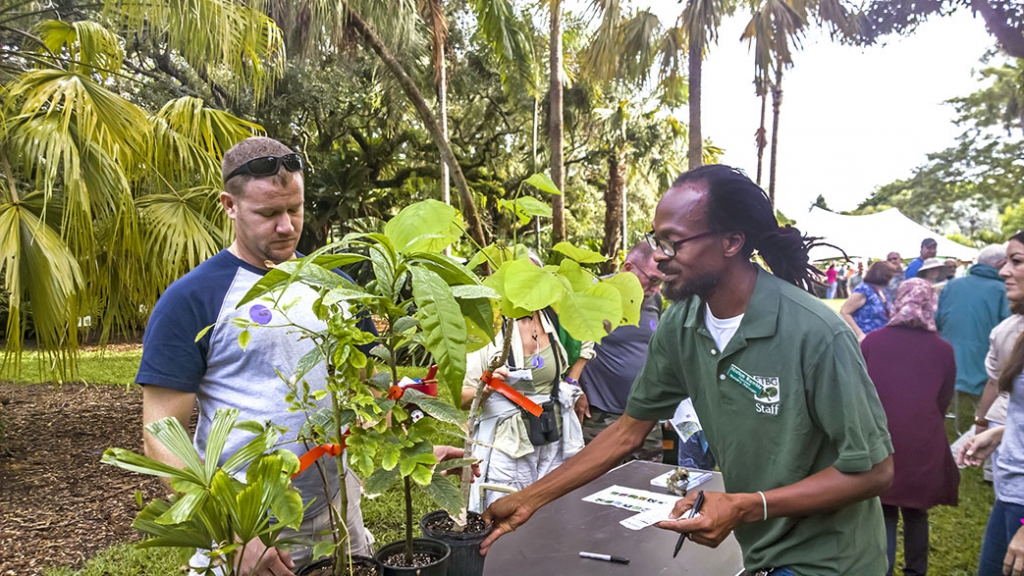 This annual celebration of plants, created by Dr. David Fairchild eight decades ago, promises to be one of our most exciting!
Members Only 
Gates open at 7:30 a.m.
Early Access for Members: 8:30 a.m.
Early access to this event is for Fairchild Members only.
Members must present membership cards for early access.
Please bring a wagon or cart.
Non-Members
General Admission: 10:00 a.m.
Early access to this event is for Fairchild Members only. 
Please bring a wagon or cart.
Become a member today to get early access! Purchase a membership below.
BELOW IS THE LIST OF PLANTS THAT WILL BE AVAILABLE FOR PURCHASE
Some of these are plants cannot be purchased online as they are unique and rare species that have been specially curated for our Member's Day Plant Sale.
Please scroll down to the bottom of the page and allow all plants to load prior to using the button below to print the list.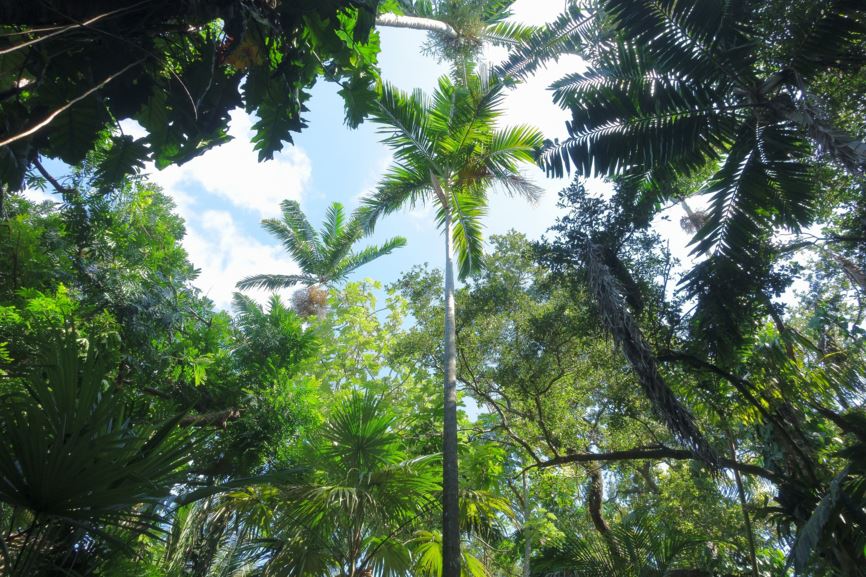 Actinorhytis calapparia
Quantity: 16
Price: $40.00
Calappa Palm is a tall, solitary palm with a slender trunk and elegantly arching pinnate leaves. In it's native environment, the rainforests of Australasia, it can reach a height of 15 meters. This palm prefers a sunny placement in a tropical setting, making it a perfect specimen for South Florida. It has little tolerance for drought, therefore requiring generous water and nutrient rich, well-draining soil.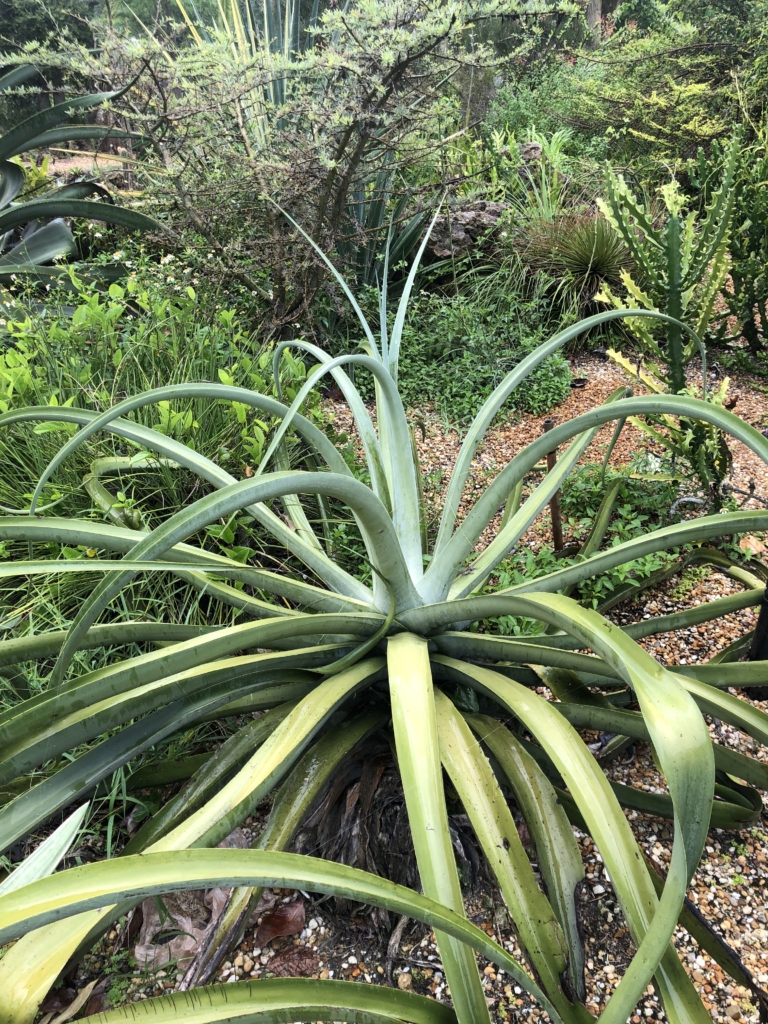 Agave vilmoriniana
Quantity: 25
Price: $25.00
This Mexican species is called the "Octopus Agave" because of its beautifully twisting and arching leaves. A real showstopper in the landscape, it grows slowly to 4' tall. After about ten years, it produces a magnificent inflorescence of bright yellow flowers. It will thrive in full sun with no supplemental irrigation or soil amendments. Be sure that the planting site drains well, and give it a small application of low nitrogen granular fertilizer before the onset of the summer rainy season.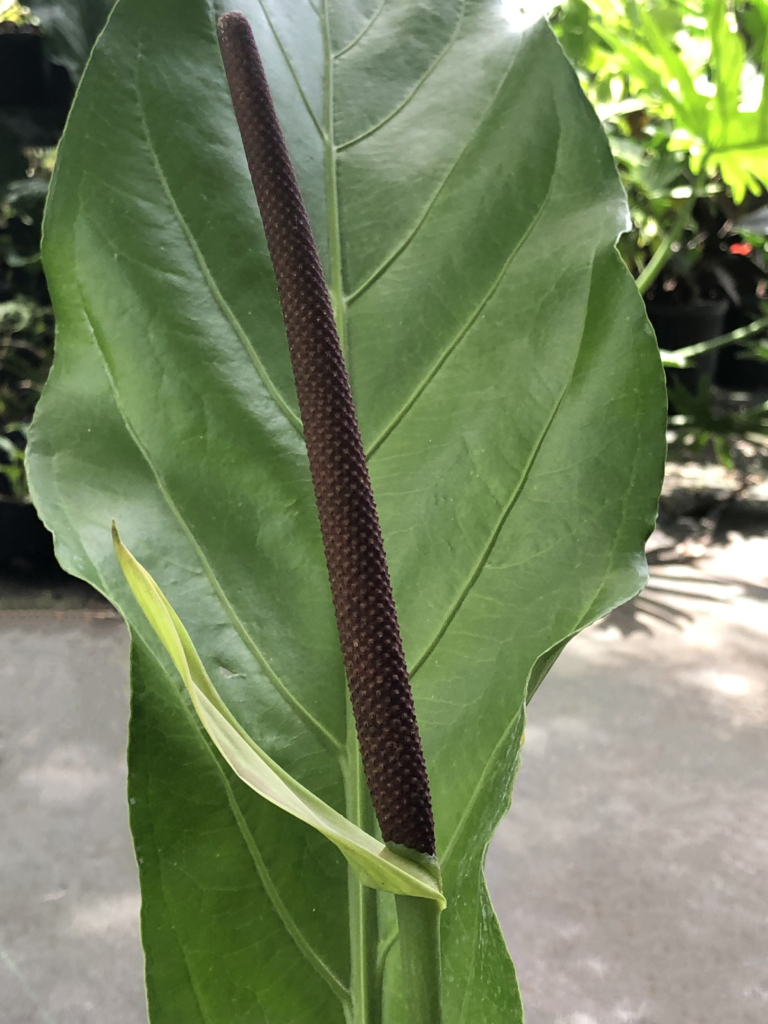 Anthurium cubense
Quantity: 35
Price: $50.00
An impressive bird's nest Anthurium with large, dark green leaves with ruffled edges. Produces showy, bright red fruit. Needs shade, good drainage and sufficient irrigation.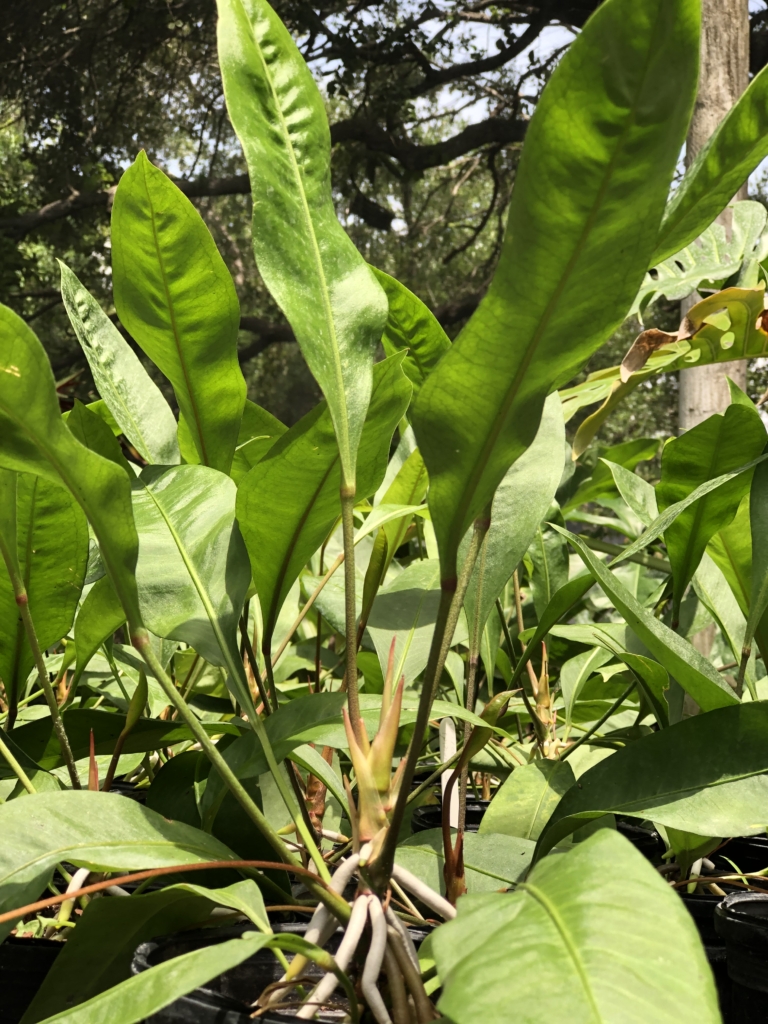 Anthurium gracile
Quantity: 40
Price: $30.00
This is a small-growing aroid that produces long inflorescence stalks that readily develop many red fruits. It prefers filtered light (no direct sun) and good drainage. It makes an excellent hanging plant.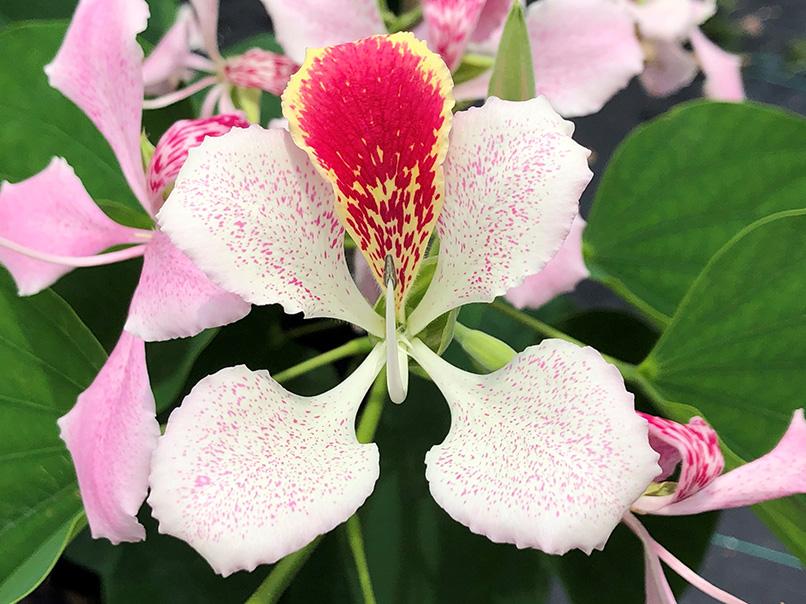 Bauhinia monandra
Quantity: 25
Price: $40.00
A beautiful small tree/shrub from Madagascar. It blooms frequently with large flowers that begin white and quickly turn pink. It prefers full sun or part sun and is drought tolerant once established.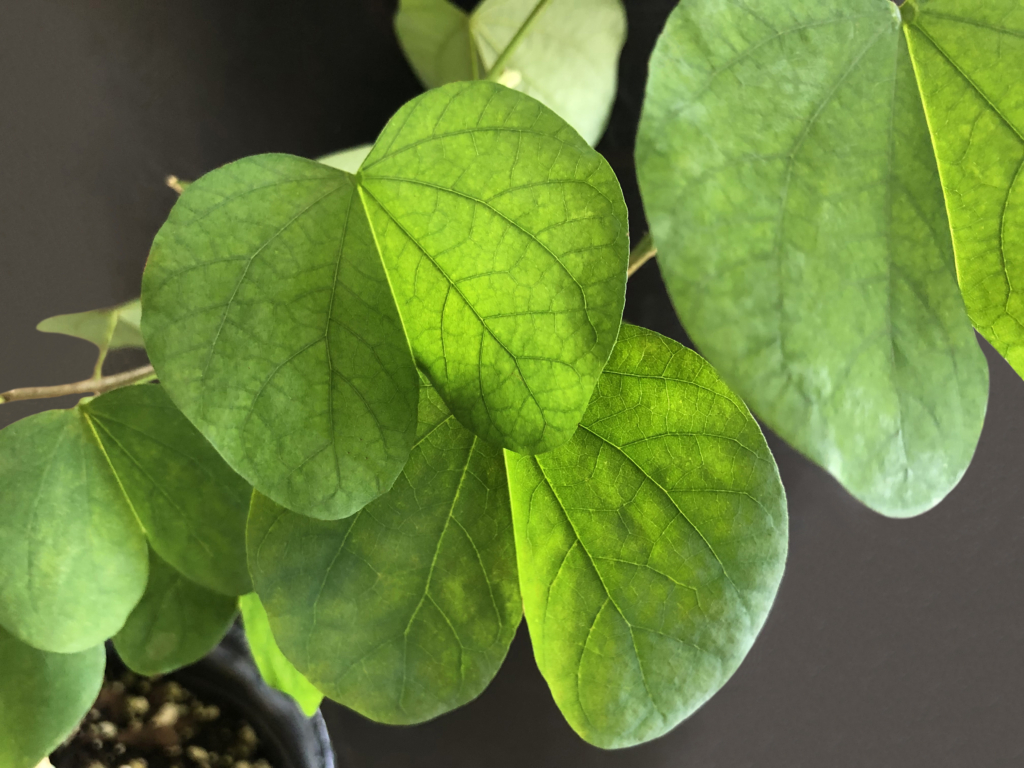 Bauhinia tomentosa
Quantity: 37
Price: $20.00
Yellow bauhinia is a well-branched shrub or small tree reaching about 20 ft in maximum height. Flowers are yellow, pendant and bell-shaped with a dark center. It is a good grower and tolerant of a diversity of soil types. It can make a good boundary planting, responds well to pruning and needs full sun to look its best.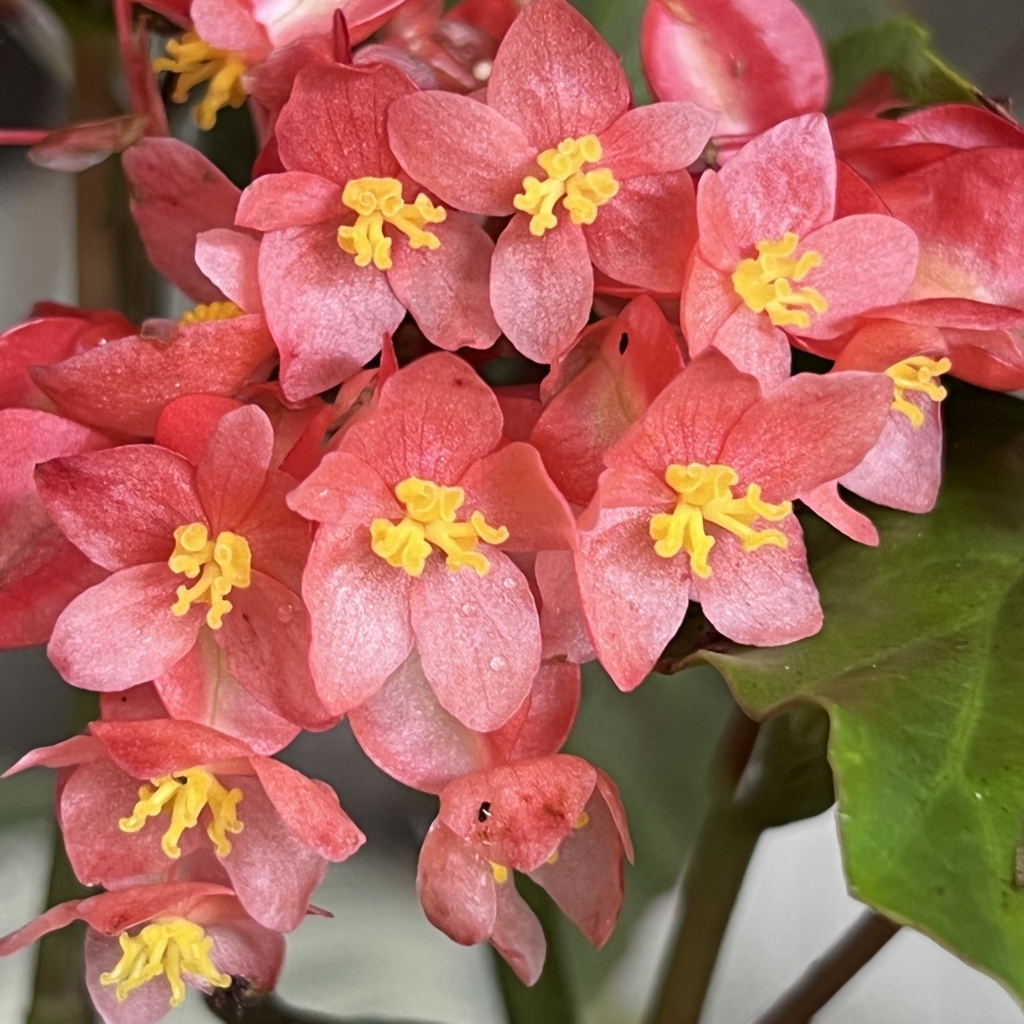 Begonia 'Honeysuckle'
Quantity: 30
Price: $20.00
This beautiful hybrid cane begonia has long, elegant shiny green leaves and large pendulous clusters of fragrant salmon-pink flowers. Blooms from early spring to late summer and would make an excellent houseplant. Prefers filtered light and well-draining soil.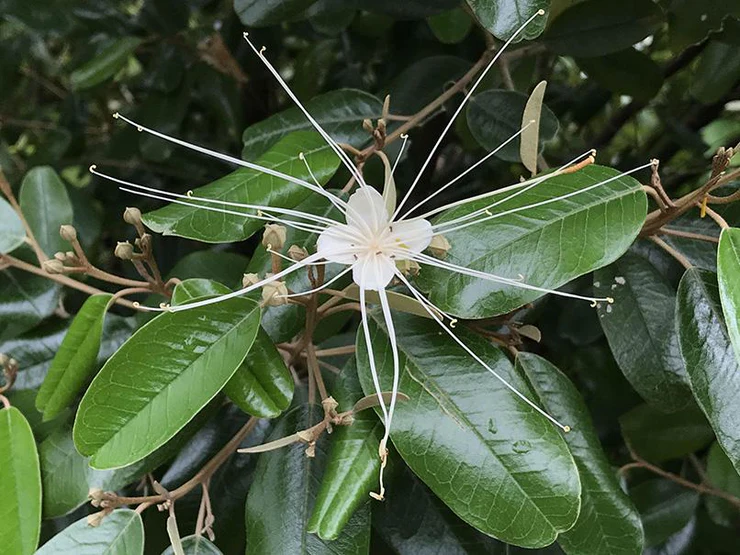 Capparis cynophallophora
Quantity: 20
Price: $15.00
Jamaican caper is a native shrub or small tree with wonderfully fragrant and showy white flowers that turn pink within a few hours. It blooms from Spring to Summer and is a larval host for the Florida White (Appias drusilla) Butterfly. Prefers full sun to light shade and a well-draining soil, is drought tolerant.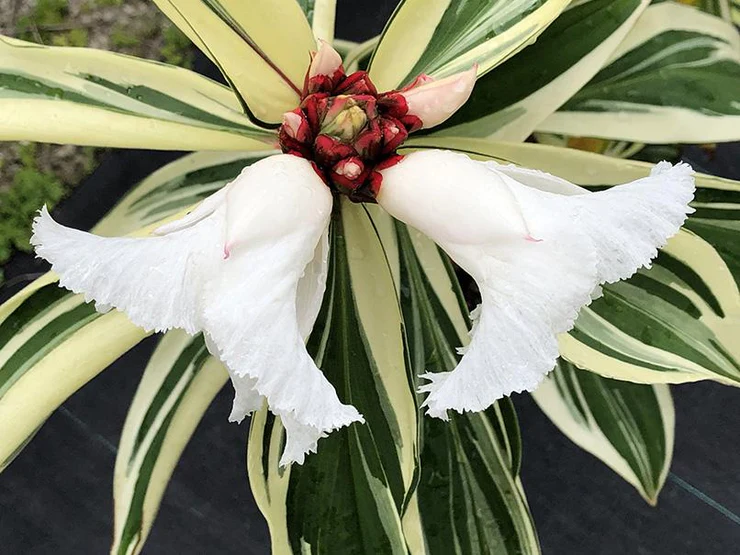 Cheilocostus speciosus 'Variegatus'
Quantity: 10
Price: $65.00
A beautiful landscaping plant with spirally arranged white-variegated leaves and showy white flowers that emerge from red, cone-like clusters of bracts. It can reach a height of about 6.5 ft. Prefers bright shade and moist, well-draining soil.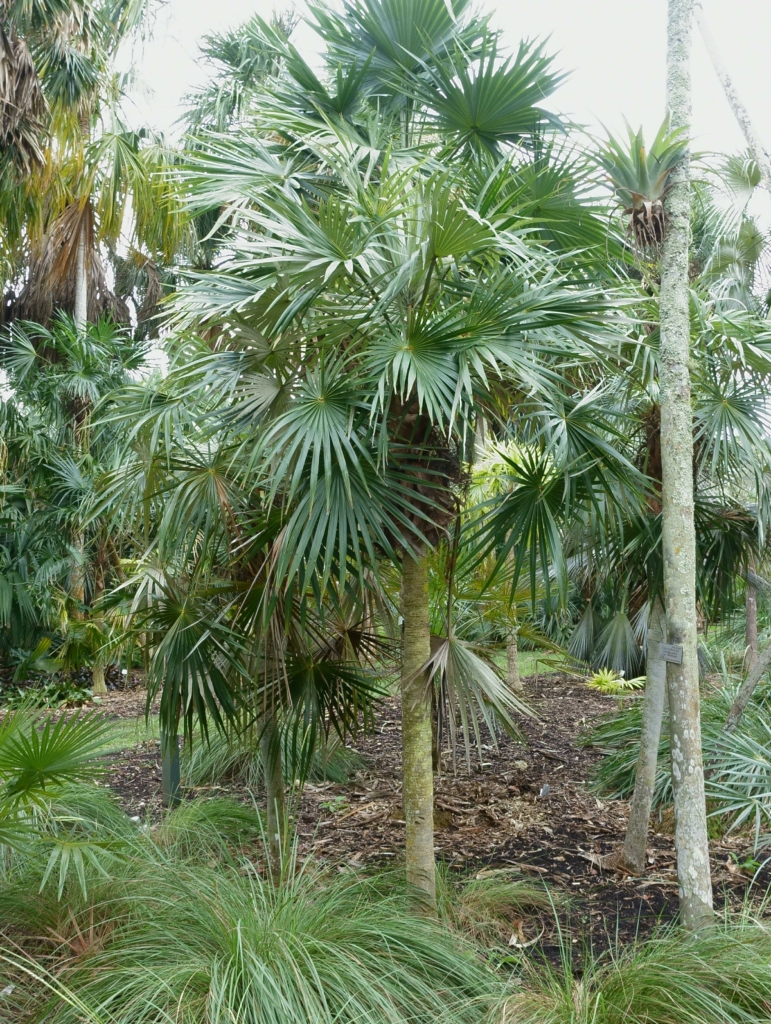 Coccothrinax argentata
Quantity: 15
Price: $20.00
Coccothrinax argentata, silver palm, gets its common name from the silvery underside of the palmate (hand-shaped) leaves. This Florida native threatened species occurs in pine rockland and coastal habitats in southeast Florida and The Bahamas. It is a very slow-growing plant, so if you hope to have a trunked silver palm in your lifetime (they are beautiful!), you had best plant one soon. Clusters of tiny white flowers attract loads of pollinators and purple to black fruit are eaten by birds. Plant in full sun. A Connect to Protect Network Species!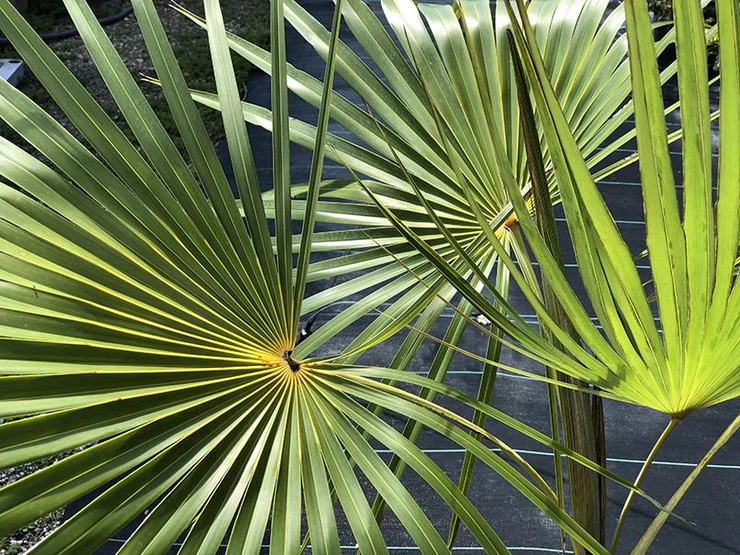 Coccothrinax inaguensis
Quantity: 10
Price: $100.00
The thatch palm is a solitary fan palm native to the Caribbean. It can reach a height of up to 6 meters. The stiff leaves are shiny green above and silvery below. It likes good drainage and full sun.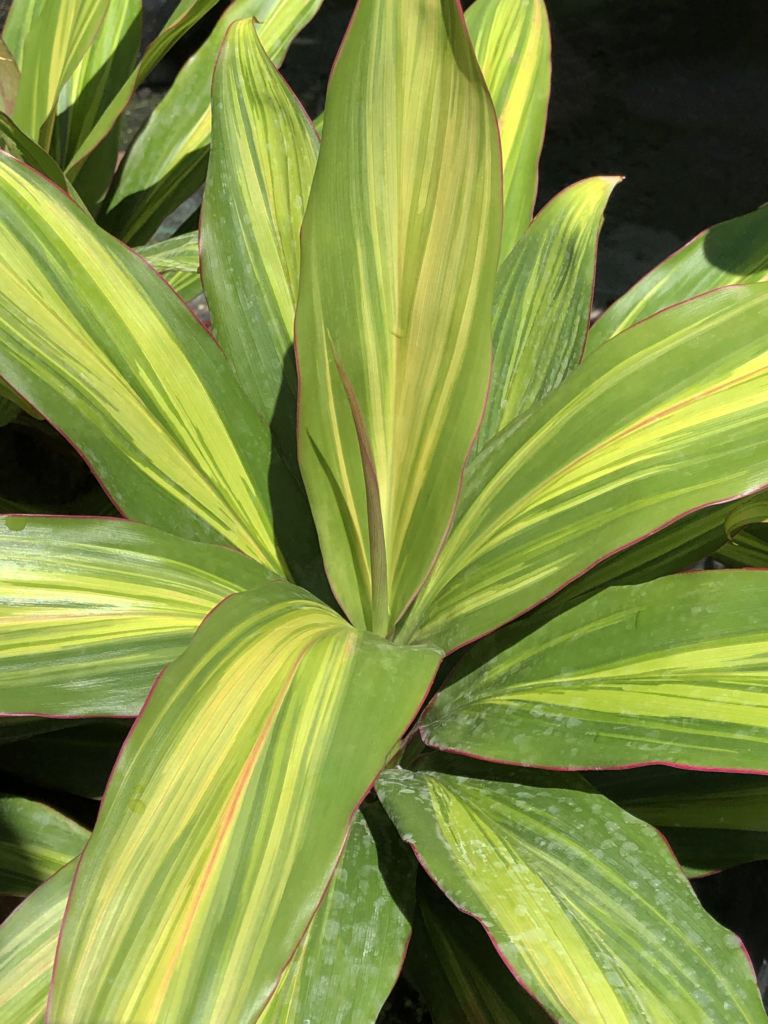 Cordyline fruticosa 'Kiwi'
Quantity: 20
Price: $20.00
This stunning Ti plant has bright lemon-lime striations with pink margins. Add to your landscape to create contrast or keep in a pot to add accent to your patio. Prefers full sun to part shade and a well-draining soil.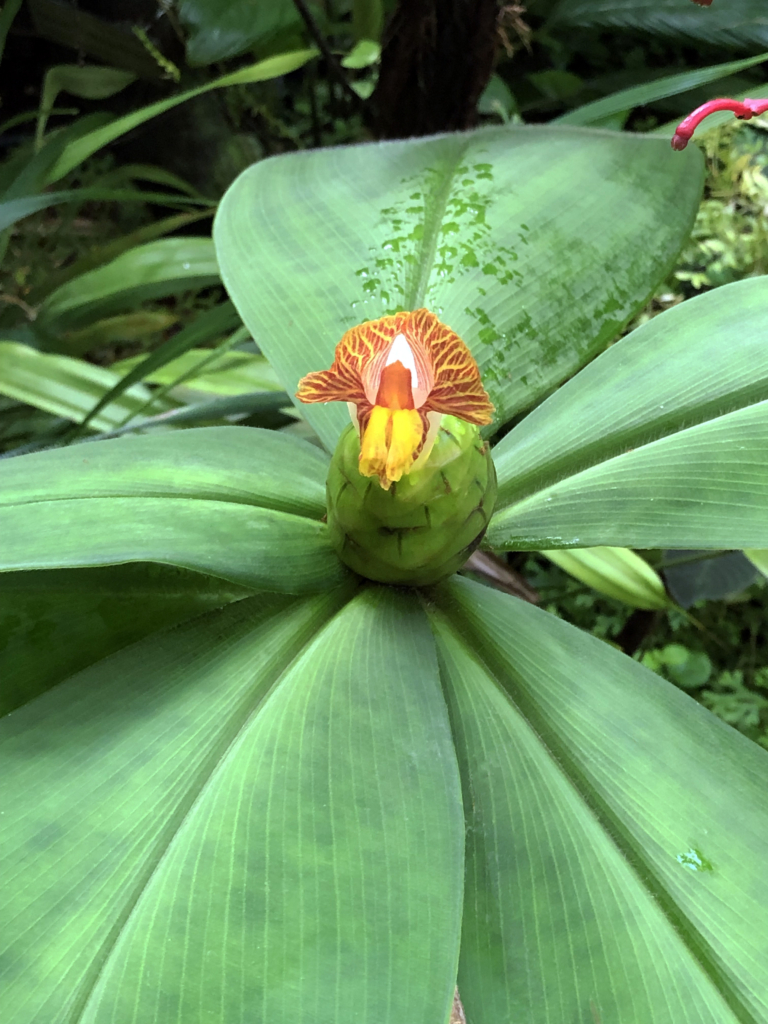 Costus malortieanus
Quantity: 13
Price: $35.00
This Costus has velvety leaves and impressive flowers. It forms a spreading clump from 3-4 ft tall and prefers partial shade but can take brighter conditions as well. It needs some water and attracts butterflies.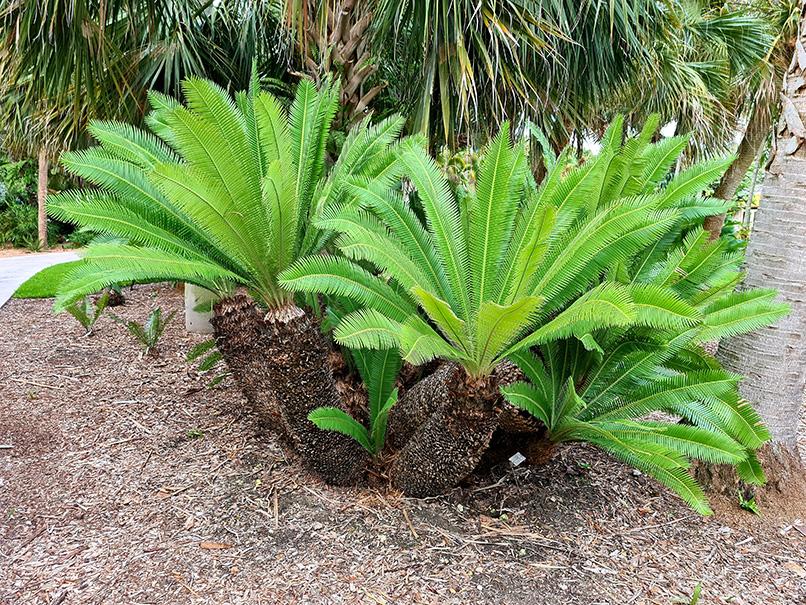 Dioon edule
Quantity: 15
Price: $35.00
The Chestnut Dioon produces a large rosette of stiff pinnate leaves that reach 3 to 6 feet long. The trunk can reach a height of 4 ft. Prefers full or partial sun and well-draining soil.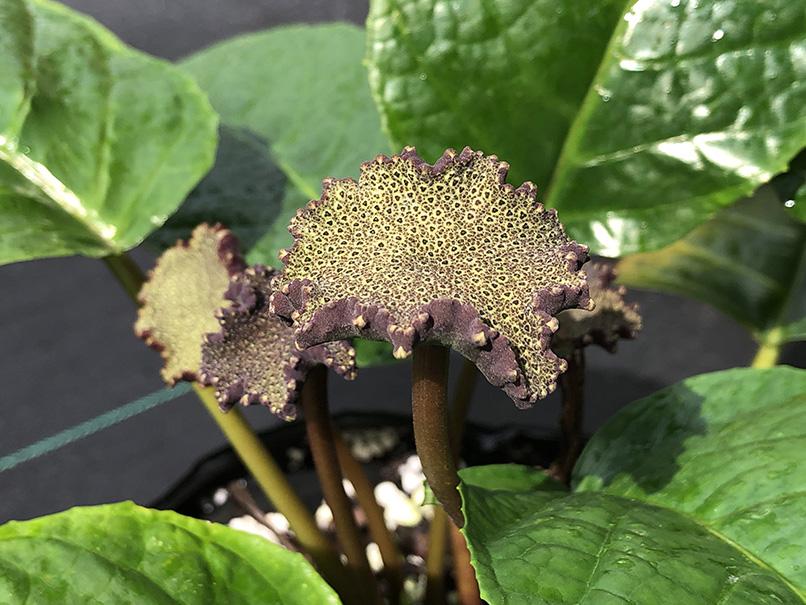 Dorstenia elata
Quantity: 20
Price: $12.00
Congo fig is a Brazilian native with glossy, dark green leaves and a unique looking inflorescence composed of many tiny flowers. Prefers shade to partial shade and moist but well-draining soil. It should be allowed to dry out a bit between waterings.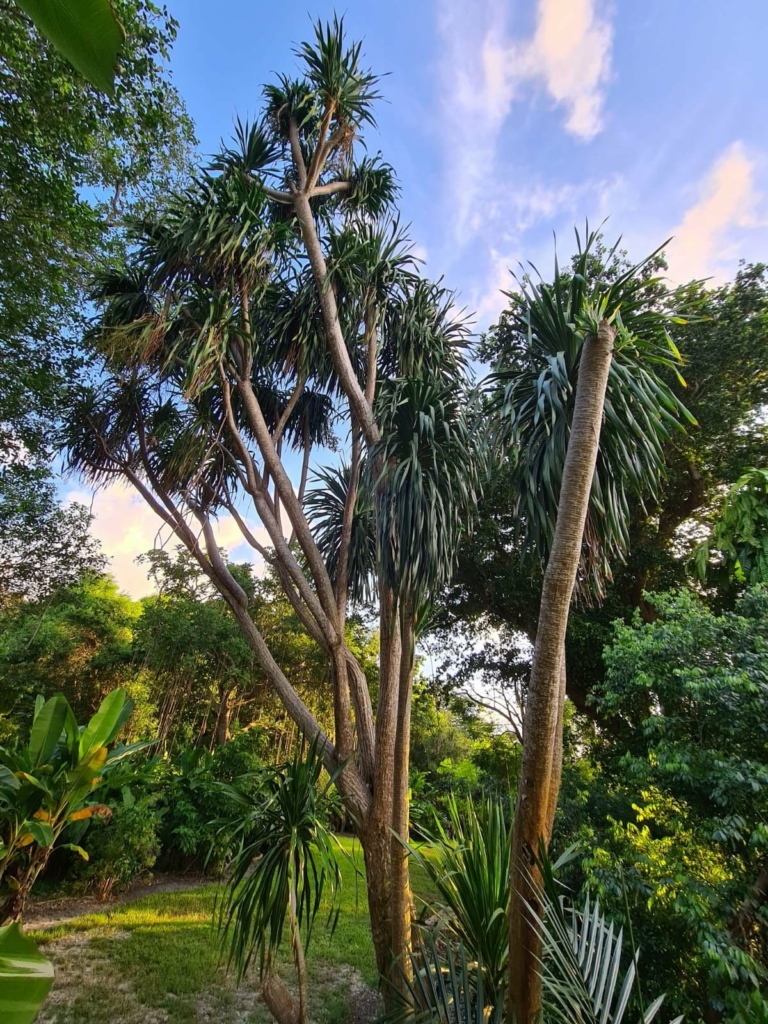 Dracaena multiflora
Quantity: 12
Price: $20.00
David Fairchild collected this Dracaena in 1940 in Sulawesi during the Cheng Ho expedition and several specimens have remained in the garden all these years. We have grown some seedlings from this special piece of Fairchild history and now you can include it in your garden. This can reach 30 ft tall with time and does best in full sun with good drainage. It forms an open canopy with few branches.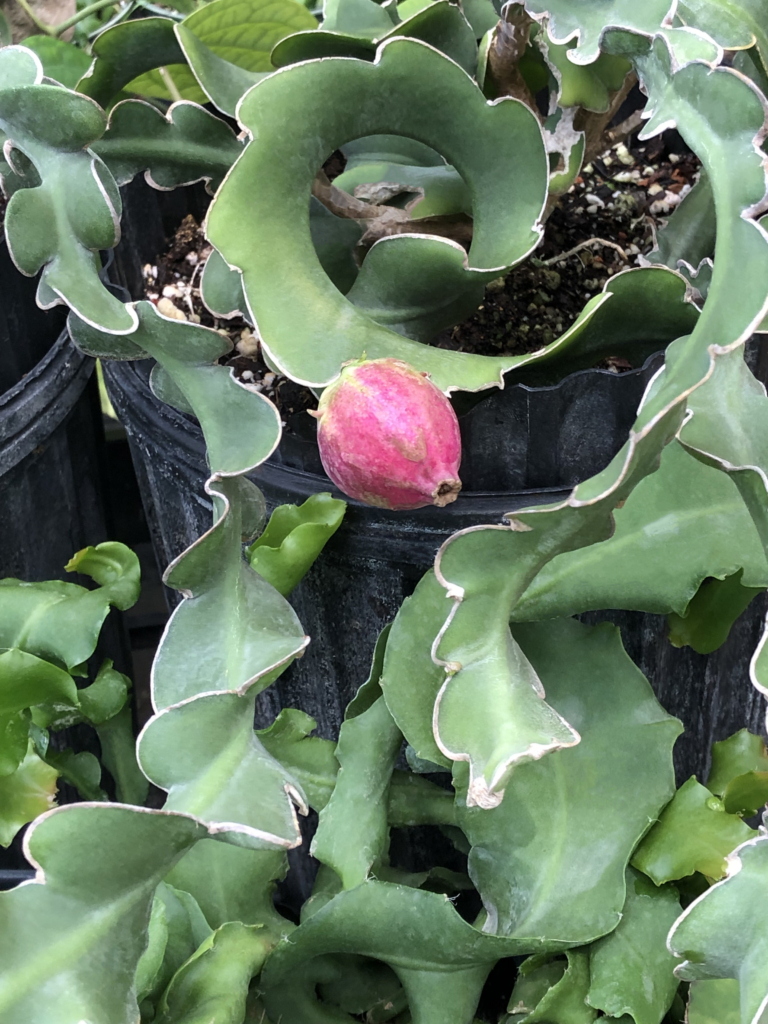 Epiphyllum guatemalense f. monstrosa
Quantity: 50
Price: $20.00
Curly locks orchid cactus makes a very distinctive specimen with twisting stems from Central America. It is a night bloomer and produces large white flowers followed by oval pink fruits if pollinated. It prefers filtered light or part shade and needs good drainage. It makes an outstanding hanging basket plant.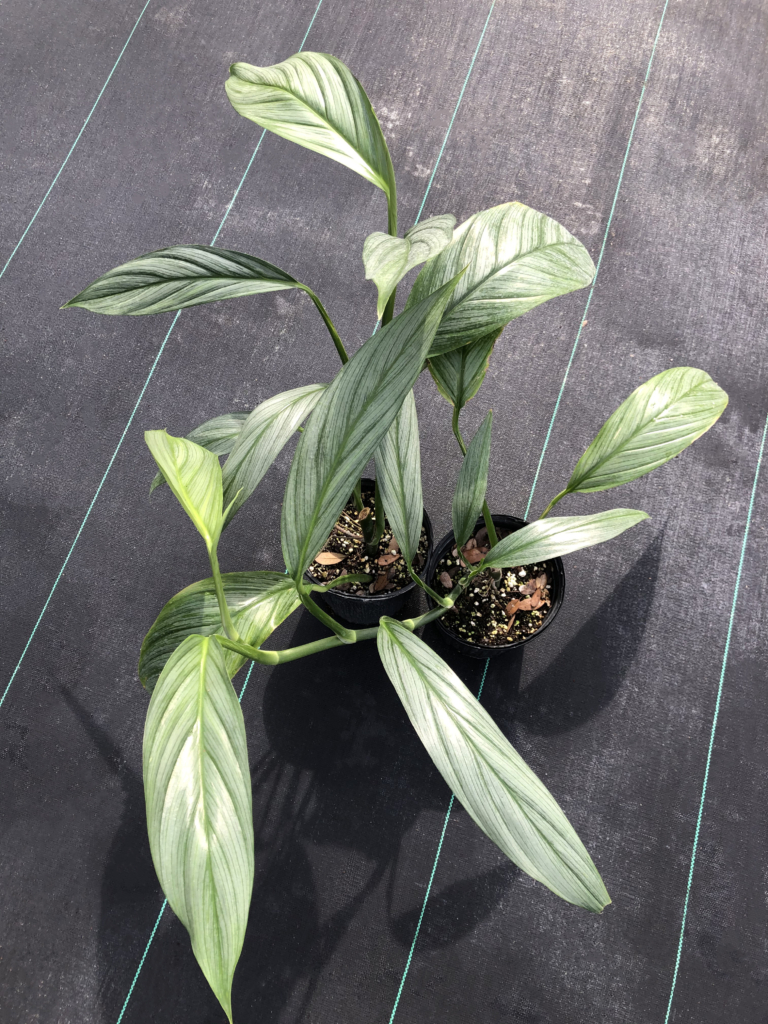 Epipremnum amplissimum
Quantity: 15
Price: $60.00
This is a climbing aroid from tropical Australasia. When juvenile, the leaves are lance-shaped with silver streaks between the major veins. It will maintain this form if grown in a container and allowed to trail over the edge of the pot or creep along the ground. If allowed to climb up to 6 ft or more, it will start to produce mature foliage which is much broader and larger and lacking in the silvery coloration. It makes a good houseplant. Prefers bright, indirect sunlight and well draining soil.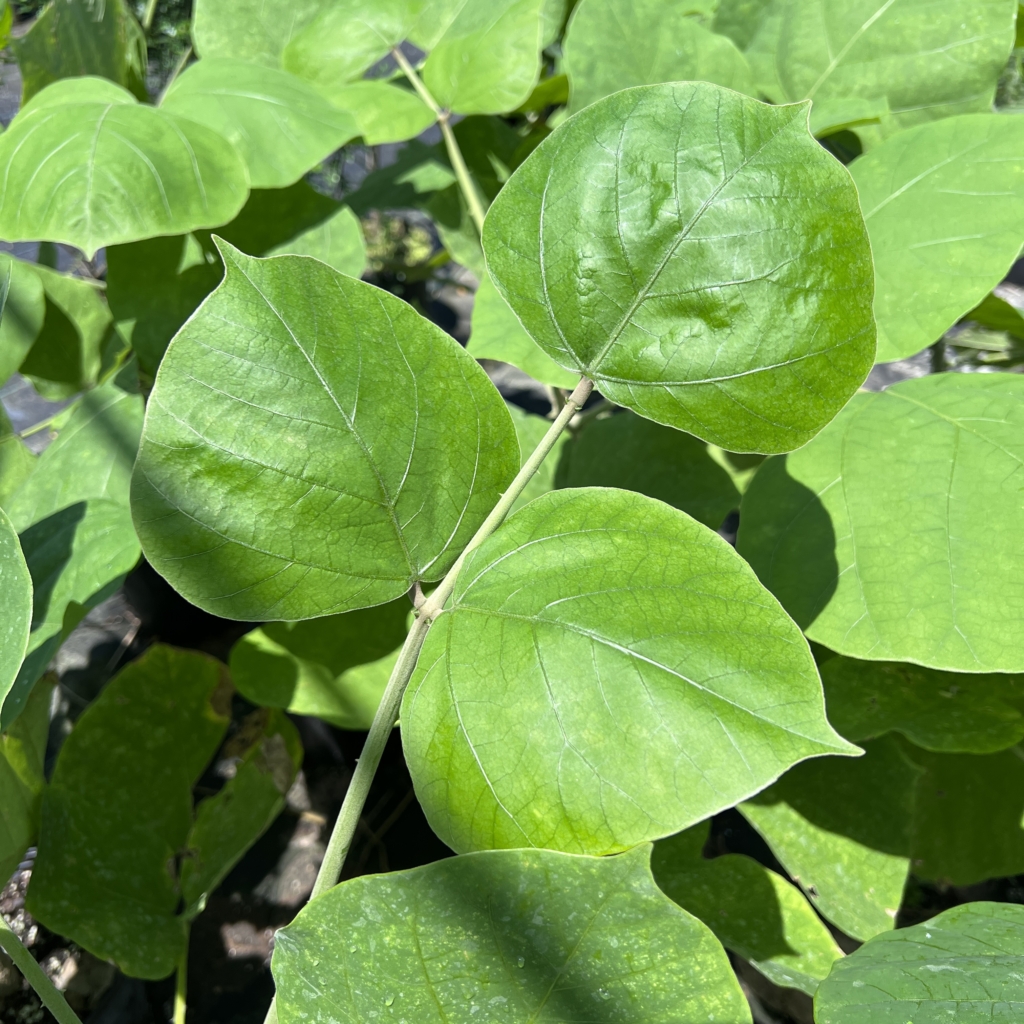 Erythrina madagascariensis
Quantity: 12
Price: $50.00
This is a drought-tolerant small tree native to Madagascar. It produces a brilliant display of coral-red flowers each year after dropping its leaves (deciduous) and has spines on its trunk. Prefers full sun and good drainage.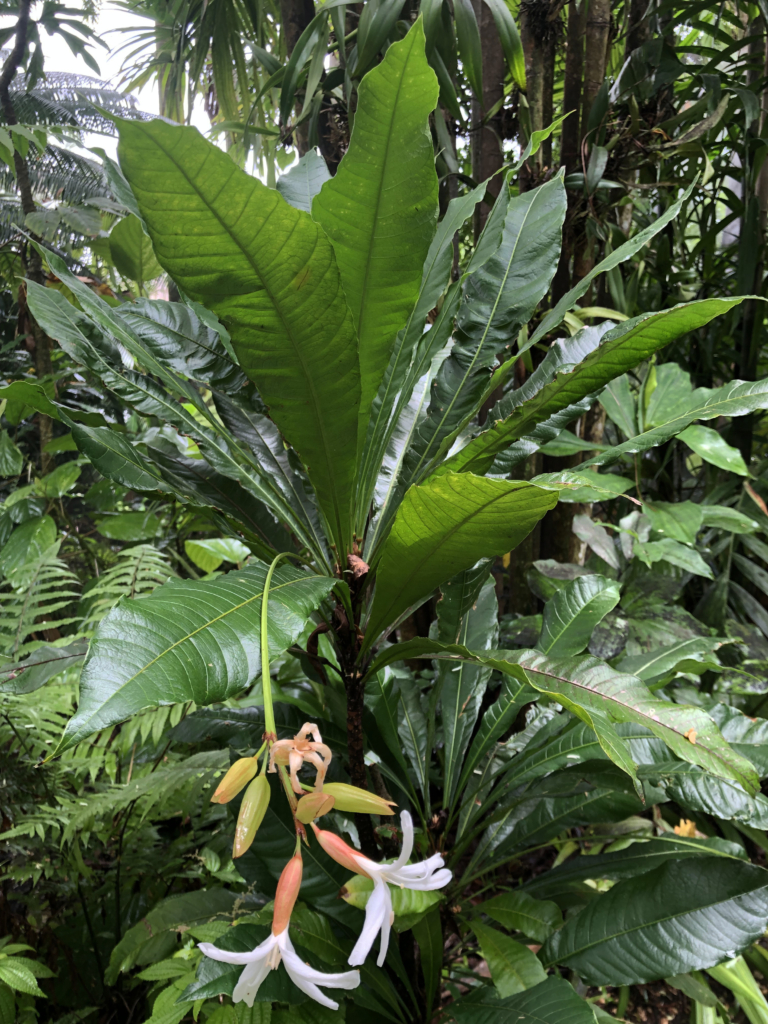 Erythrochiton brasiliensis
Quantity: 30
Price: $35.00
Erythrochiton brasiliensis is an unusual shrub that grows upright, keeping its leaves at the top of its slender trunk. Reddish-orange flower bracts emerge from between the leaves and produce white flowers most of the year. It can grow in partial sun or filtered light and may need extra water in dry period. It is a narrow elegant plant for the landscape or container.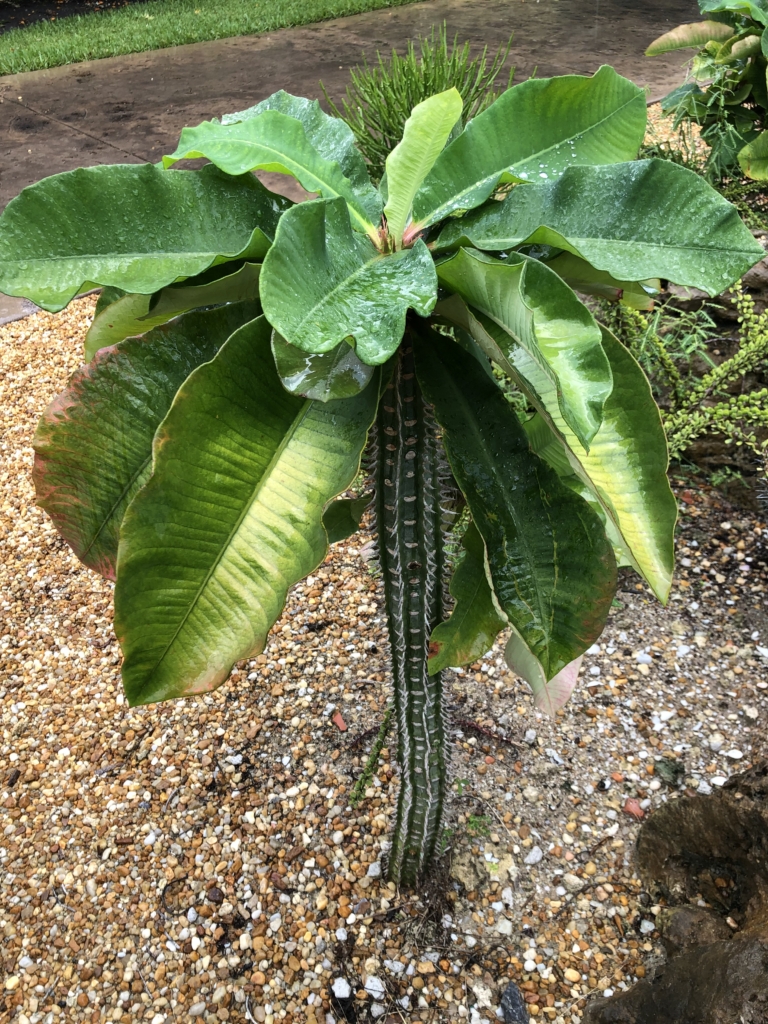 Euphorbia viguieri
Quantity: 25
Price: $25.00
Viguier's spurge is a spiny succulent native to the open coastal forests of Madagascar. It has a green stem covered in spiraling white thorns with large bright green leaves and vibrant red inflorescences grouped at the apex. Prefers full sun and well-draining soil, is drought tolerant.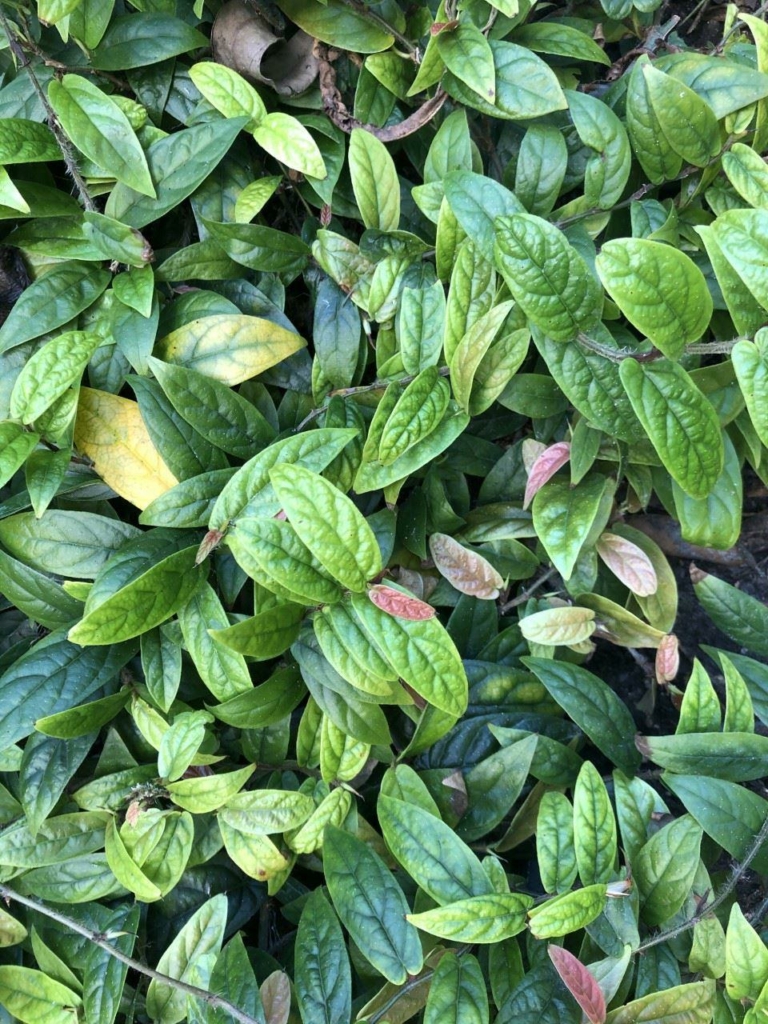 Ficus sagittata
Quantity: 20
Price: $25.00
Trailing Ficus is a sturdy, evergreen trailing and climbing fig species (Moraceae), native to tropical and subtropical regions of Asia, where it climbs on trees in lowland and montane forests. This ornamental can be grown as a ground cover, as a climber on a tree, rock or limestone wall, or in a hanging basket. Ficus sagittata has dark green leaves with a heart-shaped base and the leaves are orange-red when they first emerge. Prefers full-sun to semi-shade and moderate watering in well-draining soil. This species is performing exceptionally well in the landscape at Fairchild.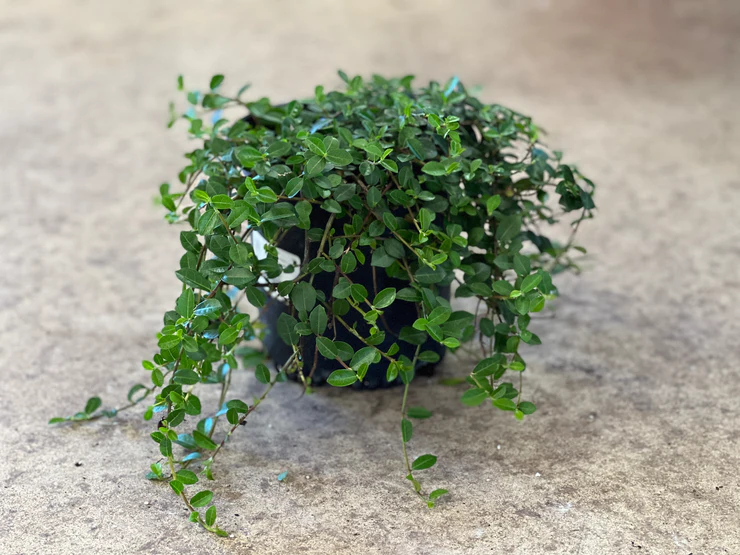 Ficus vaccinioides
Quantity: 20
Price: $15.00
Formosan Creeping Fig is a low growing evergreen that can be used as a groundcover that mounds slightly, as a climber along a low wall or fence or as a nice container plant, trimmed for topiary work. Originating from South Taiwan, Ficus vacciniodes is member of the fig family (Moraceae). It has small obovate deep green glossy leaves with dark reddish brown stems that root at the internodes. The desirable feature of this plant is its ornamental foliage. Plant in full sun to light shade in well-draining soil. Medium water needs.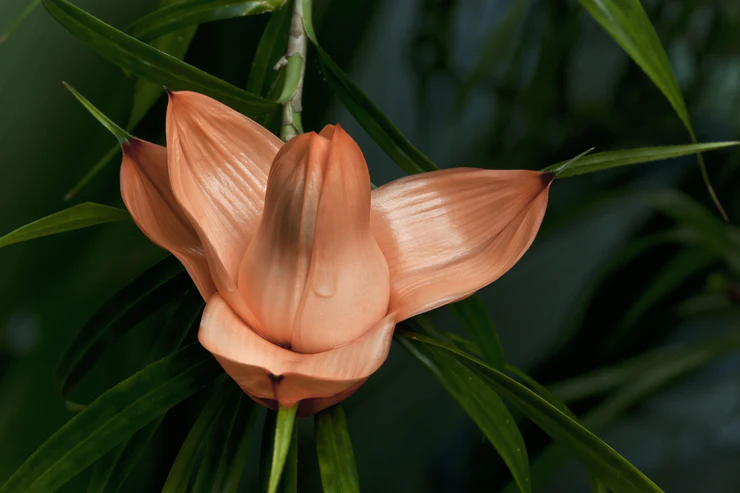 Freycinetia cumingiana
Quantity: 40
Price: $30.00
This non-spiny relative of the pandans is an upright multi-stemmed shrub that produces brilliant coral-colored flowers from January through March. Plant it in a shady area with cold protection and well-drained soil.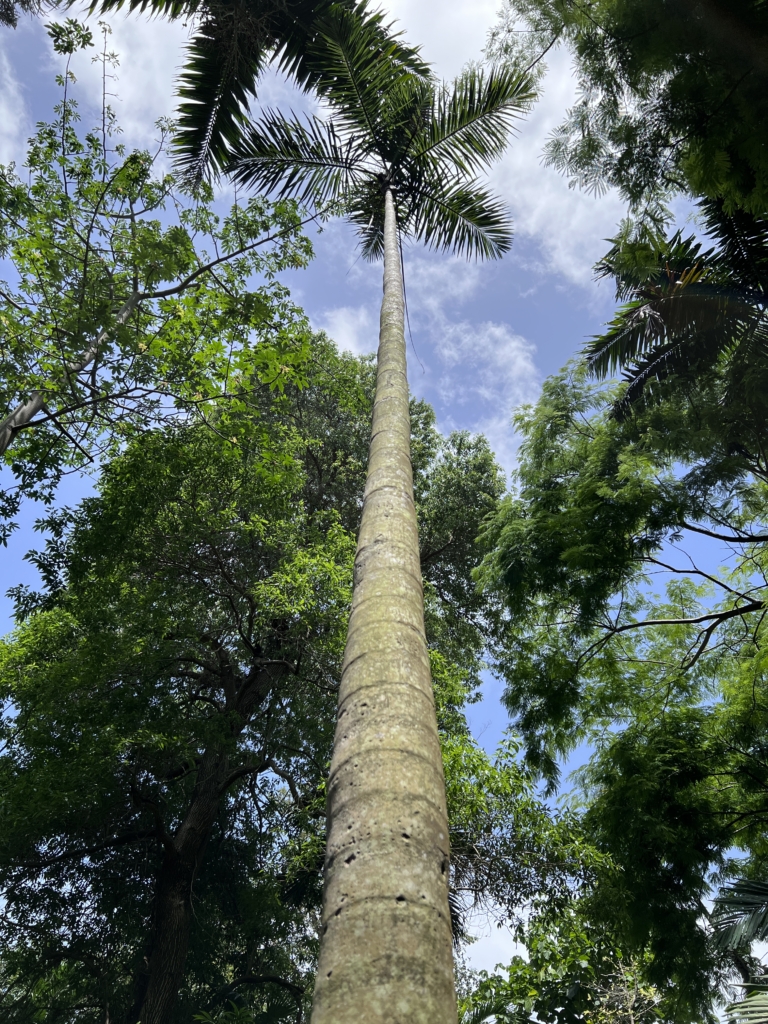 Gaussia attenuata
Quantity: 30
Price: $30.00
Palma de lluvia is a solitary pinnate-leaved palm, with a native range from Dominican Republic to Puerto Rico, where it grows in open humid forests on rocky calcareous steep hill slopes. It is tall, slender, and graceful and considerably storm resistant. Gaussia attenuata is a slow grower, but it can attain a height up to 20 meters tall, often exceeding the height of surrounding vegetation. It has an unusual swollen stem at the base, displaying a mass of robust roots. The crown is formed of 5-7 leaves. Fruits are orange-red. Due to reduction of its habitat by the expansion of agriculture, this palm is very rare in nature and has been listed on the IUCN Red List of threatened species. Provide full sun and alkaline well-draining soil. Can withstand periods of drought once established.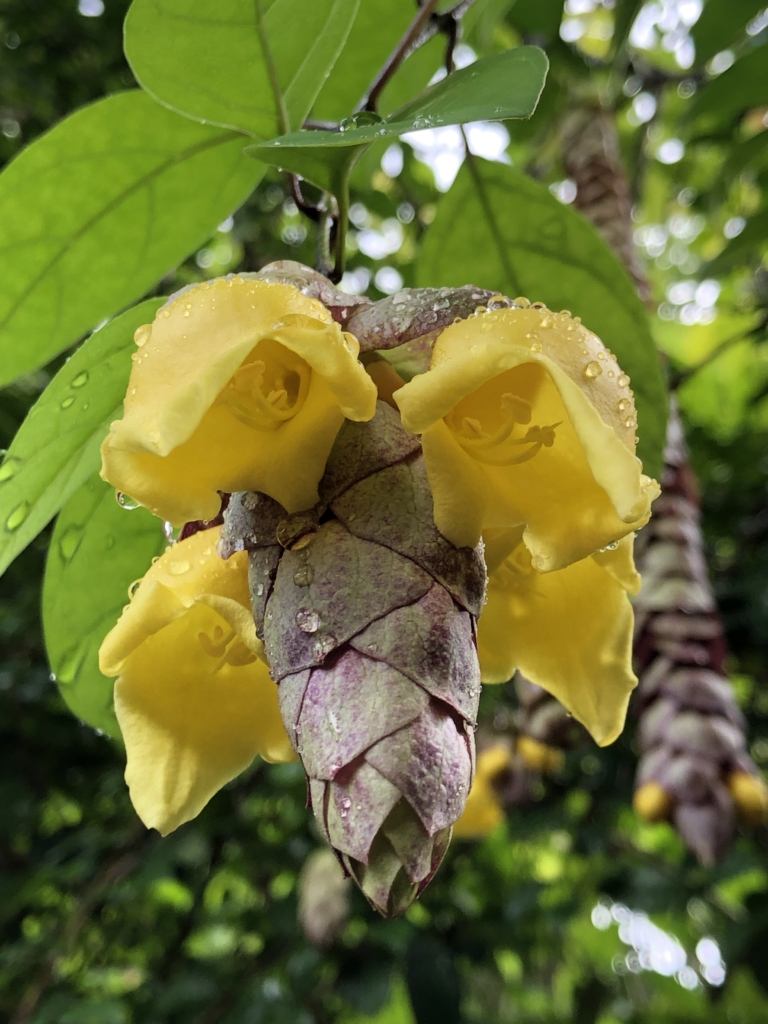 Gmelina philippensis
Quantity: 25
Price: $25.00
Parrot's Beak is a tropical shrub or small tree that can reach a height of about 15 feet. It has ivy-like leaves and yellow flowers which emerge at the end of a tube-like structure of overlapping bracts. Prefers full to partial sun, and a well-draining soil.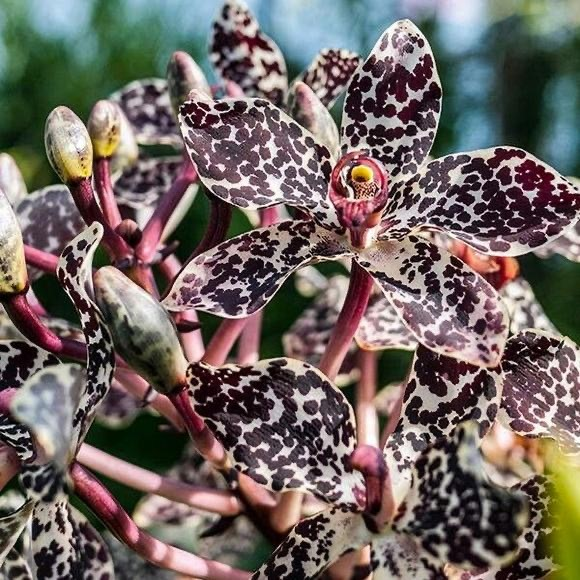 Grammatophyllum wallisii
Quantity: 12
Price: $150.00
Grammatophyllum wallisii is also called sugar cane orchid. A large thick caned species, grows well in warm conditions and full sun. Rare relative of G. speciosum that produces large cream white flowers up to 10 cm, overlayed with purple to black spots.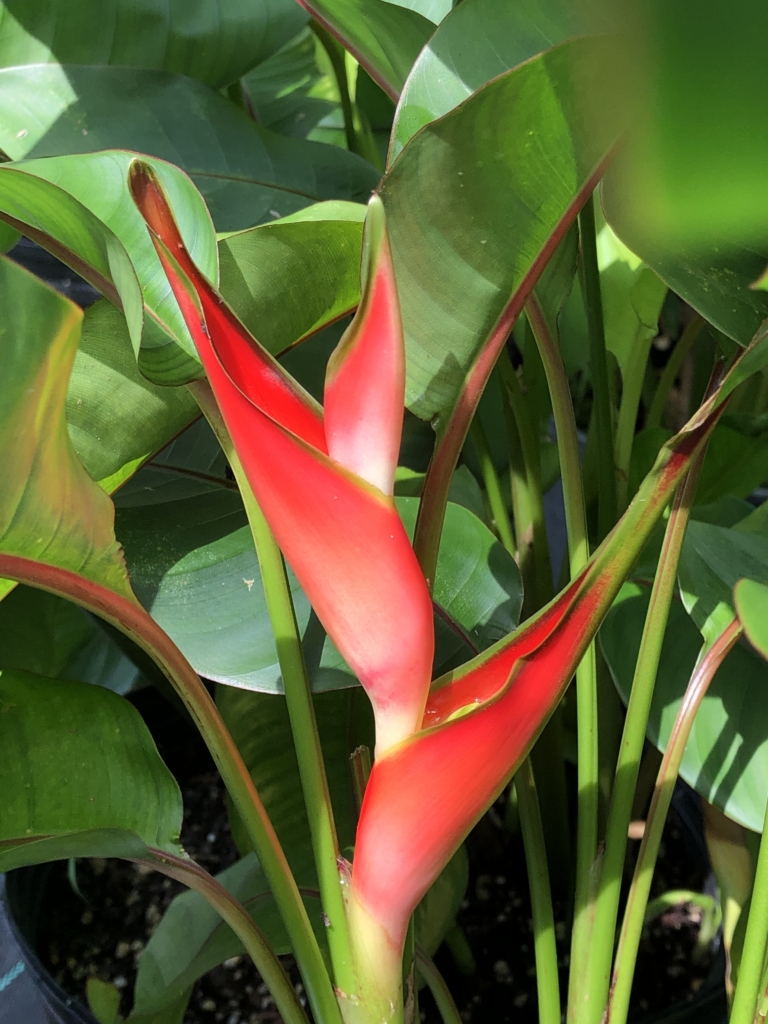 Heliconia stricta 'Dwarf Jamaican'
Quantity: 40
Price: $30.00
A beautiful small-growing Heliconia that grows less than 3ft tall and is often only 1-2 ft tall. The leaves have attractive wavy margins and the showy inflorescences with red to orange bracts appear throughout the year. It grows well in full sun to part shade, but requires supplemental water during dry periods. It makes an excellent container plant.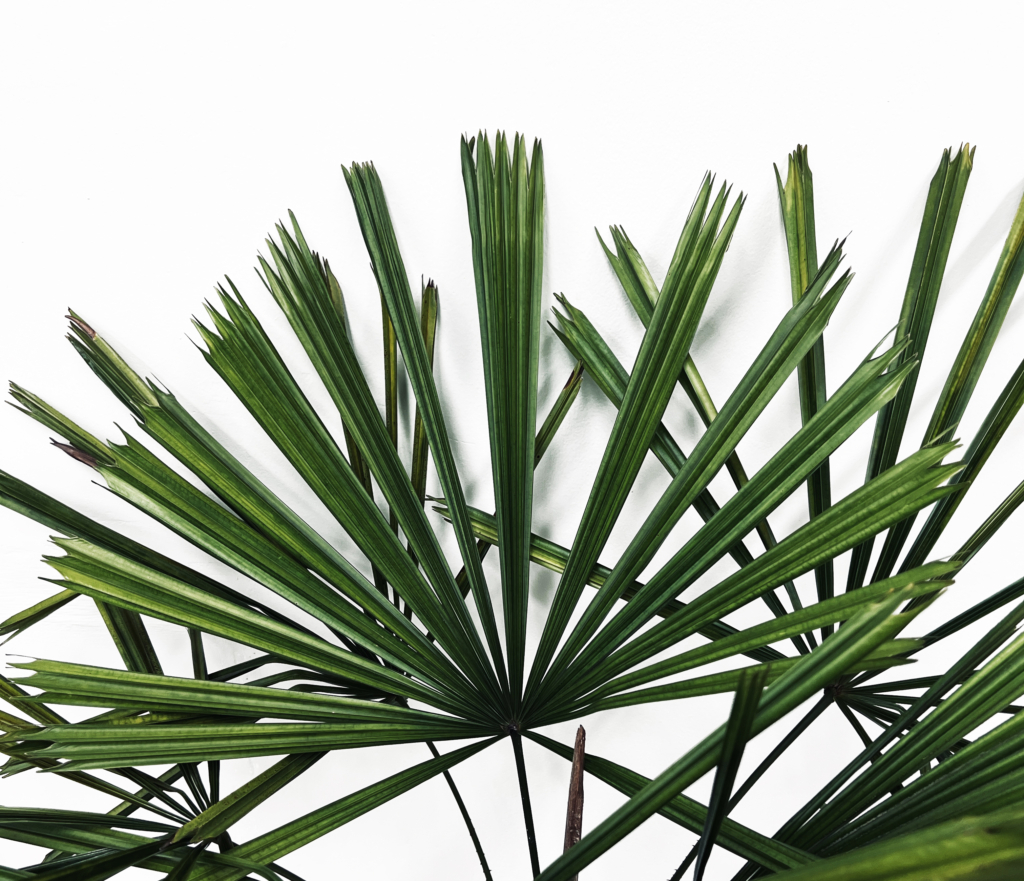 Licuala petiolulata
Quantity: 20
Price: $50.00
This is a very beautiful and elegant small rainforest palm from Borneo. The leaves are fan-like and made up of many narrow segments, creating a very attractive geometric pattern. This palm requires a protected and well-irrigated location in partial shade. It may become yellow if irrigated with the alkaline water sources typical of Miami-Dade county. Using foliar fertilization (especially micronutrients like iron) or rainwater or reverse osmosis irrigation will likely help.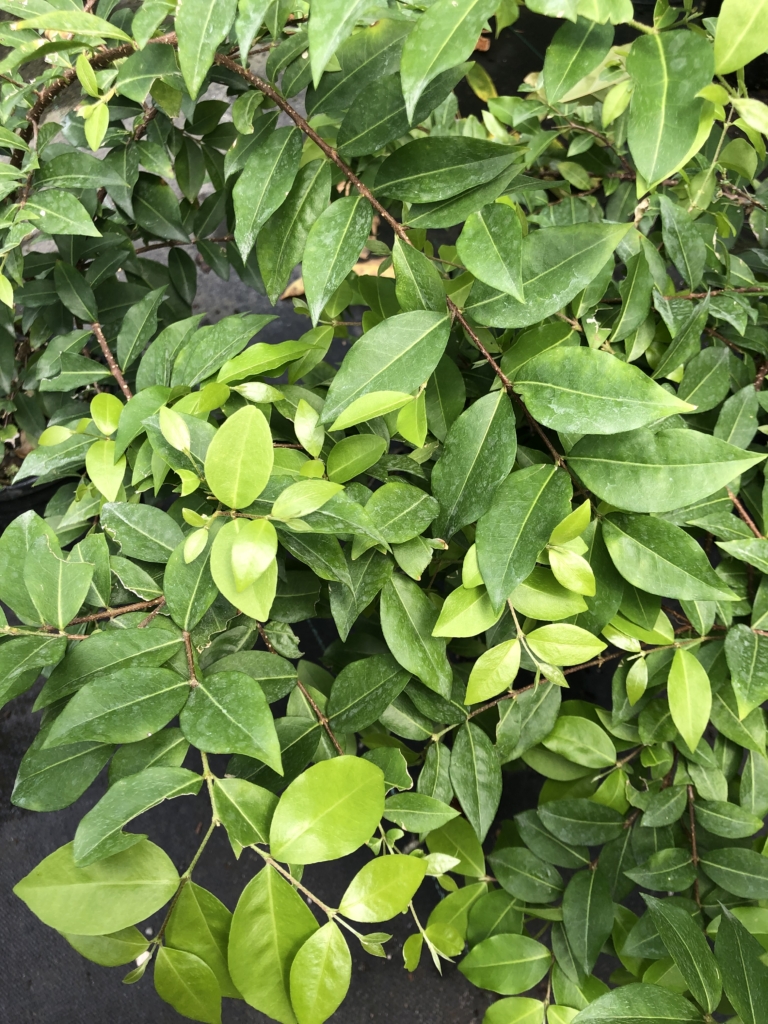 Malpighia glabra 'Nana'
Quantity: 20
Price: $20.00
Dwarf barbados cherry is a smaller selection than the typical Caribbean forms and hails from Texas. It is a shrub with dense branching habit with pink flowers and red fruit in summer. This plant grows well in full sun and tolerates drought after establishment.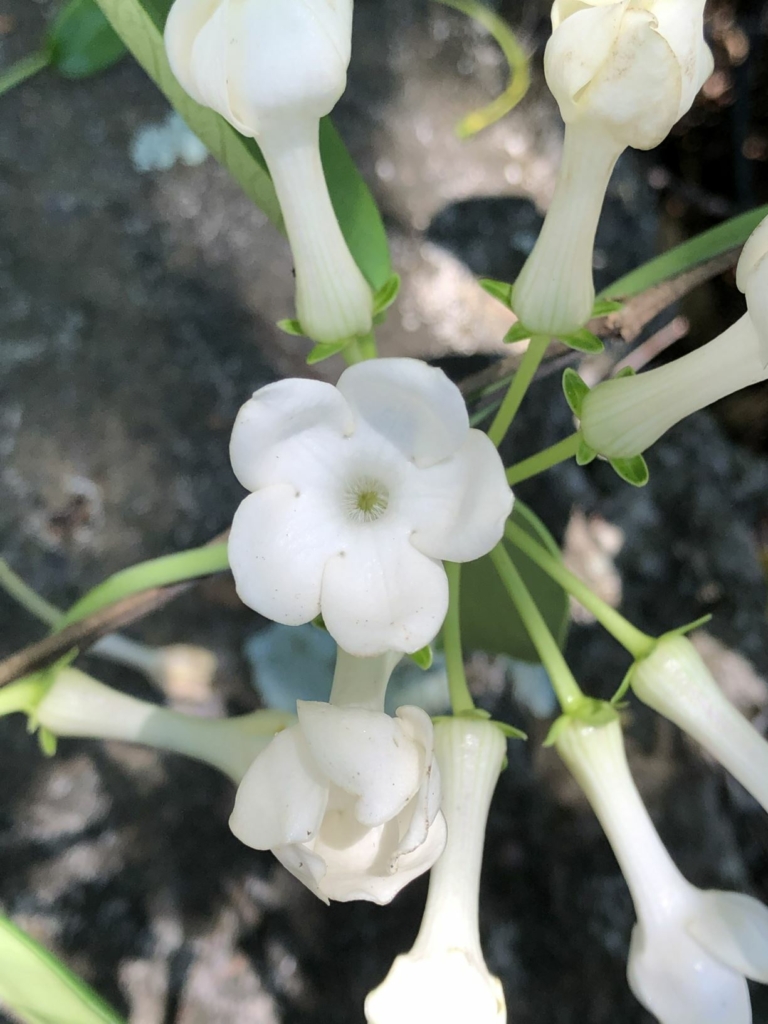 Marsdenia floribunda
Quantity: 20
Price: $30.00
Bridal bouquet, which used to be known as Stephanotis floribunda, is a vining plant that bears clusters of wonderfully fragrant, snow-white flowers. It likes shade, and can be trained on a trellis. Flowers are moth-pollinated.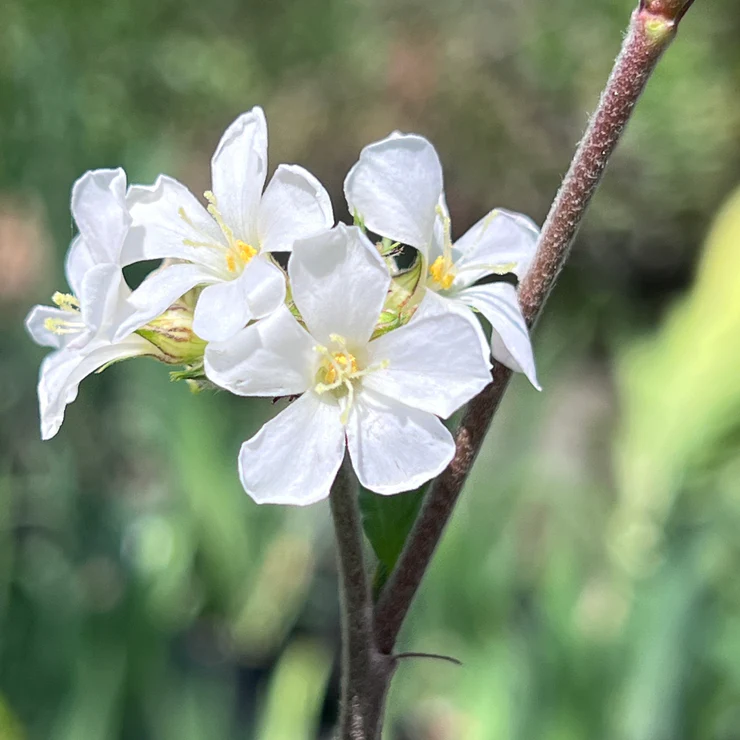 Melochia parvifolia
Quantity: 40
Price: $25.00
Melochia parvifolia is a small shrub with small leaves that have an interesting texture formed by their sunken veins. It also produces clusters of attractive small white flowers. This charming plant is a nectar source for bees and butterflies. It's native range is Cuba, Netherland Antilles to South Tropical America. Prefers full sun/part shade and well-draining soil.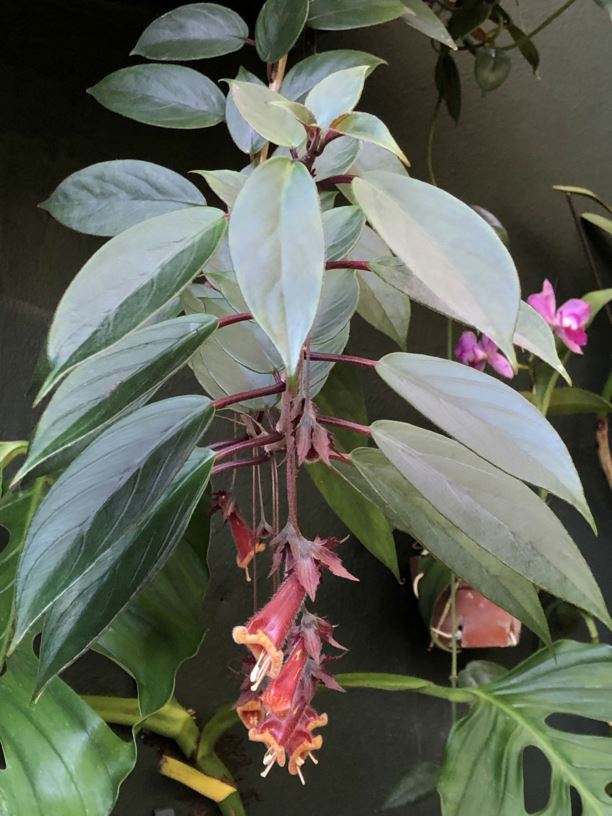 Nematanthus brasiliensis hybrid
Quantity: 25
Price: $25.00
The specific idenitity of this Nematanthus sp. remains a mystery even for expert breeders of Nematanthus. However, the current consensus is that it is a hybrid involving N. brasiliensis. In any case, it is an outstanding ornamental gesneriad for South Florida. The leaves are thick, dark green and waxy with a purplish blush beneath. The flowers hang beneath the spreading stems and are a rich maroon color and are trumpet-shaped. This is an epiphyte with a trailing habit and grows well in containers, especially hanging baskets. It is an excellent housplant and prefers filtered light or part shade and is tolerant of drought.
Pachypodium rosulatum
Quantity: 15
Price: $25.00
A shrubby caudiciform species with a bottle-shaped trunk and spiny branches. The plant sends out long shoots forming vivid yellow flowers that are quite attractive. Prefers full sun and a well-draining soil, is drought tolerant.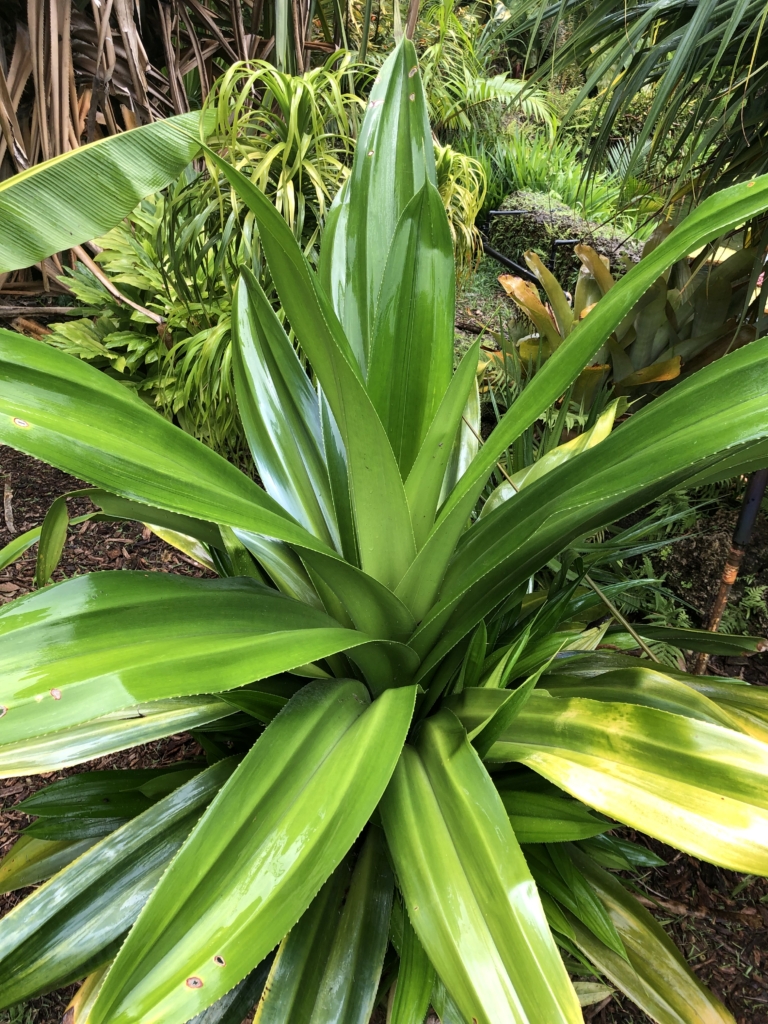 Pandanus dubius
Quantity: 10
Price: $50.00
This is a species of screw pine from Southeast Asia and the Pacific with distinctively broad and glossy leaves. It tends to clump extensively while young and will eventually form stems that can reach 10-30 ft high, in addition to striking aerial roots. It does best in full sun and can do well in either wet or well-drained sites.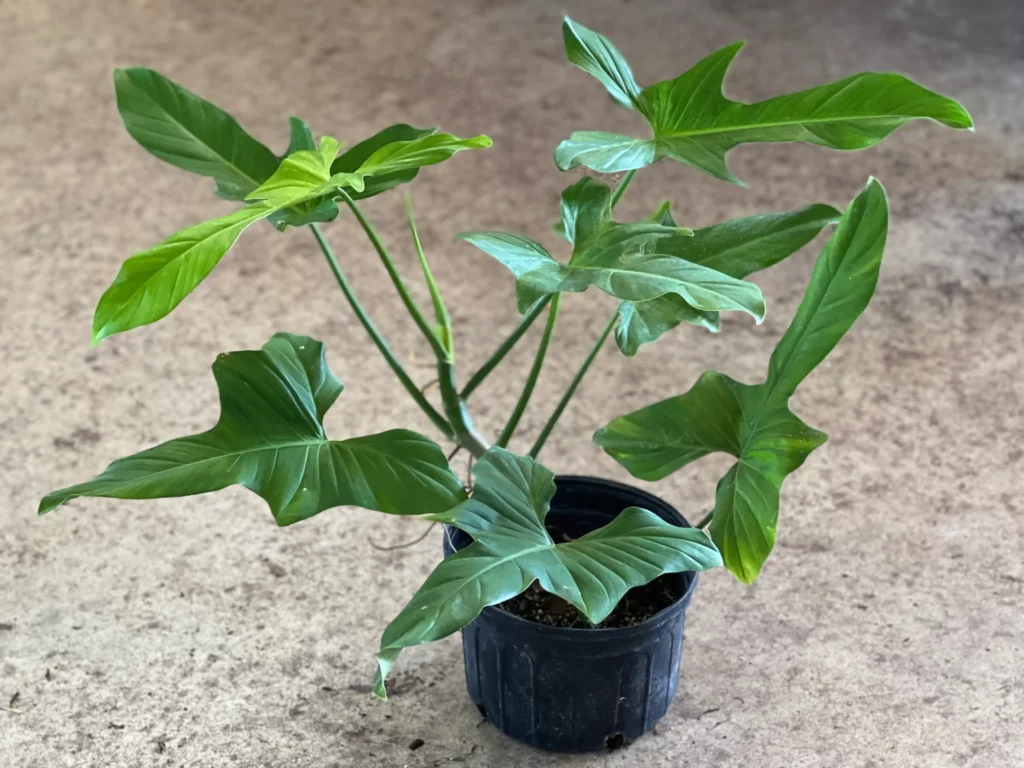 Philodendron ruthianum
Quantity: 14
Price: $200.00
Philodendron ruthianum, a rare native of the state of Espirito Santo in southeastern Brazil, is a climbing vine with a very unique and variable leaf shape. This epiphytic aroid prefers bright, indirect light, evenly moist but well-drained soil and humidity. Allow the soil to dry out between waterings. Use of a trellis is recommended. A must have for the aroid enthusiast.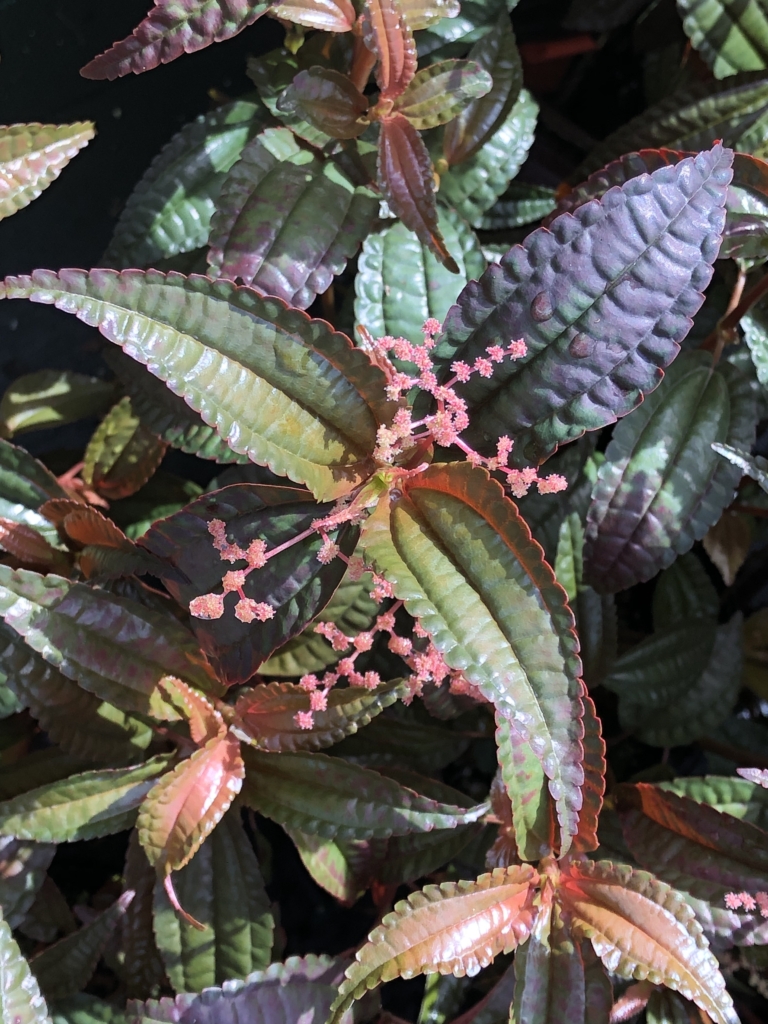 Pilea grandifolia 'Coral'
Quantity: 20
Price: $30.00
A special dark colored form of a beautiful small endangered plant native to the Caribbean. Its leaves have a distinctive texture and it frequently produces tiny purplish flowers in distinctive clusters. It makes an excellent plant for larger terraria and appreciates some added humidity.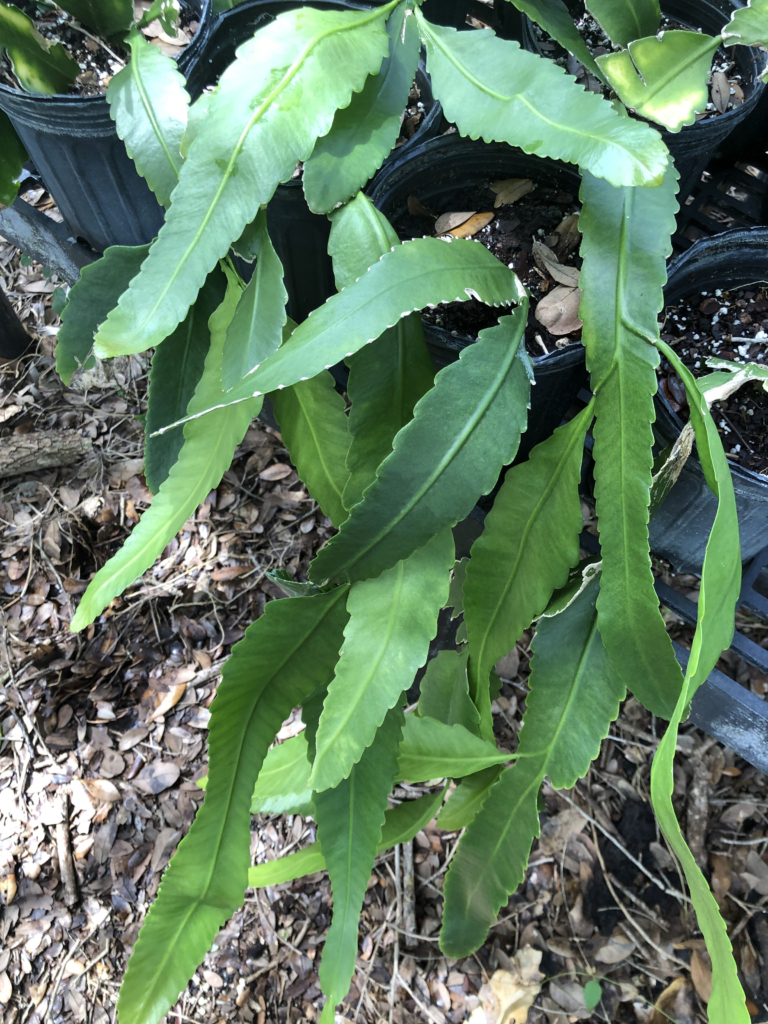 Pseudorhipsalis amazonica
Quantity: 15
Price: $20.00
When in bloom, this is among the most striking epiphytic cacti. The slightly undulating margins of its flat stems periodically produce tubular flowers in vivid shades of purple and magenta. This species does well in a hanging basket or mounted on a wall where it can hang down comfortably. It prefers humidity and warmth and does not do well with high levels of drought like most other cacti, however, good drainage is essential.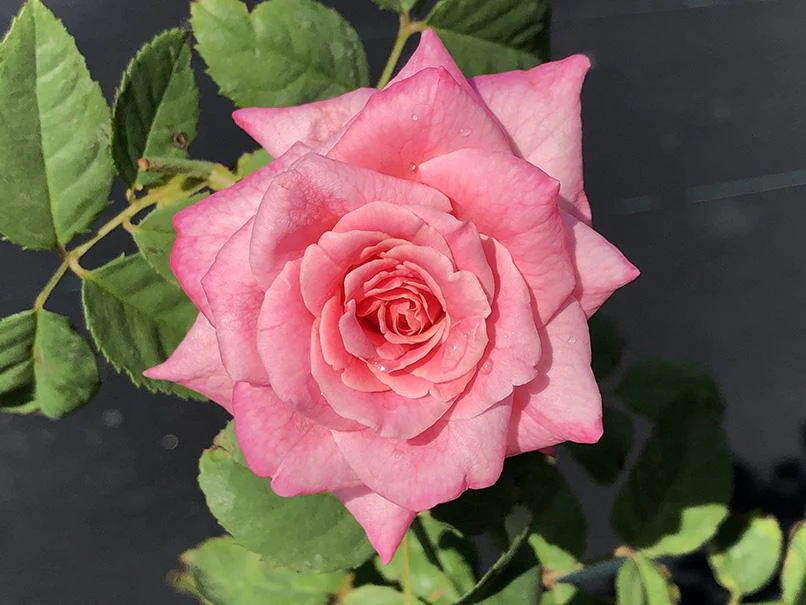 Rosa 'Belinda's Dream'
Quantity: 20
Price: $30.00
A fragrant, pink-flowered shrub-rose that is well adapted to our South Florida climate and is highly disease resistant. Its grey-green foliage is also attractive. Like many roses descended from 'antique' or 'heirloom' types, it is very low maintenance in comparison to modern roses. It works well for cut flowers also. Prefers full sun and well-draining soil.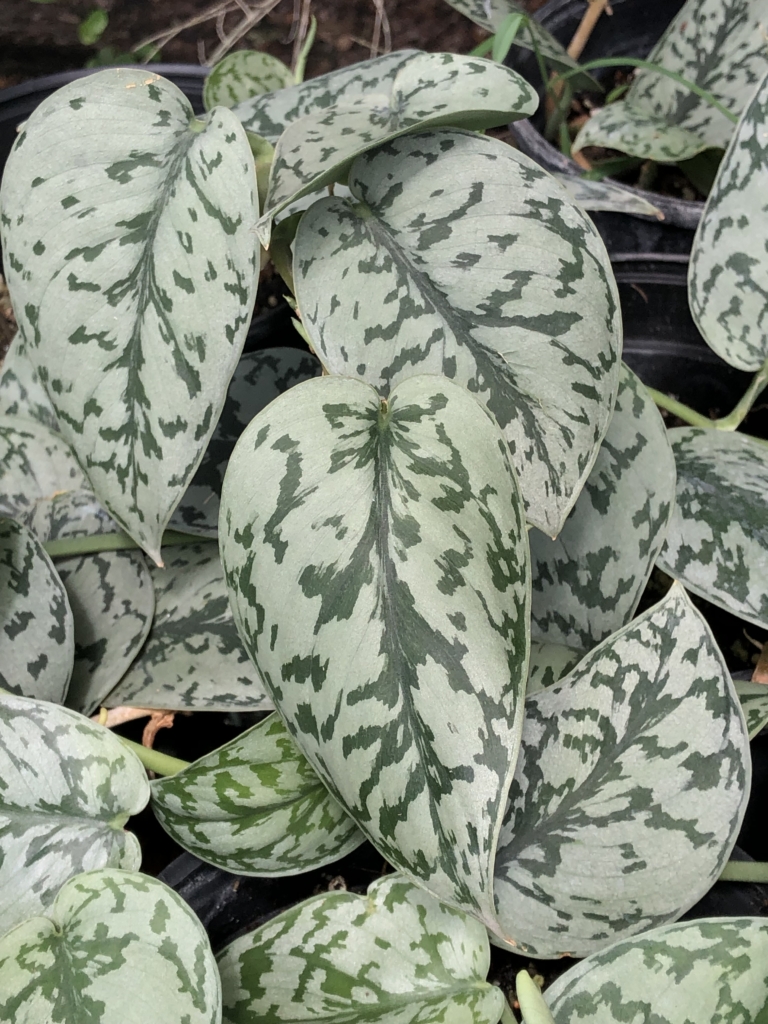 Scindapsus pictus 'Silver Lady'
Quantity: 25
Price: $45.00
This is a very nice form of the widespread and beautiful satin pothos, an aroid from Asia. It is a climbing or creeping plant perfect for hanging baskets or vertical supports. The leaves are mostly silver with small areas of dark green arranged in an attractive pattern. The leaves are also unusually flat and make a striking display when climbing on a vertical surface such as a wall, column or tree trunk. It does best in part shade or filtered light and supplemental water during dry periods, however, it can also adjust to higher light levels gradually.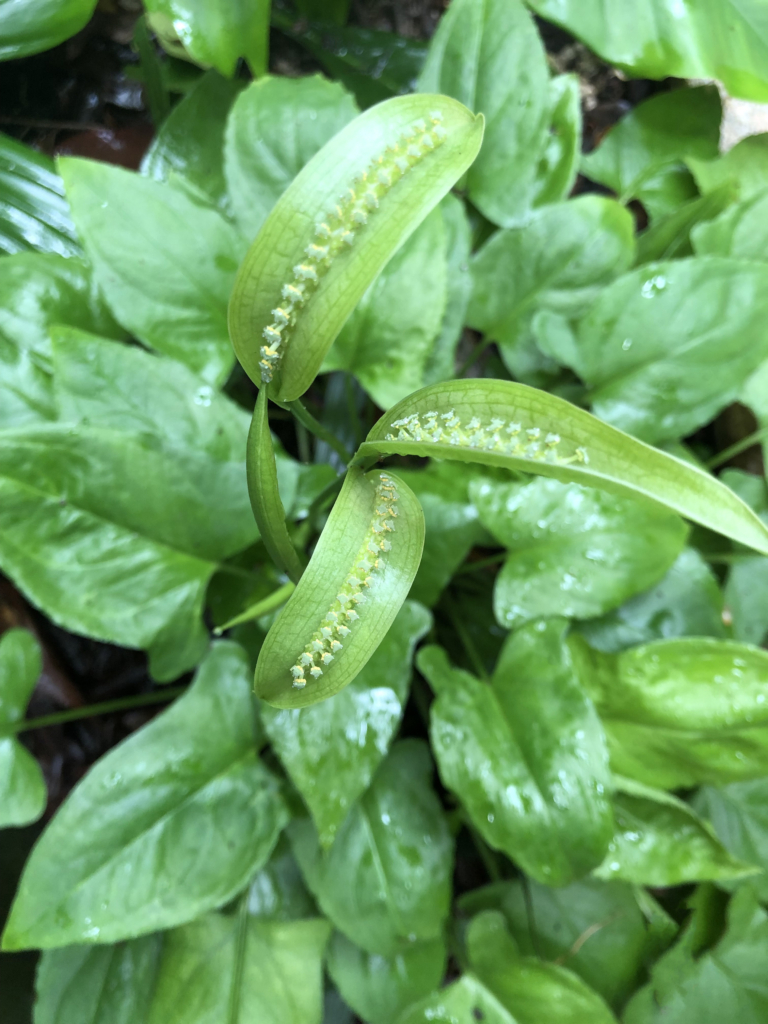 Spathicarpa hastifolia
Quantity: 25
Price: $30.00
The Caterpillar Plant is an Aroid endemic to South America. It produces small tubers under ground and can go dormant in winter months in colder areas, but is evergreen in South Florida. The flower is unusual in that the spadix is completely fused to the spath, having the appearance of a caterpillar, hence, its common name. Prefers bright indirect lighting, high humidity and abundant moisture.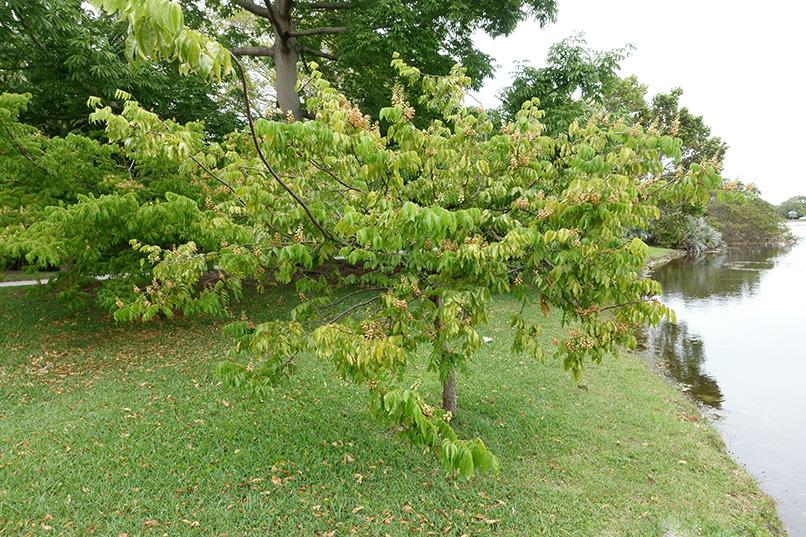 Stahlia monosperma
Quantity: 16
Price: $25.00
Cobana Negra is a medium sized evergreen tree native to the Caribbean. It is usually found growing near mangroves, marshy deltas and in coastal forests. The clustering light yellow flowers bloom in late spring and produce bright red fruits throughout the summer. Prefers full sun and will tolerate a variety of soil and moisture conditions.
Stromanthe thalia
Quantity: 18
Price: $25.00
Stromanthe thalia is a beautiful relative of Calathea native to the rainforests of South America. It has rich dark green, lance-shaped leaves with burgundy undersides and spreads slowly by stalks with new plantlets that arch to the ground from the center of the existing plant. Prefers a shady location and moist but well-draining soil.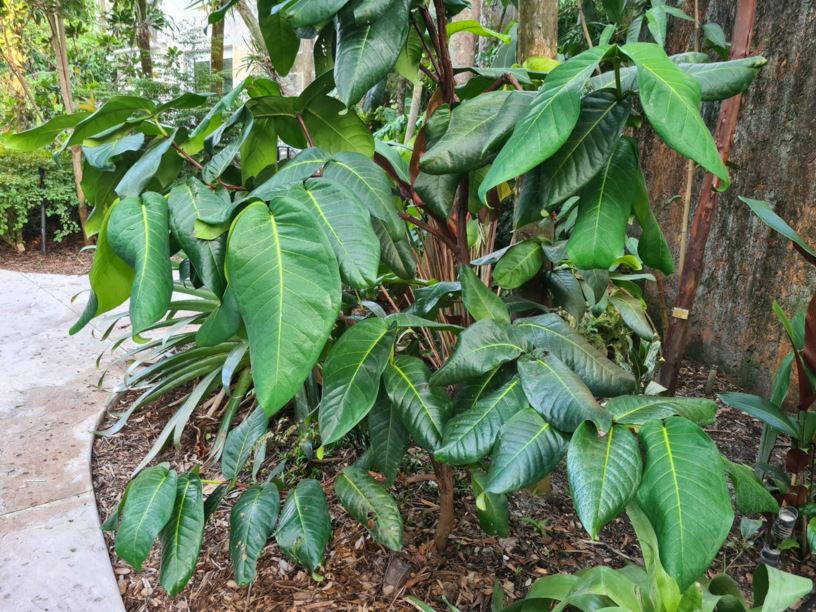 Syzygium sp. (Ho'omaluhia)
Quantity: 35
Price: $20.00
This is an as yet unidentified large-leafed Syzygium species that tends to have a shrub so far form but may become a small tree over time. The leaves are wide, dark green and glossy when mature, but a striking red when emerging. So far it has stayed small and periodically produces beautiful white "powder puff" flowers and fruit but the fruit do not seem edible. It is fairly slow-growing but reliable in South Florida and does well from shade to full sun.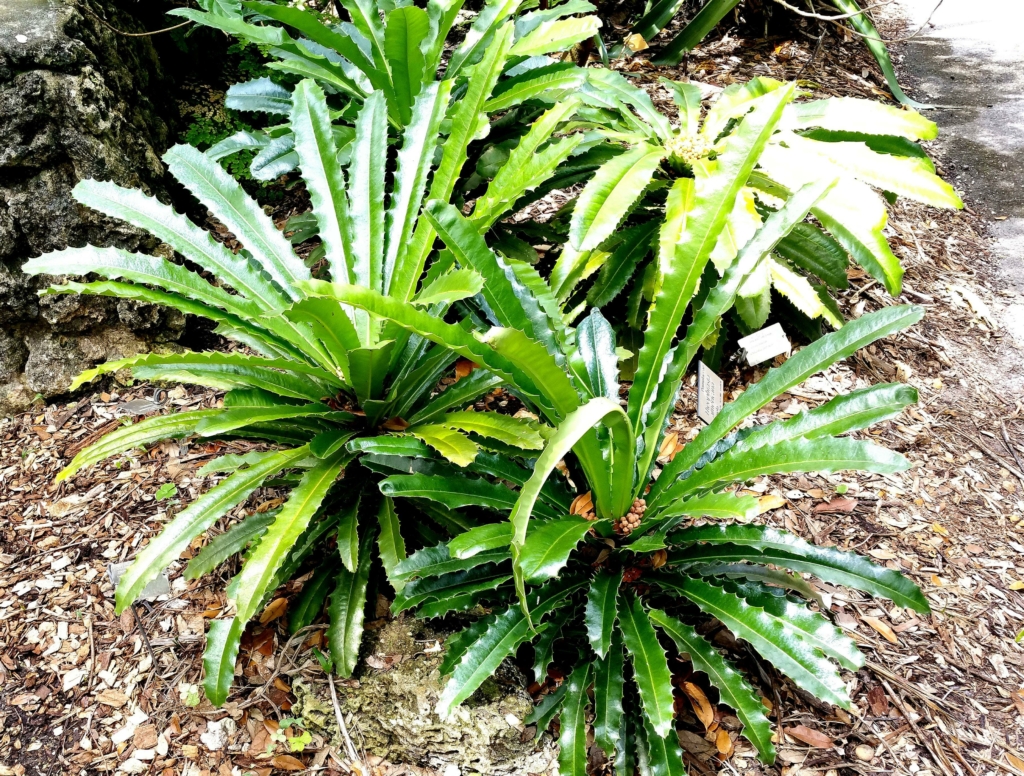 Theophrasta americana
Quantity: 20
Price: $20.00
This understory shrub with compact rosette foliage has edible fruits called "guayabo de indio." The leaves of this slow growing plant are pointy scalloped. It likes shade to partial sun. It is found only in Hispaniola and is an original Fairchild introduction.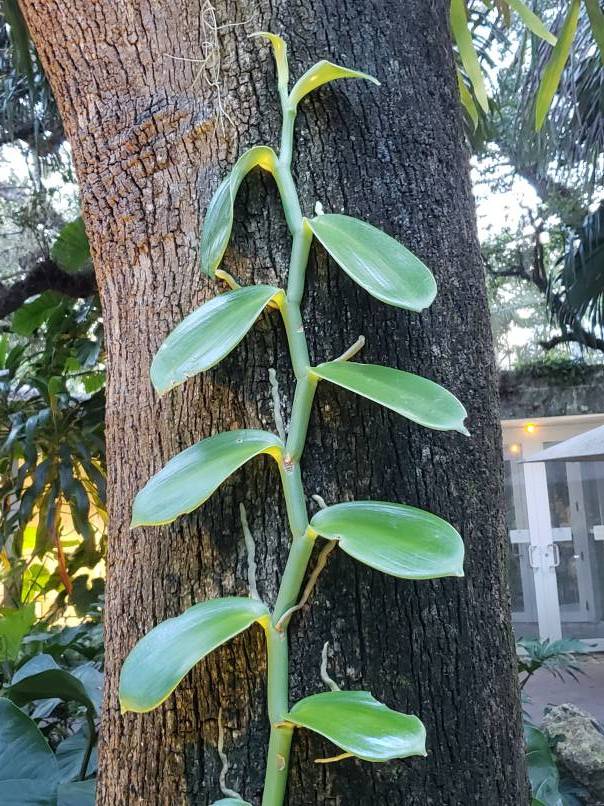 Vanilla pompona
Quantity: 25
Price: $45.00
This large climbing orchid from central and South America is a source of vanilla flavoring. It has succulent leaves and stems and grows up trees or walls with thick aerial roots that adhere to surfaces. It does best in bright but shaded locations and requires watering to become established. It needs good drainage.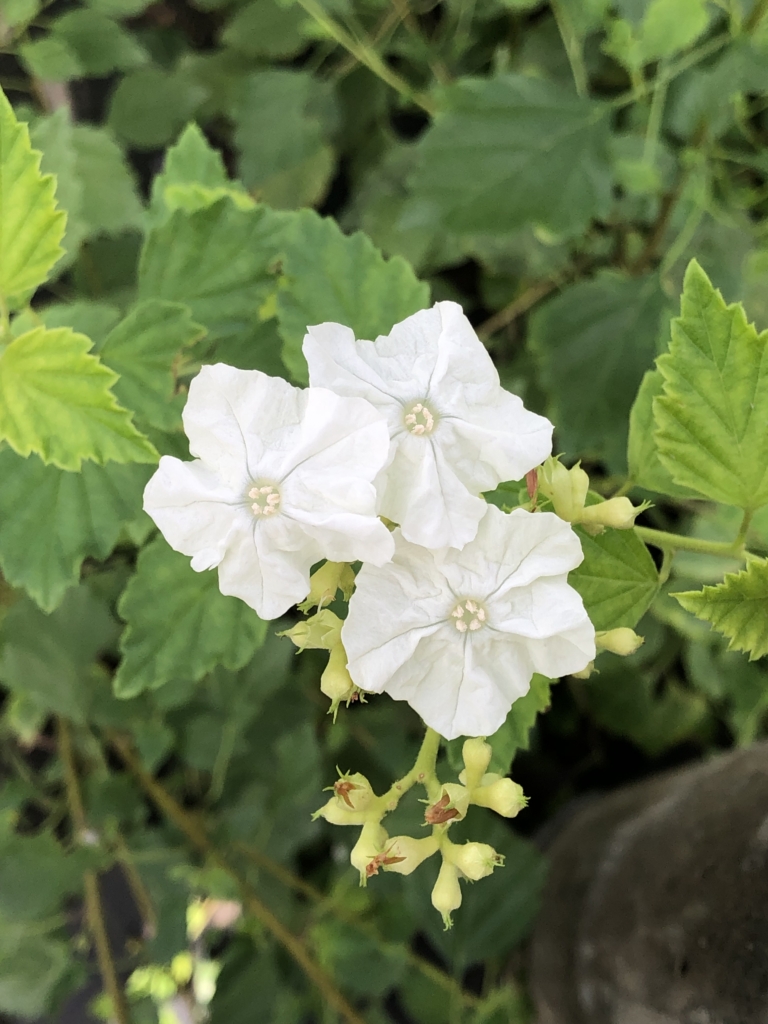 Varronia serrata
Quantity: 40
Price: $20.00
This beautiful Caribbean shrub produces delicate white flowers that bloom throughout the year. It is an excellent nectar plant for butterflies and other pollinators. Prefers full sun and a well-draining soil.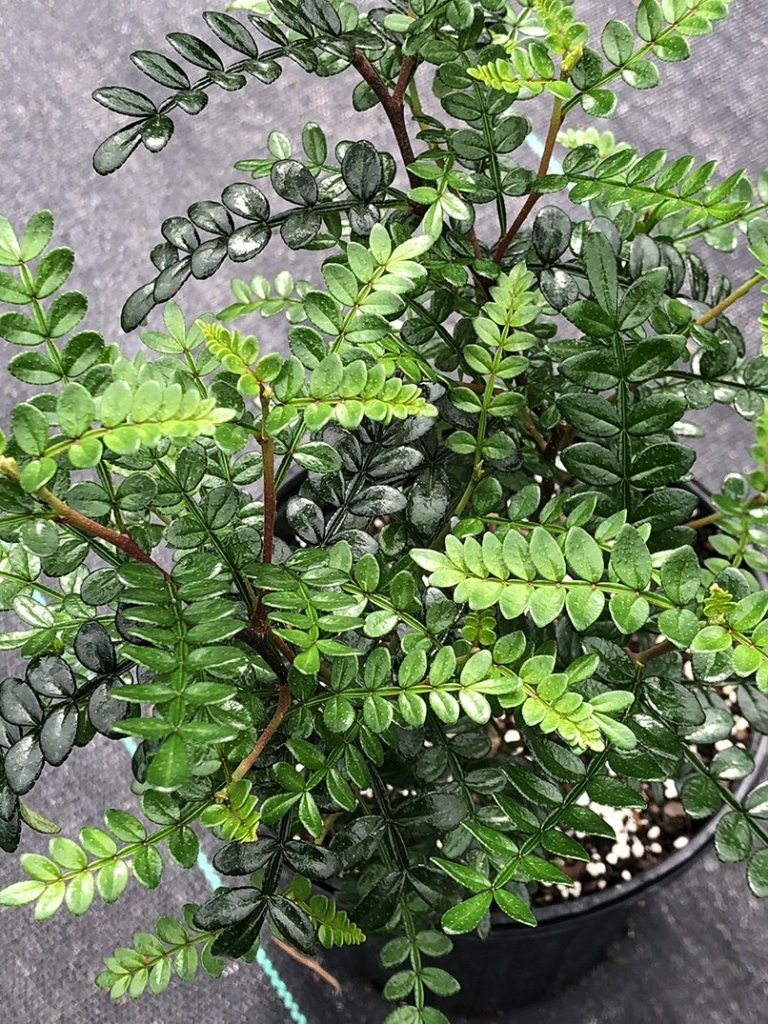 Zanthoxylum beecheyanum
Quantity: 20
Price: $20.00
Chinese Pepper Tree is a small shrub (2 to 5 ft) with attractive glossy green leaves that have a strong citrusy aroma when crushed. Makes an excellent container plant or bonsai. Prefers full sun and a well-draining soil.