Fairchild's Artists in Bloom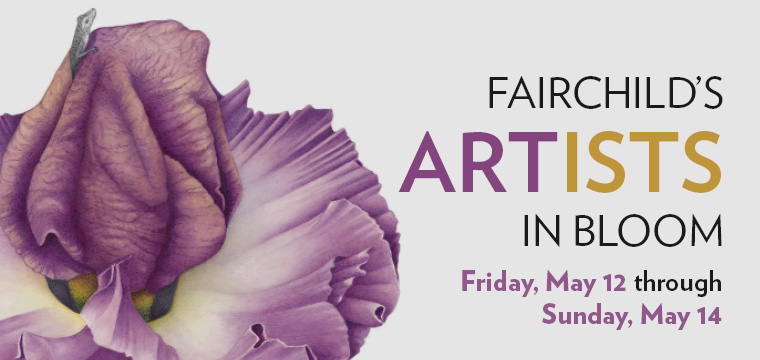 Fairchild's Artists in Bloom
January 14 – 16
10:00 a.m. – 4:00 p.m.
Fairchild's art instructors and students honor the beauty of nature in a fine art exhibition featuring their original works. One of a kind works of watercolor, oil and acrylic paints, and botanical illustrations bring into focus the growth of the artists' technique and creativity, all while exploring the world of tropical flora.
And as a bonus…This exhibition will be taking place during our Festival of Chocolate weekend! Exhibition and Chocolate Festival are both included in the price of Garden admission. Free for members.
Daniel Bondroff
Dan Bondroff has a B.S. in Art/Visual Communication from Towson University. Working with pastels, he enjoys capturing those often overlooked and fleeting moments that occur in the natural world. He also looks forward to guiding his students as they make their own discoveries.
Carlos Gallostra
Carlos Gallostra is a representational artist whose practice has been shaped under numerous celebrated mentors in the U.S. and Italy throughout the years. He holds a B.F.A. from the prestigious New World School of the Arts of Miami as well as an M.F.A. and an M.S. from the Pratt Institute of New York. In addition, he has furthered his studies at various ateliers, academies, and museums throughout the U.S. and abroad. Next to crafting his work, he takes great joy in imparting ideas, approaches, and helping his students find their voices in the arts.
Thoughts: Birds of Paradise, Carlos Gallostra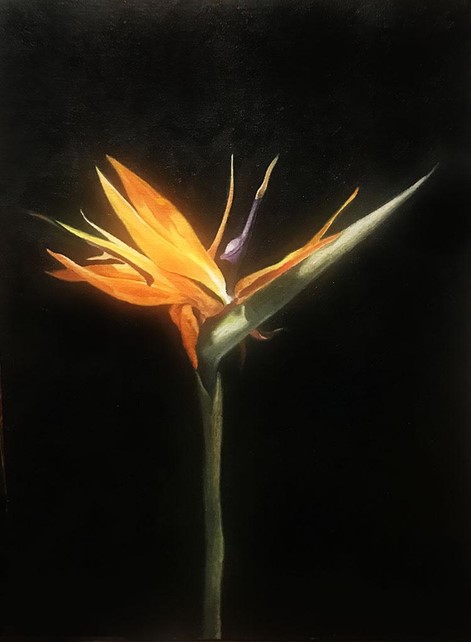 Marilyn Valiente
Marilyn Valiente is a visual artist living in South Florida. After earning her bachelor's degree in art education from the University of Florida, she continued her education in psychology, having achieved a Master's degree in mental health counseling and a PhD in pastoral psychology. Her paintings have been exhibited both nationally and internationally. She is a signature member of both the Miami Watercolor Society and the Florida Watercolor Society. Among her recent awards in watercolors alone by the Miami Watercolor Society is "Judges Recognition" spring exhibition 2021, and "First place" in the spring exhibition 2018 exhibition, "Best in show" fall exhibition 2017. She is past president of Miami Watercolor Society for the year 2017 and 2018. Marilyn is currently president of the Coral Gables chapter, the oldest and prestigious professional organization of women artists: The National League of American PEN women.
Marcelle Zanetti
Marcelle Zanetti has a B.S. in Painting and Art Education from Southern Connecticut State University and attended the University of Massachusetts. Represented by galleries nationwide during the past 25 years, her paintings are in permanent exhibits at museums and corporate and private collections.
Lady Keeps Dancing, 40″ x 30″, Acrylic on canvas, Marcelle Zanetti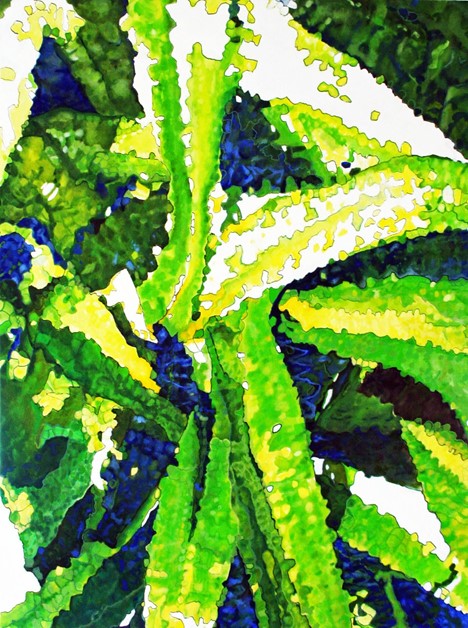 Beatriz Portela
Beatriz Portela is a visual artist who primarily focuses on the natural world. Her work ponders the impermanence of nature and the effects of global warming and other natural & unnatural occurrences on the planet & its inhabitants. She uses various media, including acrylic paints, oils, soft pastels, watercolors and block printing. "Sometimes I just like to paint beautiful flowers because I feel like I'm part of them when I do." 
Two of her 3 paintings in this year's exhibit were used in Fairchild's 2020 Calendar: "Looking at Chihuly" was on the cover and  "Vanda Stream" was used opposite the March page.
Looking at Chihuly, Beatriz Portela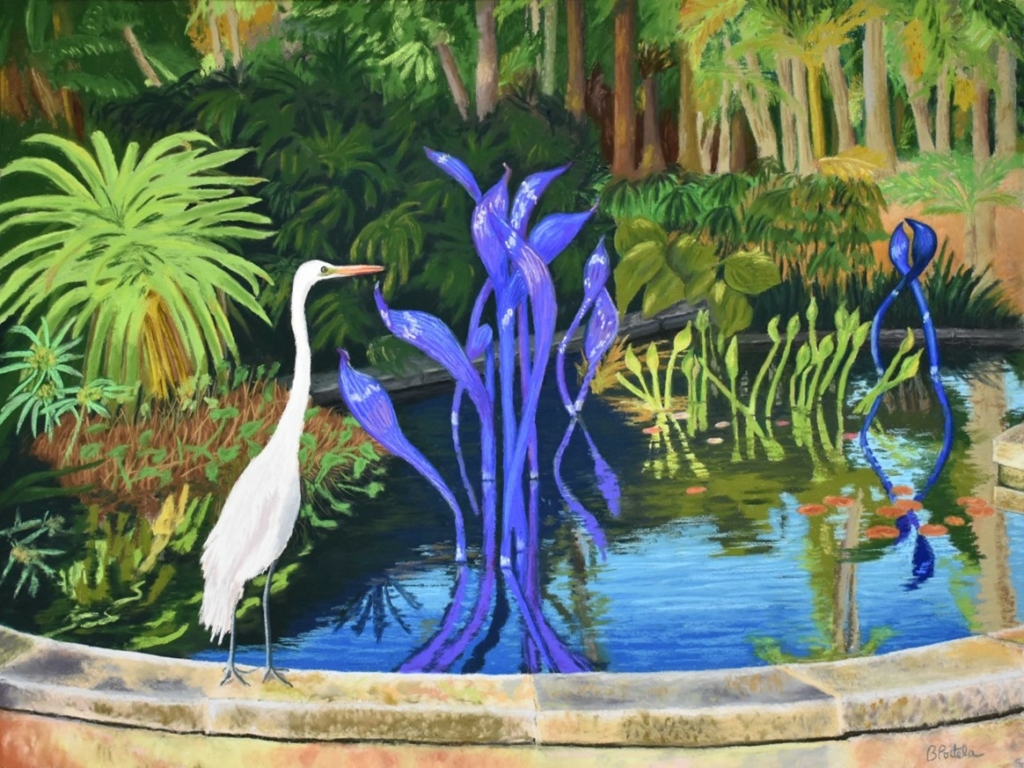 Donna Torres
Donna Torres received her BFA and MFA in painting and drawing from the University of New Mexico and Florida International University. She studied Botanical Illustration at Fairchild Tropical Botanic Garden with Priscilla Fawcett. Her drawings and paintings reflect her interest in shamanism and medicinal plants. She is currently adjunct professor of painting at Florida International University. She taught botanical art at Fairchild Tropical Botanic Garden in Miami until 2019.
Gifts and Gratitude, Donna Torres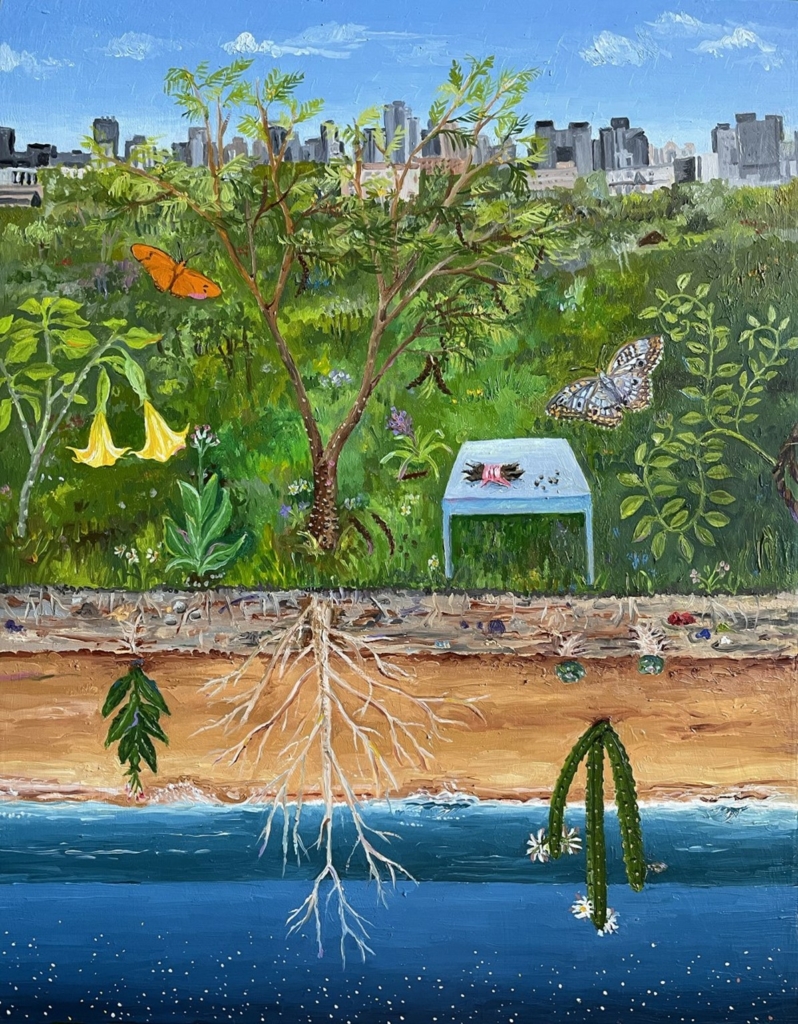 Eugenio A. Cano
Eugenio A. Cano moved to Miami in 2011. He began painting in watercolors during the pandemic.
He is a retired diplomat who is an active volunteer in local organizations. He held the diplomatic posts to the United Nations and at the Embassy Nicaragua in Taiwan.
Eugenio earned a Master's from the University of Michigan and a B.A. from Columbia University.
Chapman Field mangroves and bay, Eugenio A. Cano,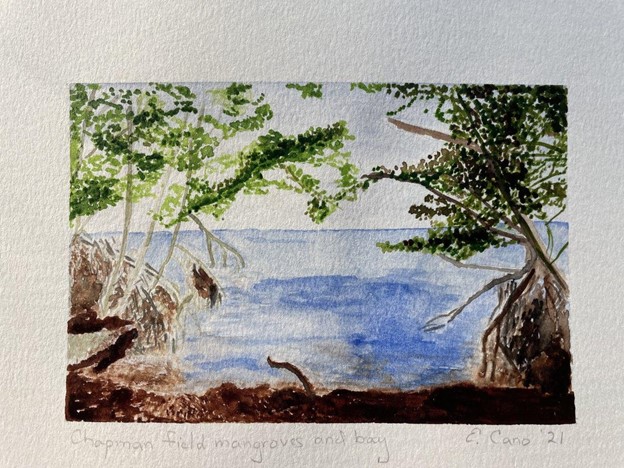 Raquel Sweeny
Arrived in Miami from Cuba in 1971 and a year later, moved to NYC. Attended art courses at the School of Visual Arts – NYC. Also at the "Art Students League" on 57 Ave – NYC. Worked as a Graphic Artist for Deloitte & Touche – NYC for 20 years. Moved to Miami in 2009.
Attended watercolor classes at Fairchild and participated in different exhibitions. In 2012, proudly became a "Signature Member" of the Miami Watercolor Society. Presently living in Miami, at Kendale Lakes.
Solo Concert, Raquel Sweeny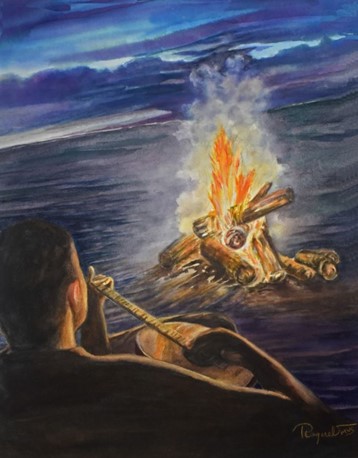 Wendy Kornfield
I like my work to tell stories and describe life's everyday emotions and experiences. I use my camera and sketchbook as part of my creative process. I do a series on small painted studies where color, line and composition break my message down to a purer form.
Saw Palmettos, Wendy Kornfield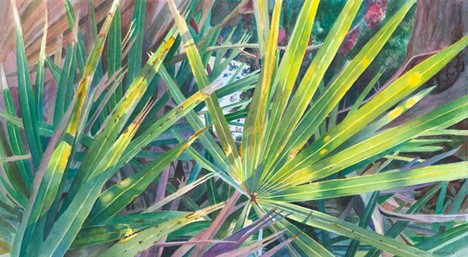 Ned Mast
I began art studies after graduation from college, and have worked at art as an avocation since then. When I retired in 2000, I began taking art classes at Fairchild Garden and continue to attend classes there.
Banyan, Ned Mast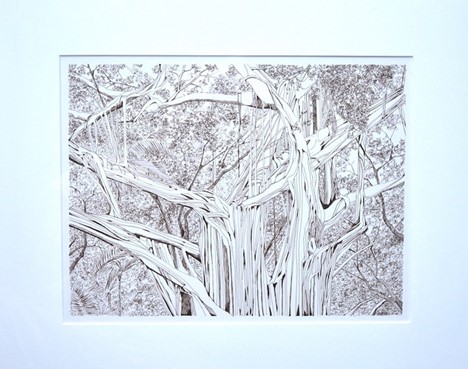 Marlene Kohn
My fascination with texture has led me to explore an endless range of surfaces from canvas and thread to wood, metal and tar paper. I like to experiment with found materials such as twigs, nails and even roofing paper. I enjoy the challenge of using materials originally meant for something else.
My artwork involves shapes, lines, patterns, movements, flowers and motifs that derive from influences such as textiles and nature. A subtle line or shape can determine the direction a piece will take. Even if I have a sketch, once I start working, my artwork often changes completely. Many of my canvases are created in a modular fashion beginning with small squares that may be expanded or combined with others, or stand on their own. Every individual square embodies its own unique and distinctive story.
Messages Among the Flowers, Marlene Kohn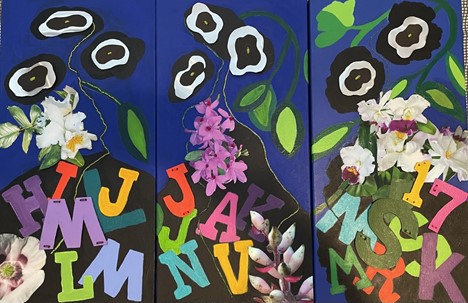 Susan Cumins
Susan Cumins discovered botanical art in FTBG classes, where learning to portray even the humblest plant was inspiring. With a lifelong interest in plants and art, the California native now enjoys both in Florida. She is active with the American Society of Botanical Artists (asba-art.org) and Tropical Botanic Artists (Tropicalbotanicatists.com). 
Echeveria Blossom Study, Susan Cumins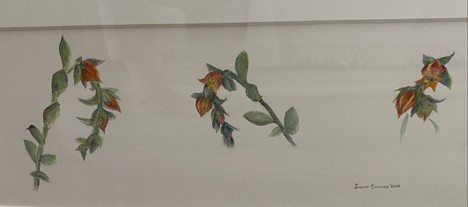 Jeanie Daniel Duck
Jeanie Daniel Duck grew up in Alabama, lived all over the U.S. before arriving in Miami in 1998. When she retired as a Senior Partner of the Boston Consulting Group, her first adventure was to enroll in an art class at Fairchild. She was instantly hooked and has ever since enjoyed painting and drawing the lush offerings of the Garden and South Florida.
Jane's Red Orchid, Jeanie Daniel Duck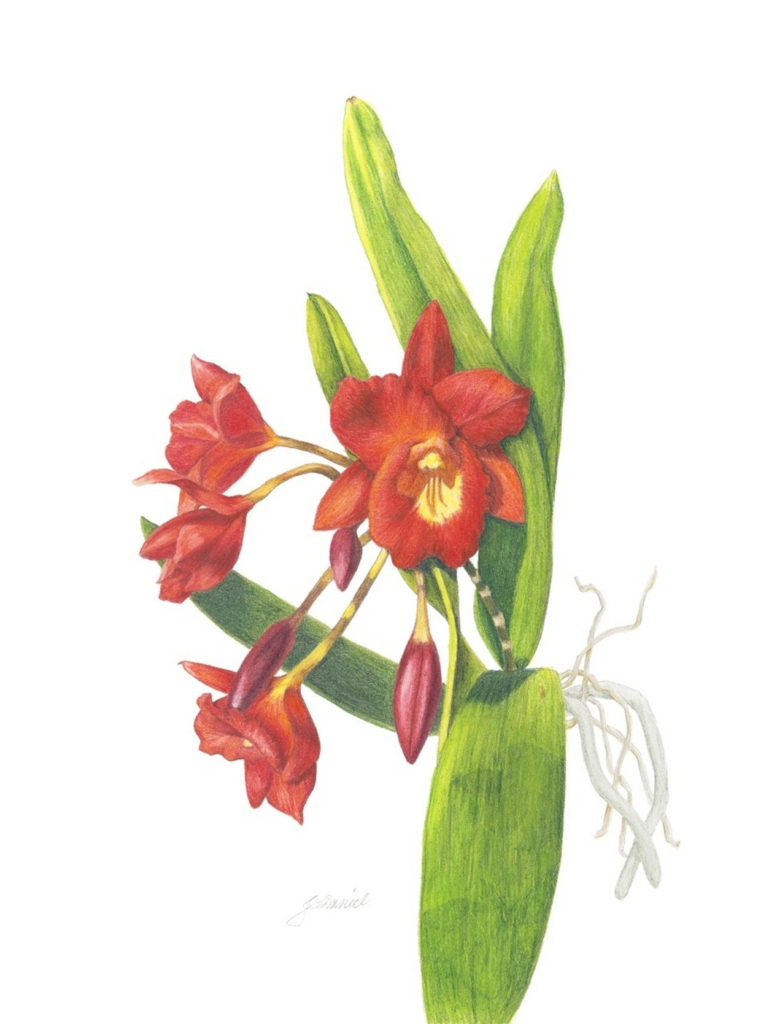 Violet Nisanian
My background in the arts happened at a very young age. Actually, painting emerged after years of teaching at Florida International University and the University of Miami. Professor of Piano Performance (Master of Music), and with Ph.D. Degrees (Theory Composition). I gravitated towards painting naturally, first watercolor and now oil. I enjoy painting flowers and landscapes, primarily, in a realistic colorful setting.
Palms in the Fairchild Lowlands, Violet Nisanian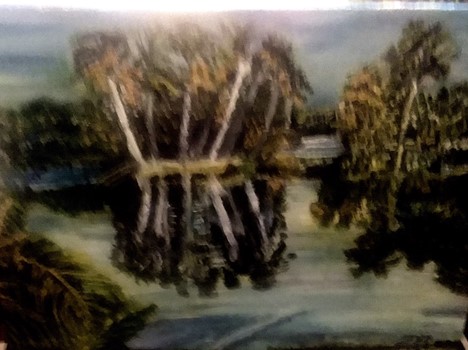 Alma Cirugeda Suarez
I immigrated to the US in 1981. I live in Coral Gables with my family since 1983. In 2001 I earned my PhD in Sociology from FIU, and worked in several fields including real estate.
Since childhood, I have been interested in art, earning an honorable mention from The Royal Drawing Society (London) at 11 years old in 1964.
After retirement, I returned to art by taking classes at FTBG until today.
Cannonbal with Lizard – Courouptia guianensis, Alma Cirugeda Suarez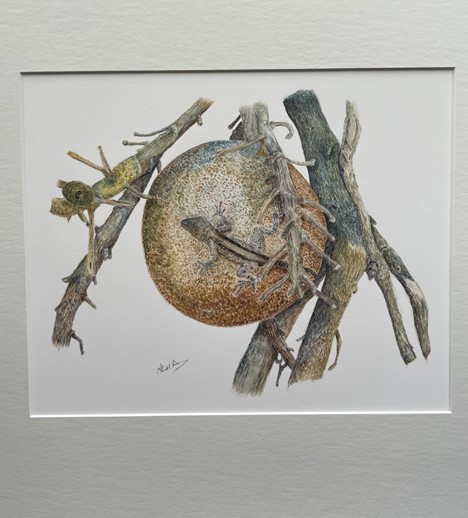 Jedda Wong
Jedda has lived in Miami for the past 40 years and her art is an expression of her love of the local flora and fauna. She works in rich, bold watercolors on watercolor paper and also on rice paper.
Jedda is currently a member of Miami Watercolor Society as well as Tropical Botanic Artists. More examples of her work can be found at www.tropicalbotanicartists.com
Purple Gallinule at Anhinga, Jedda Wong
Carmen Casal
Ten years ago after losing my husband, and at our son's insistence, I started taking watercolor lessons at Fairchild Gardens, no knowledge of the medium whatsoever.   
There Dottie Greene, Ricardo Eberle and Carlos Gallostra worked their magic and instilled  in me the importance of color temperature and value to enhance my flower or plant painting.
Dreaming, Carmen Casal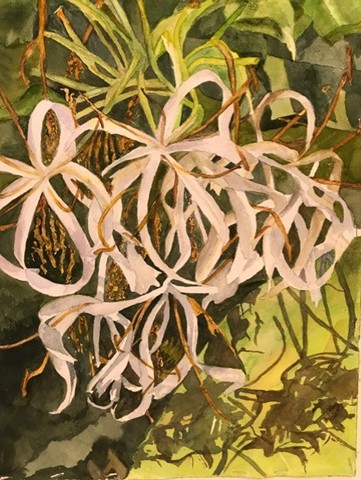 Marilyn Kohn
I am a painter, working primarily in acrylic. In my work, I explore the use of color and various, often chaotic, brushstrokes. After working on my own for many years, I started taking classes at Fairchild Garden four years ago. I am grateful for the camaraderie of my fellow artists and guidance of excellent teachers.
Orchids, Marilyn Kohn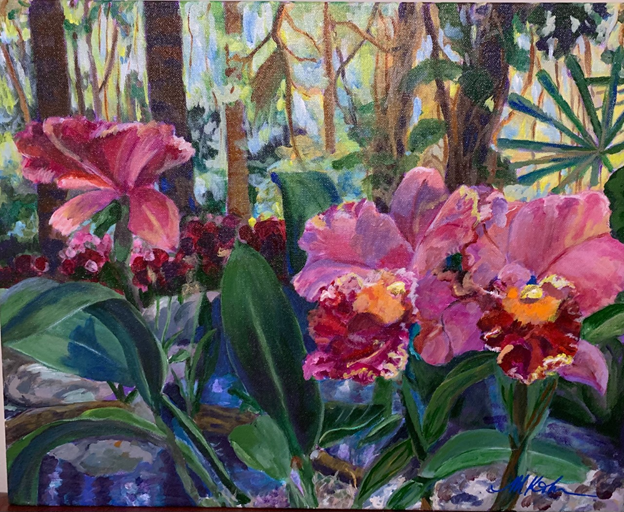 Beverly Borland
She has traveled nearly all the U.S., Europe and Northern Africa. Her appreciation for different cultures and lifestyles is reflected in her painting, photography and artistic scarves.
Heliconia, Beverly Borland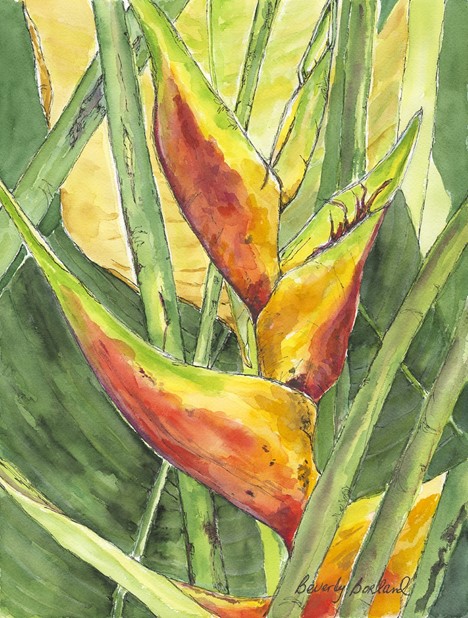 Louise Bennett
This is a picture of the "Ringnecked Kingfisher". I painted it with much help from Mai Yap. I have taken classes with Mai at Fairchild Garden for more than ten years. I love the classes as well as the many artist friends that I have made.
Ringnecked Kingfisher, Louise Bennett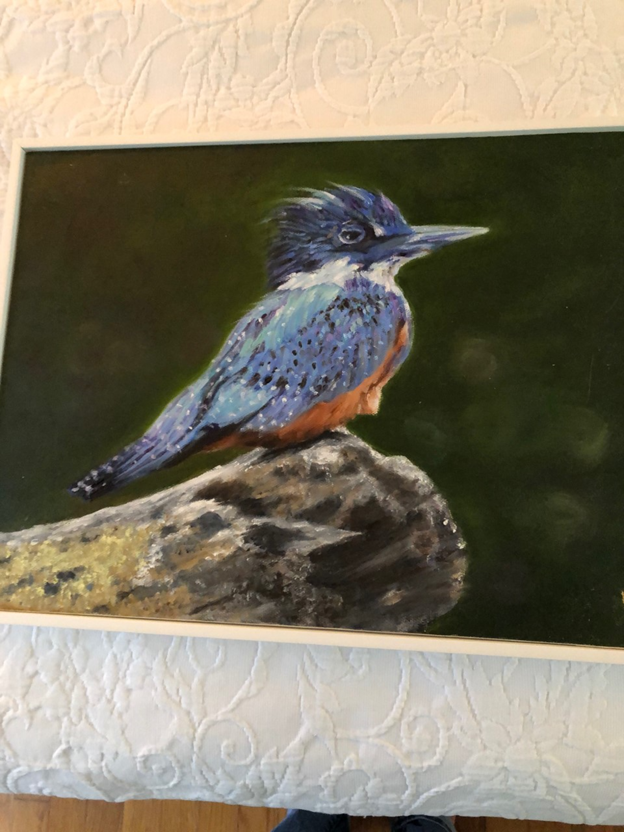 Shirley Drevich
Shirley Drevich has been a practicing artist for over 50 years. She made a living designing and selling jewelry for almost 30 years and then went back to photography when the iPhone came out and has taught Creative iPhoneography at Fairchild for the last 10 years. In the last four years she has also been immersed in her painting practice, inspired by nature. She has studied with prominent painters personally and through Zoom and continues to do so.
Poinciana Dreams #10, Shirley Drevich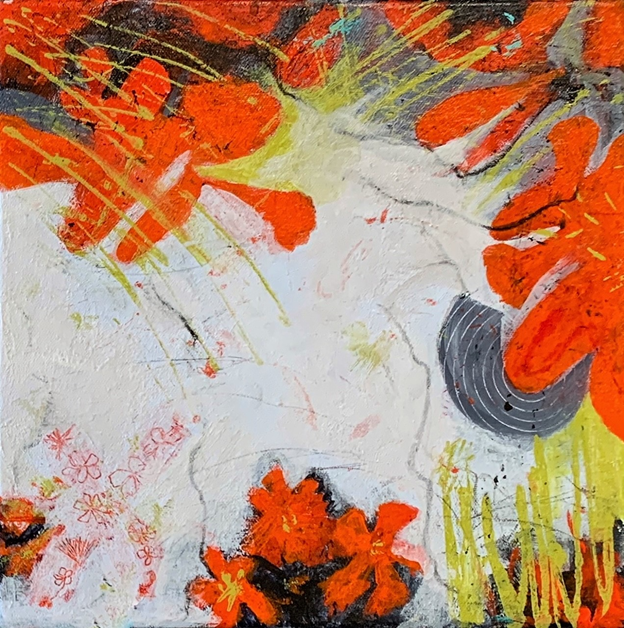 Sherrie Rose
A graduate of The School of Art Institute of Chicago, Sherrie has been living in Miami since 1995. She has developed a successful career working with interior designers, creating artistic finishes on walls, ceilings, and furniture. Sherrie has enjoyed painting room murals and animal portraits. She is now thrilled to set up an easel outdoors in the lush tropical landscape with the Plein Aire group that she has joined at FTBG. Visit her website at srosepaints.com
Royal Palm Lake, Sherrie Rose