Dragons and Mythical Creatures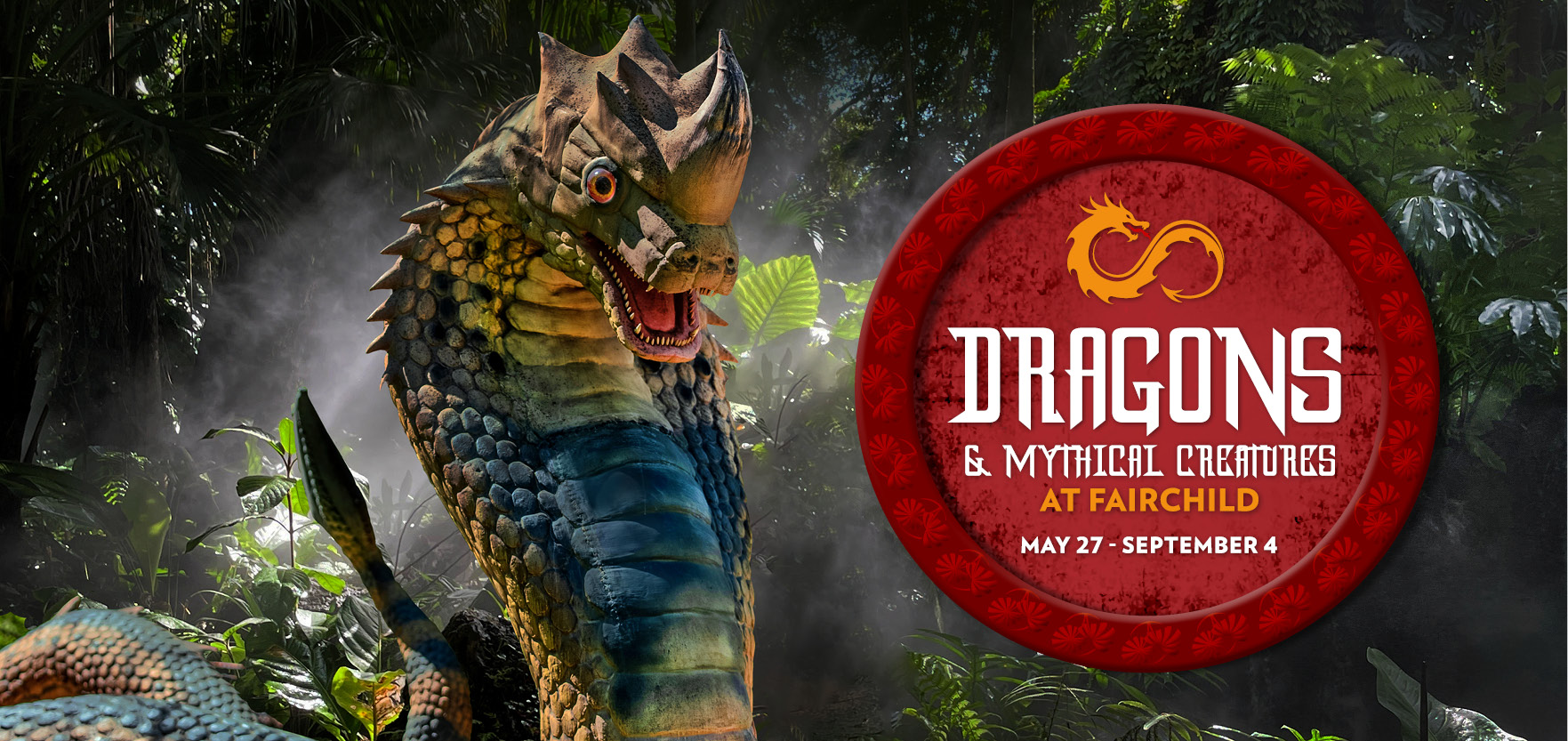 Something Ancient This Way Comes: Dragons and Mythical Creatures!
Saturday, May 27 – Monday, September 4
10:00 a.m. – 5:00 p.m.
Larger than life dragons have migrated to Fairchild!
Behold the fully animatronic beasts as these mythical giants roar and share their legendary tales. Kids will enjoy scavenger hunts, dragon quests and will even have the opportunity to become knights and dragon royalty. 
It's the must see summer experience in Miami!
Reserve your tickets online! Ticket includes general admission to explore the Garden.
Dragoneers Backcountry Quest
Included with admission.
Part of the Expedition Fairchild Series

Embark on a captivating journey through Fairchild's Backcountry, where ancient realms come alive with the presence of magnificent dragons and mythical creatures. Immerse yourself in the adventure of a lifetime as you encounter majestic and fantastical beings that have chosen Fairchild as their home this Summer!
---
A Dragoneers Waterquest
$9.95 each


Tickets for this adventure sold separately at The Shop and at the Pop-up Shop.




Includes water blaster, water-inspired challenges and the Official Dragoneer Waterquest Certificate



Your task is to ensure that the dragon eggs stay cool and out of reach from human handlers. Discover watering holes and refill stations that present thrilling challenges requiring you to use your water blaster to spray water over nearby dragon eggs.
Earn unique badges to place on your Official Dragoneer Certificate. Then head over to The Shop or the Pop-up Shop to join a grand celebration and be recognized as dragon royalty and an Official Dragoneer!
Once you are an Official Dragoneer, bring your water blasters all summer long!
---
Mission: Dragon Garden
$3.99


Part of the Expedition Discovery Series




Tickets for this adventure sold separately at The Shop and at the Pop-up Shop.




Includes: Dragon Garden Mission Map and Dragon Garden Collectible Pin



Calling all Expedition Discovery Explorers! Dragons are legendary creatures that have appeared in stories and art from all over the world. Now, it's your turn to create your own story and discover the dragons that are visiting Fairchild.
---
Princess Tales & Tea on the Terrace
11:00 a.m. – Noon or 2:30 – 3:30 p.m.
Child 2-12: $24.95; Adult 13+: $15.95
Tickets to Dragons and Mythical Beasts required to gain access to Tales & Tea. Admission tickets sold separately.
Select Days. We offer two seatings. Capacity is limited per seating. One adult per group is required.
Tickets for Tales & Tea sold separately.
Escape into a world of enchantment as our beloved Princess opens the doors of her tower for an exclusive experience. On select days, guests are invited to join her for an hour filled with delightful tales, tea, and crafts to create your very own princess crown!