Volunteer Opportunities for Students

Volunteer Opportunities for Students
We welcome the participation of high school and college students as volunteers. The minimum age for Fairchild volunteers is 16 for all positions except the Conservation Student Scholar program, where the requirement is age 14 or current enrollment in highschool. Fairchild student volunteers must have reliable transportation, as public transportation options to the Garden are limited.
Conservation Student Scholar Program
This program, geared towards high school students, is a way to connect interest in the natural world to conservation through education. Our students learn a variety of different environmental conservation messages focused around plants, with topics such as Palm Oil and the Million Orchid Project taught by passionate staff members. After learning the information, the students are given a variety of different tools and trainings to build the confidence and skill necessary to learn how to relay information. They are put to the test with hands on visitor engagement, reaching a varied audience of visitors to Fairchild. Throughout the year, these students come in on weekends to engage visitors. Students will be interviewed and, if accepted, attend one orientation day and two training sessions. If you would like more information about this program, please contact Jemma Peterson at jpeterson@fairchildgarden.org.
This program is currently at capacity. Please check back in soon for updates!
Special Event Volunteers
Throughout the year, we have a number of Special Events and Festivals (typically on Fridays, Saturdays and Sundays). Students volunteer for a four- or eight-hour shift during the weekend to help with a wide variety of jobs including event set-up, helping with children's activities, working in festival booths and visitor education.Festivals offer fun, short-term volunteer opportunities for students needing community service hours.
Please note
All student volunteers must register with the Volunteer Department prior to volunteering at any Fairchild festival or event. Positions fill quickly, so please contact Volunteer Services prior to the event at 305-667-1651, ext. 3324 or volunteer@fairchildgarden.org.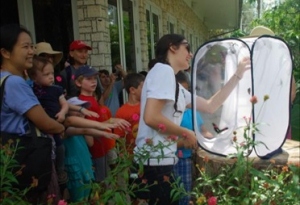 Wings of the Tropics
Student opportunities are available in the Wings of the Tropics exhibit. Wings of the Tropics hosts commit to volunteering once a week and work in teams in the outdoor conservatory. Imparting information and answering visitor's questions, hosts are ambassadors of the exhibit and have exceptional interpersonal skills. Wings of the Tropics hosts volunteer on weekends during the academic year and on weekdays in the summertime. Host volunteers greet and introduce visitors to the thousands of butterflies in The Wings of the Tropics exhibit. Volunteering weekly in teams, volunteers monitor the entrance and exit ways of the conservatory and educate visitors on butterfly biology.
Visitor Services Host
Volunteers work in particular areas of the Garden such like the Simons Rainforest, Cycad Circle or the Tropical Plant Conservatory and Rare Plant House. Hosts are the friendly faces who greet visitors, answer questions, and provide directions as well as share knowledge about their particular Garden area. Hosts have excellent interpersonal skills and are comfortable answering questions and interacting with the public. Hosts are also responsible for learning more detailed information about multiple garden locations. Volunteers work outside and may be standing for a four hour shift.  Student volunteers work on weekends during the morning or the afternoon.

Horticulture Volunteers
If you are volunteering in the summertime, there are opportunities to volunteer in horticulture Tuesdays through Fridays. Volunteers work on a specific weekday depending on the Volunteers are generally assigned to a particular area of focus including Water Gardens, the Vine Pergola, our palm collection, the Geiger Tropical Flower Garden, the Simons Rainforest, the Tropical Plant Conservatory and Rare Plant House or the Fairchild  nursery. Volunteer duties include weeding, pruning, planting, repotting and propagating, and more.
Interested in becoming a student volunteer? Please contact jpeterson@fairchildgarden.org

For Students 18 years and older, check out our available Internships!